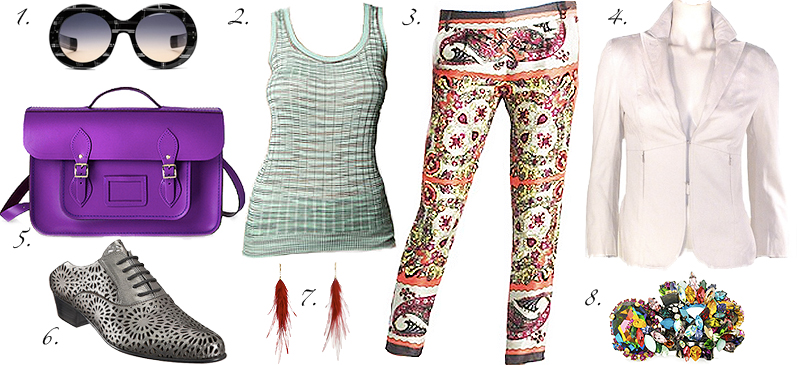 The blending technique of assorted colors, textures and patterns is not the easiest task to accomplish, sometimes it takes a bit of practice. After a few tries, VIOLÀ…Refined Eclecticism. Some of our season favorites???
1. OLIVER GOLDSMITH – "KoKo" – These over-sized frames are perfect for an "undercover" moment. With a hint of pattern (AKA "black lace"), they're the perfect combination of contemporary and eclectic fusion.
2. M. MISSONI – Ribbed Space Dye Tank – Has MM² ever steered you wrong??? Of course not…And this simple tank incorporating a twist of pattern and texture is easily interchangeable with any wardrobe piece.
3. J. CREW – Café Capri in Kerchief Paisley – Print anyone??? This season is one for a little MORE pop in the wardrobe department and these paisley print pants are a great addition.
4. COSTUME NATIONAL – "Zippy" Jacket – I love to add vintage pieces to current styles and the "Zippy" jacket from Costume National looks classic but has a few surprises up it's sleeve, literally. (i.e. zippers…FAB…FAB…FAB…)
5. THE CAMBRIDGE SATCHEL – The Backpack – My husband bought me a silver Cambridge satchel for Christmas and I LOVE it. Crossbody…Various sizes and colors…Plenty for the fashionista to choose from…Again…LOVE!!!
6. HAIDER ACKERMANN – Pewter Laser Cut Oxford – Talk about the perfect shoe…It's Spring here on the East Coast which means too cold for sandals/flip flops AND too warm for shoes. Well, this laser cut slipper oxford provide ventilation and comfort with its folded down heel.
7. JEEYUN HUN DESIGNS – "Red Red Wine" Feather Earring – When I think Spring, my mind drifts to light and airy. And Jeeyun Hun's creations fit the bill. An array of gorgeous feather designs that add a beautiful flair to any look.
8. ERICKSON BEAMON – "Confetti" Gunmetal Cuff – I've always loved to pull looks from the Erickson Beamon collection. They think out of the box. Want a piece that will turn heads??? Check out EB…It's guaranteed.