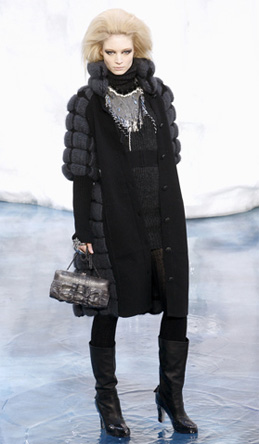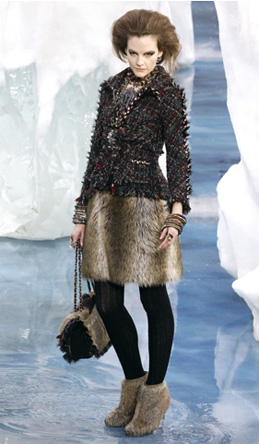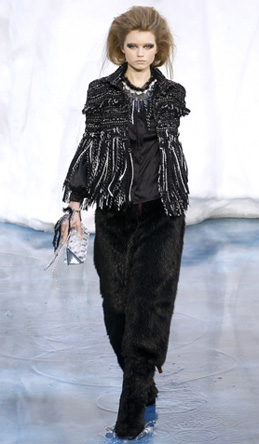 At first glance, my quick reflex of thought said "Who is going to wear this?" better yet…"Where are they going to wear it?" Granted this winter season on the East coast has been HORRIFIC, but what's the chance that it will pan out the same way next year?
Well, there's always a possibility and Karl Lagerfeld is in the business of making sure your wardrobe is there to support you just in case you need those fur pants.
I admit, the first look (not pictured here) threw me for a loop…
The look: a model standing in a head to toe fur jumper (similar to a baby's onesie)….The first thing I thought of??? ABOMINABLE SNOW WoMAN.
But, as the presentation ran it's course, my conclusion was that the attention to detail is EXTRAORDINARY!!!
Pick your poison, beading, embroidery, crystal jewels, tweeds fused with fur, leather, not to mention what all these intricacies emerged as (i.e., the end result)…Hats, cloaks, jackets, sweater dresses, the grey and black cardigan coat is definitely a DOSSIER DIBS must….
Now, there are a couple of things that are on the "I'm Not Sure" list…Fur pants, Fur suit…etc. But, hey, you never know. If we get a couple of storms next year similar to this year….
I'll be standing outside CHANEL with everyone else.