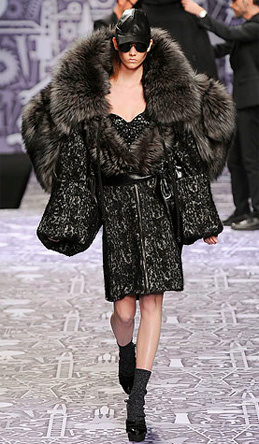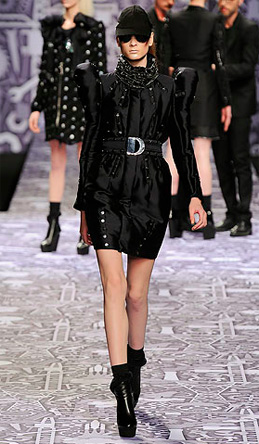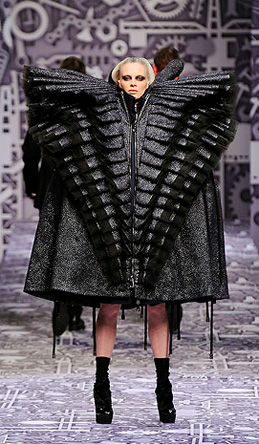 One thing you can count on when viewing a Viktor and Rolf show is the unveiling of their theatrical flair.
From the first look they had me transfixed….The revolving model wearing what seemed to be a gargantuan tweed overcoat and the metamorphosis that followed…To witness the amount of ensembles transposed from one model to the other is astonishing.
It's all in the design….The integration of drawstrings and zippers allowed grand dirndls to convert to Elizabethan fraise, colossal cloaks to become fitted coats, reversible leather frocks that emerged as embellished jackets or dresses, etc…
The plus side…Endless options…Yes…Everything was black, but that was irrelevant.
And, I don't know if they were in "Teacher" mode, but, this production demonstrates a portion of the melee that goes on backstage when the models are dressing and how the designers & stylists prep the look before it hits the runway….
In my career, I've styled several shows for fashion week and I know first hand the laundry list of details that you have to cover to pull off such a production. This show is sooooo well done…
Their literal approach worked phenomenally….
The theme for me? "The Mechanics That Keep The Engine Running and The Masterpieces They Create"…
I know…I know, it's a bit long…But that was my thought process while viewing the show. From the music, runway and backdrop applique, to the revolving stage (to give the audience a 360 degree view – LOVE!!!) and the draping of the garment.
Versatile YET Radical…Volatile YET Remarkable…
VIKTOR & ROLF.