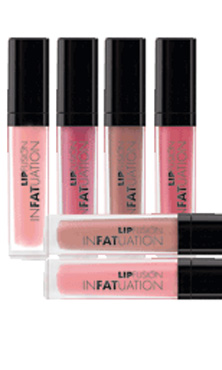 The tingling sensation is the first thing you notice…It was a little weird at first, but after a couple of applications you won't even notice…AND more importantly you'll LOVE your lip enhancement.
Does it work??? YES…BARE is my favorite.
LipFusion InFATuation: SURGICALLY INFLATED…OR INFATUATED?
Creamy Glossy INFATUATION liquid lip color mimics the results of surgical "lip fat replacement" with revolutionary new Amplifat technology.
Instantly and dramatically increases and retains your lips ' own natural fatty acids for an irresistible pillowy pout that lasts and lasts.