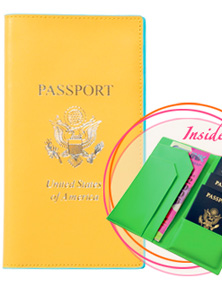 Last year when my husband, new son and I were going on vacation, I decided that we should keep our passports together to eliminate any possibility of misplacing our legal documents. So, instead of using a rubber band, I began to search for a billfold that would do just that (hold all three passports and traveling documents…)
Well, after researching I found the PERFECT one. I knew I didn't want black or chocolate brown (too normal), so when I came across the Baekgaard brand and the numerous color palette to choose from, it was a no brainer.
Designed to make family travel more convenient, it holds up to four passports and has a slip pocket for your itinerary or other documents.
Luckily, they have several other collections that include handbags, wallets, home and office accessories, small leather accessories and colorful gifts. It's one stop shopping with a POP!!!