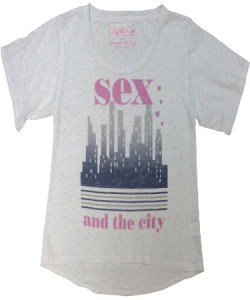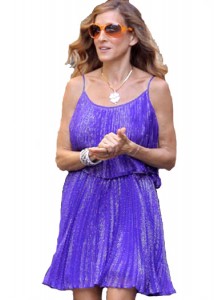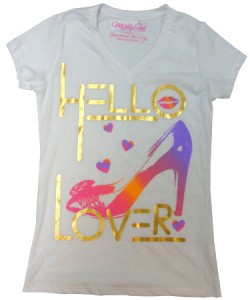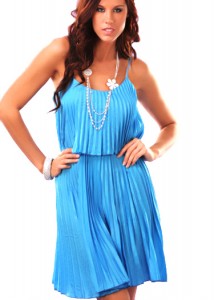 Five days and counting!!! I'm certain the entire WORLD is aware of the Sex and The City 2 movie release on May 27th and I have the perfect fashion antidote for the die hard FANatics of the gregarious girls of the megalopolitan.
Due to the HUGE popularity of the original collection, MIGHTY FINE has produced the second installment of their Sex and The City  t – shirt mélange that ensures you're part of the club. Whether it's the Sex and The City throwback, the gold chain "Carrie" nameplate, the flirtatious "Hello Lover" rainbow pump top in heather grey or the "I'm  A Carrie" t-shirt, they're definitely a trendy hit…If it's on your list of "MUST HAVE'S", pick up your favorite at a Bloomingdales near you…
Another great find is an identical replica of the Halston dress that Carrie wears in the movie. Created by AMI CLUBWEAR the Spaghetti Accordion Pleated 2 Tier dress is a steal for $27.00.
HIP…CHIC…TRENDY…