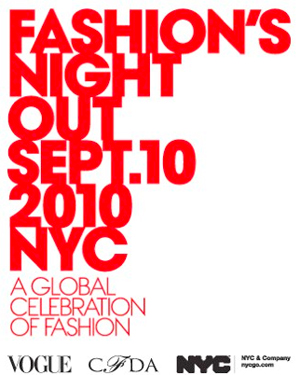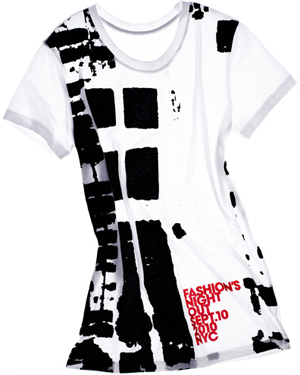 On September 10th, VOGUE Magazine, the CFDA (Council of Fashion Designers of America) and NYC & Co. presents FASHION'S NIGHT OUT. For the second consecutive year, retailers will extend store hours and designers will plan events or make special appearances to help generate a buzz for fashion and increase revenue during our hovering recession.
In addition to the FNO event, on September 7th, a public fashion show will be held in the NEW fashion week venue, Lincoln Center. A portion of the proceeds will benefit the New York City AIDS Fund. In my line of work, receive invi to shows to review the new collections. I think giving the public a chance to experience a treat like this is a great idea!!! And only $25.00… You can't beat that…The fashion show presentation will focus on the hottest fall 2010 trends that will be available in all major department stores (Macy's/ Nordstrom/ Saks Fifth Ave./ Bloomingdale's, etc.) as well as smaller chains (Barneys/ Fred Segal/ Neiman Marcus/ Bergdorf Goodman, etc).
Last year, the global event was a success for participants worldwide and generated traffic and excitement around fashion. Because of the enormous amount of time to plan, compared to last year, there are so many ways to plan your evening…Country/ Borough/ Neighborhood/ Specialty…
HAPPY SHOPPING!!!