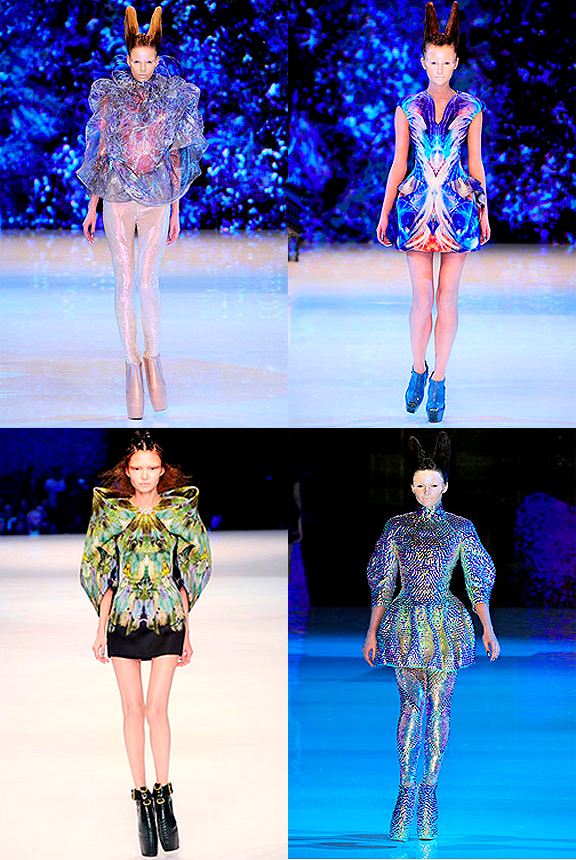 Yes….Yes….Last season (S/S 2010), Mr. McQueen did it once more…His introduction of all facets of paradise was spine – tingling.
The collection sauntered through paradise…From birds (of paradise) to Avatar (cinematic paradise), continued to the Deep Blue Ocean (Atlantis paradise) and ended obviously, in McQueen fashion, submerged in Celestial….you got it….(Galactica PARADISE)!!!
Detail…Detail…Detail…The collection, as always, was a phantasm of visual extravagance, nourishing us with savory works of art.
Renowned for living outside of the proverbial "BOX" he continued to push the envelope allowing us to dwell in his fantasy (1 hour at a time, every 6 months) LOVE….LOVE….LOVE…
He was an artistic GENIUS that will be missed immensely by the world that admired his gift.
Honestly, hearing of his passing today literally took my breathe away. Looking from the outside in, one would think that he was on top of the world. A lesson learned…You never know what people may be experiencing in life.
My hope is that he is at PEACE.