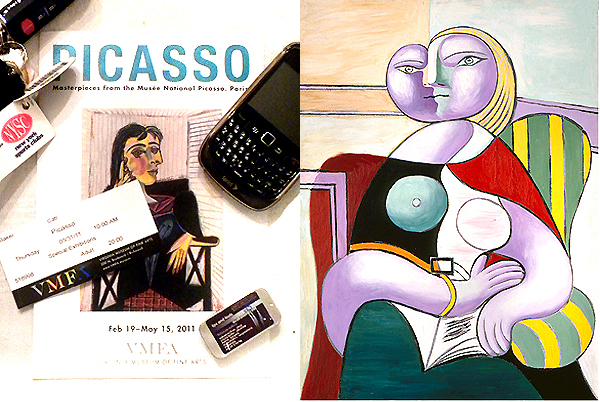 While watching television last week, a commercial grabbed my attention…a PICASSO exhibition in Richmond, VA??? Hmmm…Interesting…
Being that I studied and viewed a portion of his work while living in Milan, I was intrigued and decided to indulge in a mid – week getaway…The drive took about 8 hours from NYC. No, it's not a quick trip to the market, but after my cross country excursion to and from Los Angeles, ALONE, that's just a walk in the park for me…

But, I digress…The PICASSO presentation at the Virginia Museum of Fine Arts, was an assortment of work from his initial arrival in Paris and documents the transition of his artistic eye throughout his lifetime.
The selection travels through his Blue and Rose periods, delves into the Cubism, African Art and his, arguably most famous, Metamorphosis works. Honestly, it was a pleasure to see the amount displayed in the collection which includes photographs, drawings, prints, sculpture and a litany of subject matter (marriage, family, politics, music, war, etc.)
The spectacle displays a complete story of an artist that evolved and documented that adaptation through a craft of which he emerged as one of the premiere painters and sculptors in art history.