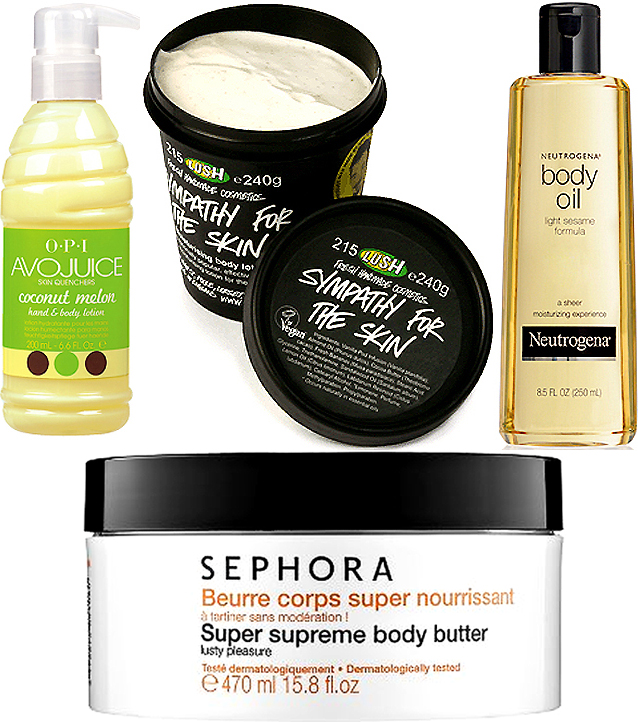 With the Spring solstice comes renewal and rejuvenation…It's protocol, around here, to shake things up with new bath and body products or reinstate a classic that we used in previous seasons…
Our favorites, thus far, cover the gamut from sheer and featherweight to meringued and luxurious:
O • P • I – AvoJuice Skin Quenchers – Coconut Melon – This velvety, lightweight lotion has a phenomenal scent. Want to visit the Caribbean but short on cash??? The AvoJuice experience will make you feel like you're there…WHOA!!!
LUSH – Sympathy for the Skin – Organic with an alluring soft vanilla scent, this mid weight frothy potion has the perfect balance of sheen without being oily. My entire family LOVES it!!!
NEUTROGENA – Light Sesame Oil – A classic…Yes, it's oil, but no need to worry about it staining your clothes, it covers so light you'll forget that you have it on…Until someone asks "What are you wearing?" The essence of the sesame oil is mesmerizing.
SEPHORA – Super Supreme Body Butter – Milky…Luscious…Creamy (i.e., Butter)…This body lotion lives up to it's name. It is supremely rich and luxurious. Having a slight sheen and fresh aura, IT IS… "Lusty Pleasure".