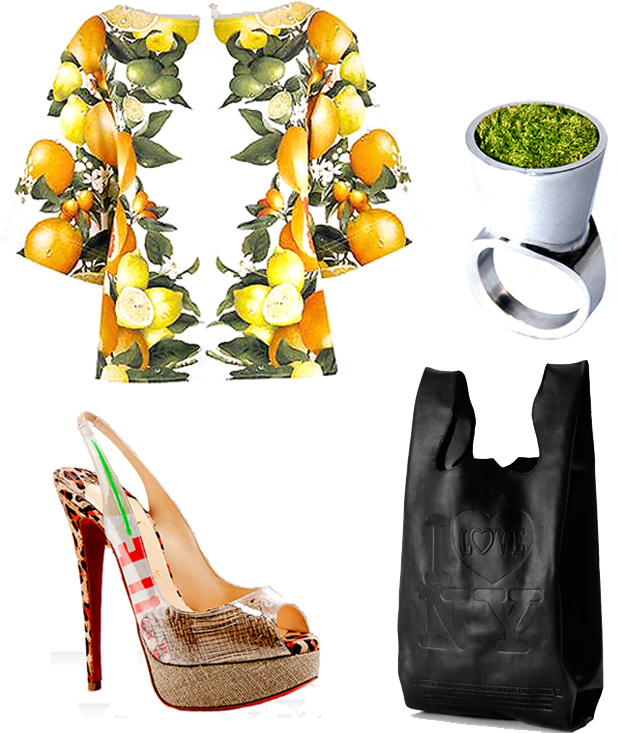 For the past few years, the ECO movement has continued to grow (excuse the pun) to the effect that fashion houses are now throwing their proverbial ecological gauntlets in the ring…
At one time, the production of environmental clothing were inundated with looks that can best be described as boring and blasé, due to simple cuts and colors. But now, the fashion and accessories are as chic and stylish as their not so ECO counterparts…A few of our choice picks include:
STELLA McCARTNEY – Citrus Print Cotton Langsat Top – Known for her love of everything ecologically sound, Ms. McCartney has introduced a pop of color for the Spring that would pair perfectly with slim cut jeans and chunky pumps…
HAF – Growing Tree Ring by Hafsteinn Juliusson – Their mantra is "A clash of jewelry, gardening, couture and organism". Honestly, the cool factor can't be denied…And, for those who do NOT possess a "green thumb", it's the perfect starter kit…A bit of green in the concrete jungle!!!
CHRISTIAN LOUBOUTIN – ECO – Trash – Made from CL snippets and snares taken from bins after shoe fabrication, each pair is one of a kind…Eco – Friendly AND the only one in the world??? Trash NEVER looked so good!!!
CAST of VICES – With four style choices from the "Corner Store" shopping bag series, this reusable tote is a keeper. The opinions of "Econistas" vary, but to those who accept leather, this is the ultimate accessory for your day of shopping.