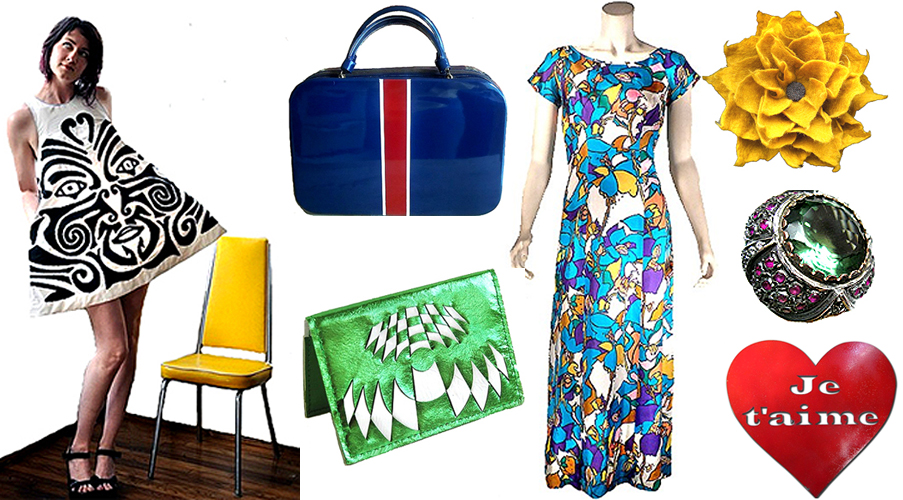 Similar to Facebook and Ebay, the ETSY website is ridiculously addictive!!!
Looking for one of a kind treasures, knicknacks and a bonanza of unique items??? This is the place to find it…Inundated with any and everything that you can dream of…Spanning from handmade designer goods including clothing, jewelry, handbags, art, home decor and furniture to vintage finery, if you seek…You shall find!!! Here are some "stores" that we LOVE…
TOOLGRRL – Maori Mini Dress Custom Handsewn Applique – A true artist, her collection also includes t-shirts, belts and gowns.
VALISE VISA – Vintage Mod Purse in Navy, Red & White – Travelling??? Want to include a bit of flair and vintage charm??? Well, Valise Visa can help with pristine vintage luggage (which includes original hardware and details), crossbody bags and handbags.
BiCHEN – Metallic Leather Cardholder – Apple Green – With her signature kaleidoscope design along with paillettes and flowers in leather, BiCHEN's collection includes wallets, cardholders, handbags, brooches and cellphone holders.
LA VINTAGE DOSSIER –  ETSY – Vintage Floral Caftan with scoop back and FABULOUS flowing train – Are you a vintage connossieur??? Me too…LA VINTAGE DOSSIER has fantastic one of a kind finds that run the gamut of eras and designers.
BRIGITE – Honey Yellow Flower Felt Brooch – BRIGITE has created couture pieces from felt fabrics at an amazing price!!! Her collection includes jewelry, home decor, handbags and clothing. GORGEOUS!!!
FIGISTANBUL – Fontana Di Trevi – If you LOVE cocktail rings like I do, FIGISTANBUL is a MUST for your jewelry box. Lovely gemstones with details to boot, not to mention the colossal size of each piece…FAB!!!
STUDIO724 – French LOVE Sign in Aluminum – Lucia Bennett's Studio724 is bursting with unique home decor, handbags, art, furniture, and jewelry fabricated  with metals, felt, leather, industrial components and wood. BEAUTIFUL!!!