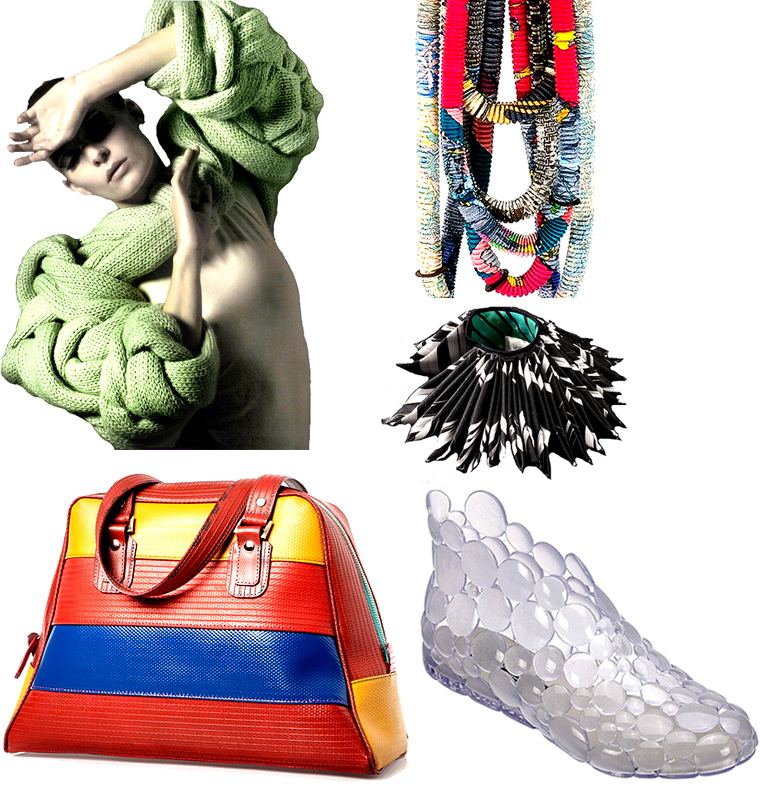 As I'm sure you've noticed, the articles posted this week was in observance of the international "EARTH/ ECO" celebration. Admittedly, until my research dive into ecological fashion, I had NO idea that there were so many designers and FABULOUS product available in such abundance…
The combination of textiles utilized and the detail in fabrication gives new meaning to "Your trash is someone's treasure"!!!
Via distinct, modern and state – of – the – art ideas, there are a surplus of methods and perspectives on ECO creations. That said, these are a few that clarified their stance on ECO-wear:
STINE LADEFOGED – Knits – This Danish designer has knitted her way to fashion FAB!!! By assembling different gauges and exploring various techniques, she has created, not only, unique pieces but, a niche for her design.
HERMÈS – Eco Scarf – Just one of the accessories from the "Petit H" collection compiled of defective inventory and design remnants, these necklaces are made of leather scraps and scarf fabric. POUBELLE de LUXE…No?!?
MICHELLE LOWE – HOLDER – Cuff – Handmade from African black and white printed cotton this design is constructed to form an angled cuff with peaks. STUNNING!!!
ELVIS & KRESSE – Bowling Bag – Reminiscent of the "American Tourister" or "Samsonite" bags of the 70's and compiled of de – commissioned British fire hoses, this bag is something that would add a significant POP to any handbag collection…HOT!!! (Excuse the pun).

MELISSA PLASTIC – Gaetano Pesce – Made from recycled plastic in Brazil, this "transformer" of a shoe incorporates a design of molded plastic circles connecting at the edges. Wanna change it??? Grab some scissors and tailor it to your specifications… From boots to ballerina flats. CUTE!!!