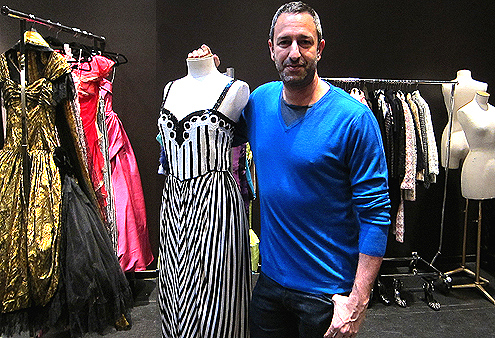 The infamous DECADESTwo "POPPED" back into the city for it's bi – annual shopping extravaganza!!! Held in SOHO's posh KiKi Montparnasse boutique on Greene, the bounty of unbelievable wares were astounding to partake…
If you're looking for high end designers for a fraction of the price, then this is the place…Is it possible to have more Chanel at a pop up store than in the boutique a block away??? Maybe not, but there was no mistake that Christos Garainos (pictured above) and his staff definitely came to play.
In all honesty, the DECADESTwo gauntlet was tossed in the ring with the rest of the competition and it's one that is marked on all fashionistas, celebrity, socialite and wannabe's calendars as a MUST on the "to – do" list.
You never know if you'll find that Balenciaga or Fendi bag from two seasons ago that you wanted sooooo bad, but couldn't find OR the Louboutin's or Nicholas Kirkwood's that you would have siphoned $900 dollars for but couldn't find your size…Well, you're in luck…now Christos has them and you're only paying $400 dollars. Yes, that's why it's one of the hottest events on the fashion schedule…High end bargains. I know…I know…some may say $400 dollars is NOT a bargain, especially through the unstable economy, but those that identify…Understand.
And with a potential reality show simmering, the DECADESTwo brand is on the verge of riding the "viral" train…Internationally!!!
Trust me, even Bergdorf's, Barney's and Neiman Marcus doesn't come close to the amount of clothing and history that DECADESTwo showcases for the 4 day stint. So, if you're looking for shoes, handbags, jewelry and of course, clothes…Be ready next time…
Again, there are no words…