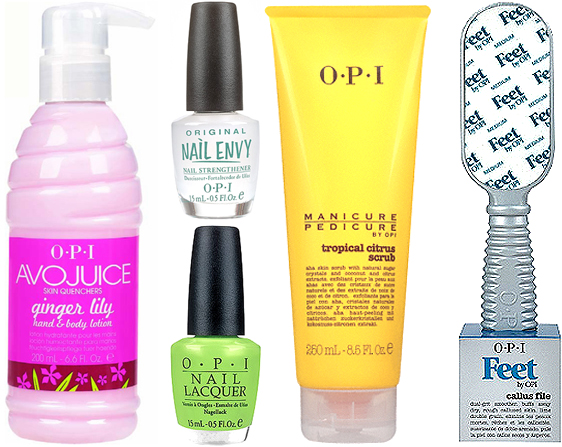 In the past, my product purchase philosophy has followed the "try as many on the shelf as possible" technique…I think, for the most part, we're all conditioned to compare and unfortunately, that leaves a bevy of products that go unused in our medicine cabinets when we find our favorites.
Rarely do I purchase the complete collection from one brand, after all, in my world, it's not the norm…But, I thought that I would give it a try and determine if this was easier on my wallet AND bathroom storage space…
Well, O • P • I, has altered my stance (i.e., purchase philosophy)…We all LOVE their nail polish, but I had no idea that they carry a complete collection of scrubs, crèmes, masks, massage lotions and grooming accessories.
Unbelievable scents, luxurious feel and most importantly, ONE STOP SHOPPING…I'm converted…For my mani/pedi products at least!!!

AVOJUICE – Ginger Lily
NAIL ENVY – Nail Strengthener
NAIL LACQUER – Gargantuan Green Grape
MANI/ PEDI – Tropical Citrus Kit (Massage/ Mask/ Scrub)
FEET by O • P • I – Callus File