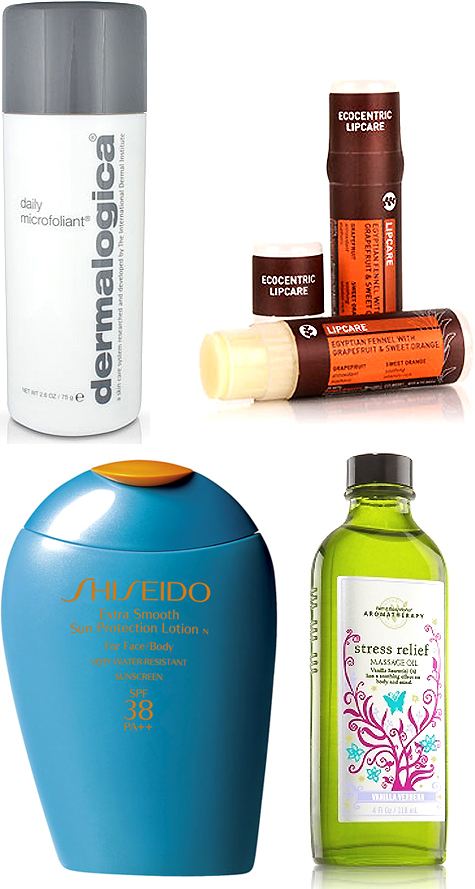 Every summer the temperatures seem to increase and luckily, the beauty products presented every year adapt to the hazardous changes in our precarious eco system.
This season, I have some new favorites that have helped minimize the heat, stress and UV rays for the largest organ we have…SKIN!!!
DERMALOGICA – Daily Microfoliant – While working with Jada Pinkett – Smith, she explained her skin regimen and I promised her I would try it…Well, I've been using and loving their products every since and the Daily Microfoliant has done wonders for my complexion this summer. I follow the cleanser with their Antioxidant Hydramist spray and Toner. AAAHHH!!! So FRESH…So CLEAN!!!
PANGEA ORGANICS – Egyptian Fennel with Grapefruit & Sweet Orange Lipcare – First it was lipstick (which is making it's way back)…Then lipgloss…And now…Pangea Organics. Sometimes, I just want a clean lip…no high shine or color, Pangea has created organic lipcare that provides nutrients and simplistic luxury without all the pomp and circumstance…The scent??? HEAVENLY!!!
SHISEIDO – Extra Smooth Sun Protection Lotion SPF 38 PA++ When it comes to protection from the sun, I usually purchase sunscreen and call it a day, but this year, I decided to try a couple of new products and the Shiseido SPL is truly a wonderful edition to my summer regimen. Sheer, smooth and a sweet aromatic scent. LOVELY!!!
BATH & BODY WORKS – Stress Relief  Oil- This is actually an "Oldie but Goodie" for me…For the past few summers, I purchase the Stress Relief set (Shower Gel/ Lotion/ Oil)…Maybe it's the humidity, coupled with the hot concrete and subway platforms here in NYC because at the end of the day, there's an unfathomable exhaustion…And honestly, after I shower, it's like all the "STRESS" of the day has been washed away…REFRESHING!!!