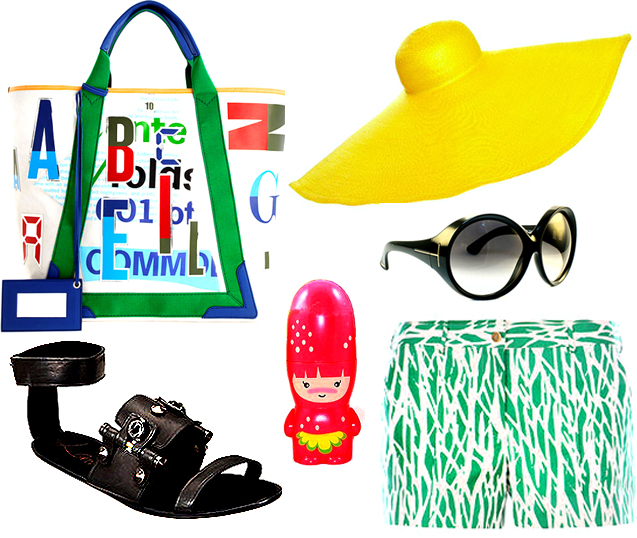 For the past few days, the heat has been UNBEARABLE….OPPRESSIVE even…How bad??? 105 degrees in the shade…and that's just the temperature!!!
Living in the concrete jungle has it perks (museums/ great restaurants/culture/ nightlife), but let's not forget the negatives…Unfortunately, that same concrete that enables the masses to maneuver through the city with ease also contributes to the higher temperatures and don't even try to venture in the subway…Union Square??? INTOLERABLE.
Luckily, the weekend usually brings a trek out of the city, whether it's to the Hamptons, Martha's Vineyard or Fire Island, being prepared is the first rule of simplistic fashion (in my book anyway…)
Here are a few pieces that will ease the transition from the hustle and bustle to relief, repose and relaxation…
BALENCIAGA – Diam Alphabet Tote – Nice and easy. Large enough to tuck your essentials for the weekend.
KOKIN – Large Brim Floppy Hat – Perfect for the rays…Remember it's still HOT!!!
TOM FORD – Alessandra  – I LOVE these shades…Oversized for extra protection, from the sun and paparazzi.

LANVIN – Studded Sandal – Available in Black and Cognac, this is a simple flat studded with flare. CUTE!!!
PRETTY FRUIT  – Hand Fan – Whether you're on the beach, deck or porch, this cool blast of air will come in handy.
DIANE VON FURSTENBURG – Miggy Short – Gorgeous prints that coincide with any look, DVF…You can't go wrong.