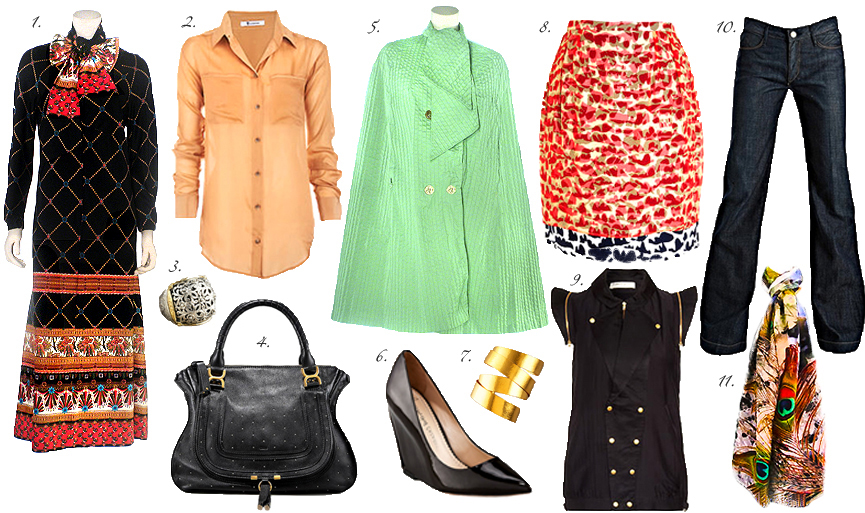 Well, it's officially Fall and to get a jump on the "MUST HAVES" for the season, we have scoured the collections to find the essentials for your wardrobe.
For me, I insist on having looks that are easily interchangeable from work to play and staples that will last far longer than the trend of the moment.  But, whether it's shoes, jewelry, handbags or scarves, I also make sure that I implement accents to enhance any look of the day. Here are some of our selections for the season (thus far…):
1. CHRISTIAN DIOR – Vintage Lounge Dress w/ necktie bow from LA VINTAGE DOSSIER…Hate being caught with the same outfit as a colleague at work. Well, vintage is the way to go…Stellar one of a kind looks. FAB!!!
2. T by ALEXANDER WANG – Button Front Blouse – A staple…Everyone needs one.
3. KONSTANTINO – Silver & Gold Dome Ring – The statement ring.
4. CHLOE – Marcie Hobo Studded Satchel – The perfect handbag that transcends time.
5. TUXSTER – Vintage Double Breasted Cape w/ necktie bow from LA VINTAGE DOSSIER.
6. JEAN – MICHEL CAZABAT – Wedge – A classic wedge that makes a "point".
7. VAN DER STRAETEN – Wide Wrap Cuff – This piece will satisfy your need for hardware minus the noise, (i.e., bangles).
8. TIMO WEILAND – Ink Blot Skirt – Combination patterns and fabrics…Perfect for the season.
9. VALENTINE GAUTHIER – Adjustable Vest with removable sleeves – Two looks in one? How economical…
10. EARNEST SEWN – Flare Denim – Your closet is full of skinny, straight and boot cut jeans…Now, it's time to "FLARE"!!!
11. TOLANI – Peacock Scarf – "POPS" of color. Lovely…