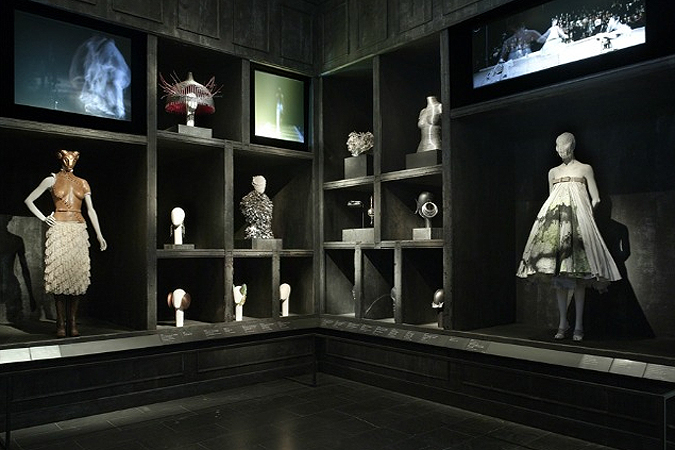 As I and my friend/fashion cohort, Raquel, walked briskly to the Metropolitan Museum for a glimpse of the "SAVAGE BEAUTY" exhibition, we were dreading the infamous wait that others had been experiencing since May…But, considering there were only 4 days before the show's departure, we decided to grin and bear it. Hey, it might be fun right?!?
Well, as we turned the corner, bracing ourselves for a sinuous line extending through Central Park, ALAS!!! To our surprise, there WAS no line. How fabulous is THAT!!! Our plan to come on Wednesday instead of Friday was turning out to be the best decision yet…Then we walked inside….Uggghhh. Nobody mentioned that the line that we were expecting outside was snaked around the mezzanine and throughout various eras of art masterpieces. Then we saw the sign…WAIT TIME : 2 -1/2 HOURS?!? Double Uggghhh!!!
Luckily, our MET membership gave us a V.I.P pass to the front of the line…Now, if that's not worth the $100 dollar yearly fee, I don't know what is…So, we went straight to the velvet rope, entered the foyer, made a left and OMG…just a wall of people on both sides, but, minus the wait we just dodged??? Piece of cake…
The collection…Awe – inspiring. The textile, construction and details within each piece exposed a glimpse of how complex his train of thought must have been in order to produce such work, reminiscent of Galileo and  Michaelangelo, who possessed visionaire abilities centuries ahead of their time.
Being a fashion editor, I've been lucky to pull from the Alexander McQueen collection for projects. I know the beauty, understand the quality and scale of exorbitant time, money and skill it takes to complete one pièce de résistance, let alone several collections.  In which, the next MUST top the last, if not, it would be considered "normal". But, he surprised us every time.
I've written several excerpts regarding my LOVE for Alexander McQueen's creations and his genius. Ironically, my first "LA DOSSIER" article was about him on the day that he died…I know, SAD but true…
Although his successor has carried the torch and done him proud, none can take his place OR his throne.