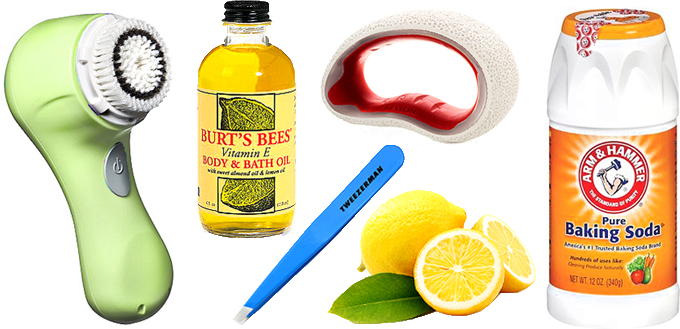 Have you ever missed your spa, brow or nail appointment due to hectic schedules??? I'm sure many of you have worked later to get the jump on the next day or was overwhelmed with your child's itinerary, which kicked your pamper plans right out the door…
Unfortunately, this happens to me pretty consistently…Luckily, I have a few suggestions to keep your unibrow at bay, along with other basic tweaks for feet, nails and skin:
CLARISONIC – When you just can't seem to keep your facial appointment, this is a great addition to your beauty war chest that keeps your face clean, clear and looking fresh.
BURT'S BEES – Vitamin "E" is known to fight wrinkles and maintain soft, supple skin.
TWEEZERMAN – Normally, my form of brow maintenance is "Threading" – yes I LOVE it!!! But, when I can't get to Myra (my brow guru), I make sure my Tweezerman is up to par and ready to go…
REVLON – Expert Effect All Around Pumice Stone – Similar to it's shape, this beauty tool is great to have all year round, yes, it does the same as any other, but the ergonomic shape and grip should allow for a quicker AND easier home pedicure.
ARM & HAMMER – Baking Soda is most popular for its power in the refrigerator, toothpaste and the occasional baking ingredient, but in my household, it also gets praise for its gentle addition as a body scrub in the shower. Just add to your shower gel and scrub away the dirt and stress from an overbearing day.
LEMONS – When you've chipped your favorite nail polish and can't find the same color in the store, if you opt to remove and wear clean nails before your next appointment, place your nail beds into some fresh squeezed fresh lemon juice. This will brighten your nails from top to bottom.