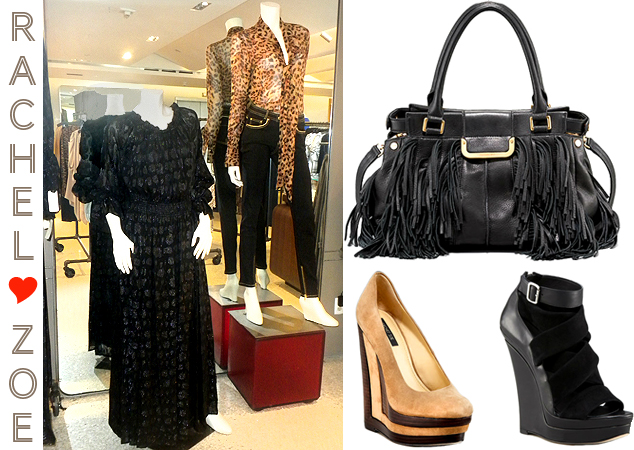 Today, I FINALLY had a chance to slip into Bergdorf's for a glimpse of the new Rachel Zoe Collection that debuted on August 1st.
With a primo location centered at the elevators on the fifth floor, I expected to see racks and racks of her Autumn wears for work and play, but to my dismay…I couldn't find it!!! I asked a couple of sales associates and they both directed me to the same location…No problem, I'll check again…And again…No luck.
After inquiring once more,  the mystery was solved…I was escorted to an empty rack…Okay, okay…it had 6 pieces, which equates to empty for me…But, I digress…I realized this was why I couldn't find the collection, IT WAS SOLD OUT!!!
Granted, I had previewed the looks online, but since I'm a "hands on" type of person, I wanted to SEE and get a feel for them in full color. Nevertheless, the few pieces that were available are stellar!!!
The designs are a compilation of  70's era reminiscence and current trends, including the Diane blouson metallic maxi dress – LOVE… The camel military jacket fabricated with medium weight felt and her deluxe dark skinny denim w/ inseam zippers. And, don't get me started on the handbags and shoes!!! The "Brigitte" Fringe??? A "MUST HAVE" on my list – and Of course, it's on backorder…Who knows how long I'll have to wait. Uggghhh!!! Sorry, I'm digressing again…
Is the collection a sure fire winner??? Hey the proof is evident…It's ALL GONE right…BRAVO!!!