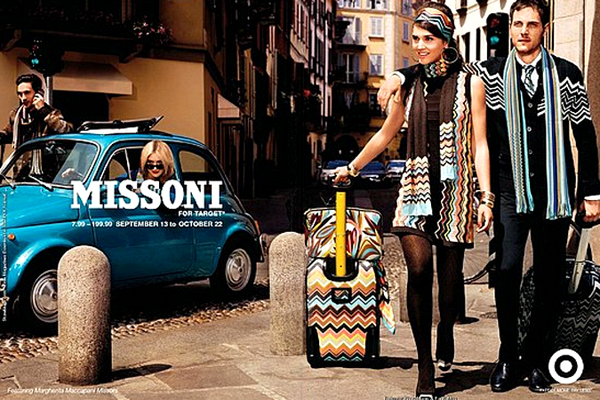 WE LOVE IT LONG TIME!!! Yes…Countdown!!! All that ADORE anything Missoni, as I do, should "Save The Date"…September 13th is the debut of the Missoni for Target collaboration. (Aaaahhh!!!) Do you hear that??? The clouds just parted, the sun's rays peeked through and the choir sang….(Aaaahhh!!!)…You heard it that time right?!?
Yes, the collection contains 400 pieces, from women, men and children's wear to house decor (tableware, blankets, throw pillows, furniture) to luggage, makeup bags, hair accessories, stationary and a BIKE!!! The list goes on and on….
With the advertising campaign showcasing the heir to the throne, Margherita Missoni, granddaughter of the founders Ottavio and Rosita Missoni, the brand will certainly attract the fashionistas in training and succeed in obtaining new "FAN"atics for the design house.
Now, if we compared this collection to all of the previous designer collaborations, could any of the other's hold a candle to this one??? Dare I say it…NO. Is this the best one yet??? YES…Okay, maybe I'm a bit biased, being that Missoni is one of my most favorite designers, but I believe most of you would agree.
Either way…I'll see you there!!!