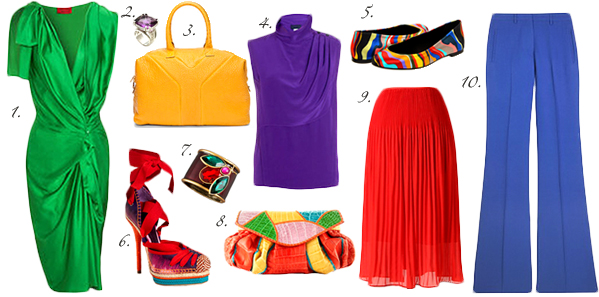 Regardless of how it's donned, the trend of the season is jewel tones. Whether vibrant or lurid, from dresses, separates and accessories, the fashionistas are introducing a POP of color to their wardrobe. These are some of our favorites:
1. LANVIN – Wrap Front Dress – AKA "The Green Goddess"…Need I say more?!?
2. MARISA PERRY – Fire Ring – Dripping with diamonds and a HUGE Amethyst stone, this one's a keeper…
3. YVES ST. LAURENT – Medium Easy Satchel – A beautiful canary yellow leather handbag is just the right size.
4. DEREK LAM – Asymmetrical Draped Blouse – This violet, sleeveless, mock neck blouse is perfectly paired with a suit or jeans.
5. GIUSEPPE ZANOTTI – Barth Multi – Color Flats – A sublime pair of flats for running errands and enhancing any look.
6. CHRISTIAN DIOR – "Tahiti" Platform – Make a statement…multi – tone platform heels all wrapped in a bow.
7. OSCAR DE LA RENTA – Crystal Bug Cuff – Accentuate your wrist with just the right amount of color and "bling".
8. CARLOS FALCHI – Patchwork Purse – Alligator bag that doubles as a clutch and  transitions easily from day to evening.
9. ANTHROPOLOGIE – Dolce Vida Crimped Crimson Midi – Diaphanous fabric that flutters effortlessly.
10. ETRO – Electric Blue Straight Pant – Cool blue with a twist of funky fun.