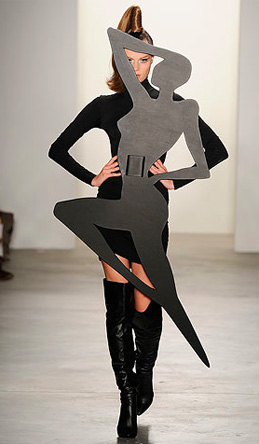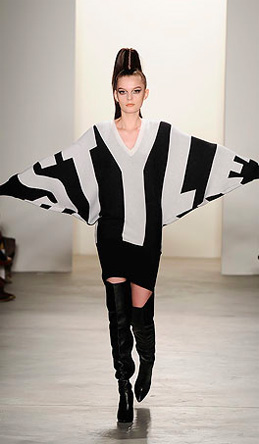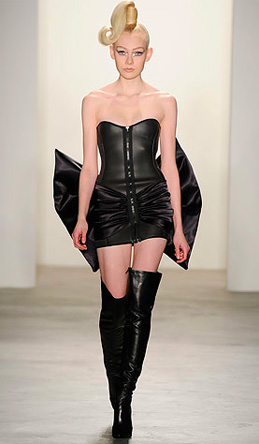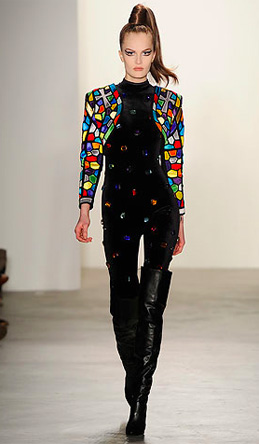 We all know that when Jeremy Scott debuts any collection, it's inundated with frills, innuendo and most importantly FUN!!!!
For me, JS is a MUST SEE because he thinks out of the box, his prints, props and designs are always thought provoking. This presentation was not as outrageous compared to previous seasons, but there are a few pieces that get a definite THUMBS UP!
Case in point, the batwing sweater dress that announces that you ARE style (although you wouldn't walk around like you're an airplane), but yet, I get it….FAB!!!
The bejeweled looks, the super bows and "cross" numbers are stellar, but, personally, I can't wait to pull the model on model looks….Oooohhh….The layout will be HAUTE!!!!!
Another piece that caught my eye was worn by the designer himself…..Embellished Adidas top Mr. Scott…..I like… ; – )
Being a smart businessman, his marketing skills are on point…Obviously, this is is the PERFECT platform to showcase his collaboration with Adidas. (An FYI moment)
(Yes, I know I'm late, but the JS Wings – Rainbow (Kazuki), are definitely on the "Dossier Dibs" list) : )