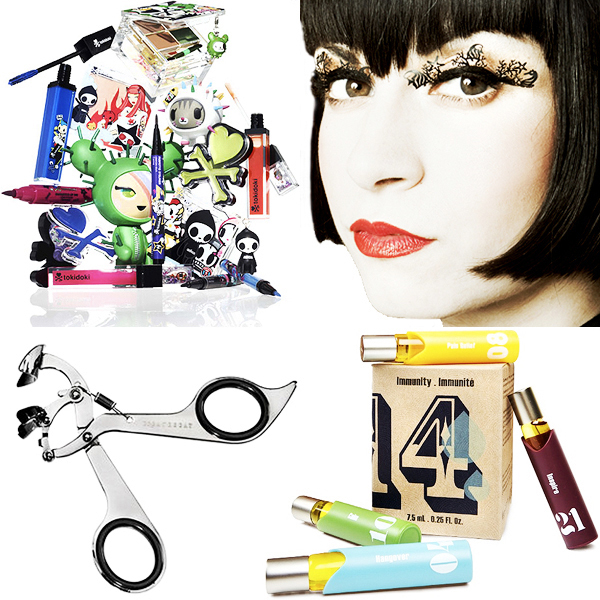 Due to the cogitated chaos of the coverage we dole out daily, we neglected to dish on the SEPHORA – Meatpacking District – Grand Opening held here in New York City. I know it's RIDICULOUSLY late, but I wanted to share some "FAB Finds" discovered during our walk through:
TOKIDOKI – Being a visual person, this brands packaging drew my attention IMMEDIATELY!!! Known for their eclectic apparel, the animé inspiration intermingled with POPS of color and kitschy characters secured my need to sample the goods.
PAPERSELF – Created by London based designer, Chunwei Liao, these eyelashes are true works of art!!! The regular "faux" lash is so passé..With styles ranging from "The Clown" to "Peacocks" and "Peach Blossoms", these will be sold OUT, better stock up now!!!
URBAN DECAY – Obediently following the exemplary advice from the fabulous Kevyn Aucoin (R.I.P.), I've been religiously using my Shu Uemura eyelash curlers for years…Well, the cutting – edge contraption from URBAN DECAY has been needling me…I have to test it out right??? Dubbed the "REVOLUTION", this new and improved device has eliminated the bars usually found in lash curlers and replaced them with an open cage…Will they work wonders??? I'll keep you posted!!!
21 DROPS – 100% natural, organic, therapeutic essential oils…That's all of it in a nutshell. And the selection gets right to the point, with names like Strength, Uplift, Calm and Focus. OR, if your day is not going too well, you also have choices like Headache, Hangover, PMS or Pain Relief…Either way, the end result should be an improvement.
Stay tuned for the update after I test them out…