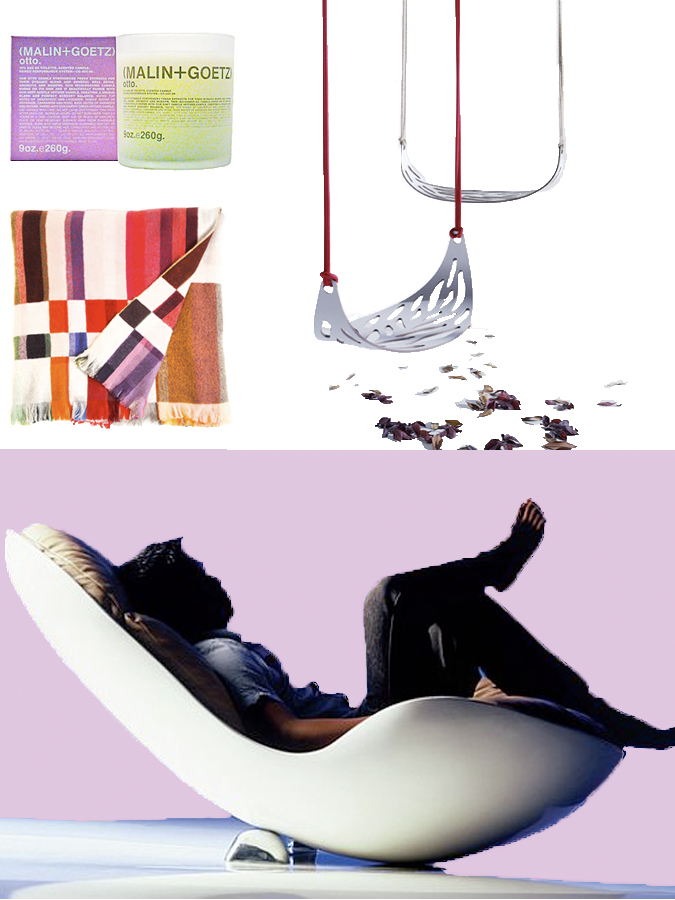 With cool, brisk weather right around the corner, we've found a few comfort pieces for the home that will allow you to unwind from your stressful work week.
MALIN + GOETZ – Otto Candle – A collection of complementary natural notes (grapefruit/ cardamom/ geranium/ rose/ oakmoss/ vetiver) that soothe the mind and enhances the environment.
BARNEYS – Mondrian Throw – Cashmere blanket designed with a reversible mondrian pattern and fringed hem…Cozy perfection.
ALBERTO SANCHEZ– Leaf Swing – Talk about relaxation…A sunny day, leaves falling, your mom yelling, "Finish Raking the Leaves!!!" and quick a "Swing" break to shake up the monotony of your workload. Remember the relaxation??? Inspired by Autumn leaves, this leaf swing can be used for both interior and exterior spaces. Ahhh, memories…
ALVIN TJITROWIRJO – Snug Lounge Chair – With it's easy conversion from chair to rocker, this leather bound, futuristic, half pod masterpiece is one that would cause you to lose track of time. Yes…In my household, this lounger can ONLY be used when I have absolutely nothing to do!!! It looks WAAAAY to comfortable. Hey…But, that's what weekends are for…RIGHT???