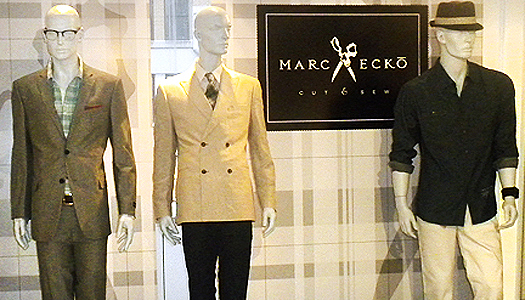 The ever popular labels of the late 90's have transformed, morphed or simply, matured into brands that appeal to a distinguished crowd and the "rad" set . Gone are the super size cut jeans and oversized polos, now, choices range from tailored suiting and slim fit denim to a collage of various looks with complementary accessories.
MARC ECKÔ – Established as one that is synonymous with clean design and a tailored hand touting a twist of ego, his new venture, "Cut & Sew", easily transcends economic lines. Similar to the original brand, "Cut & Sew" will be worn by the uptown, mid – town or downtown man…The collection offers suiting and separates, as well as accessories: ties, hats, watches and eyewear.
ROCAWEAR – This company has also evolved, still exuding the street swagger that made it popular, but in a refined and polished package. With sleek jackets, shirts, jeans, etc., the introduction of eyewear and hats complete the look.
ZOO YORK – On the playful side, ZOO YORK is back on the map as one of the preeminent providers of street wear. Known for their skateboard gear, the inclusion of all other elements will make the shopping easier…One stop shopping…The perfect solution!!!