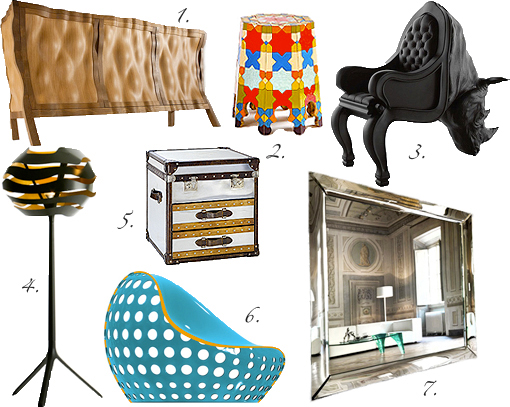 Regardless of the size or layout of your home, one should always possess at least one piece of furniture that strikes up a dynamic conversation. Here a few that will surely get the dinner party started:
1. EJ BESPOKE FURNITURE – Sideboard Bespoke – The quality and attention to detail that Edward Johnson evokes within every inch of his designs allows you to imagine the origins of furniture construction. Catering to his clients every whim, the end result is magnanimous and with his trademark biometric fingerprint cast in sterling silver, dated and hallmarked an EJ Bespoke original will be a beautiful addition to any room in the home.
2. MICHAEL TSINZOVSKY – Stools – Just the right "POP" for the living room or office. Tsinzovsky, the Belzalel Academy of Arts and Design student, has made an international splash by incorporating Islamic art (i.e., Arabesque) and inlaid patterns. Utilizing metals and wood, the collection includes chairs, tables and stools.
3. MÁXIMO RIERA – Rhino Chair – Talk about a conversation…The "Animal" chair series by Máximo Riera was undoubtedly designed to grab your attention. If you think this is something, check out his other "Animals" which include an Octopus/ Lion/ Walrus/ Beetle and Whale…
4. WERNER AISSLINGER – Tree Lamp – Resembling a sculptural topiary, Mr. Aisslinger's light fixture is available in floor and suspension models and are coated with a reflective surface inside the lamp shade which reflects the light via the shape and angles incorporated in the design.
5. ANDREW MARTIN – Livingstone Steamer Trunk – Infused with leather/ wood and metal, this steamer trunk is fully functional as a side table and extra storage. With a whiff of yesteryear, the trunk screams antique with a twist of modernism.
6. MISO SOUP DESIGN – The pOrOus Chair – How fun is this piece??? Available in various hues, the discussion will be an obvious one…A bit eccentric both in design and aesthetic, but that's the point…Right?!?
7. PHILIPPE STARCK – Floor Mirror – What's the easiest way to enlarge a space??? Add a mirror, of course…The bigger, the better. The Philippe Starck floor mirror will make your small condo space, that you've complained about since day one, TREMENDOUS…Instantly. Enjoy!!!