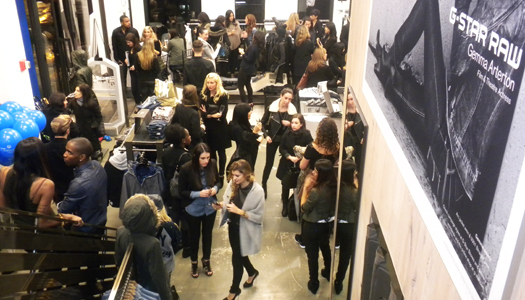 After a cold, rainy New York City day, the G-Star & Elle Magazine collaboration fête, held at the flagship store, was just what I needed…A tutorial in how to wake up the fashion zealots, the party was armed with makeup, hair and manicure stations for pampering and plenty of staff on hand to elaborate on the G – Star brand.
Prior to mingling with the hipsters in SoHo, I previewed the S/S 2012 collection and was blown away by the attention to detail…Trust, this is NOT your run of the mill denim. Whether it be the textile, construction or simply the utilization of secret dye techniques, the wealth of elements were too many to ignore…
Touting several lines, (RAW Essentials/ Raw Sustainable/ Laundry Army/ Correct Line) the collections have surpassed the "weekend jean" cliché. If you're searching for a perfect denim with a twist of cool and individual flair???
G-STAR is bound to have a look or two that will pique your interest…