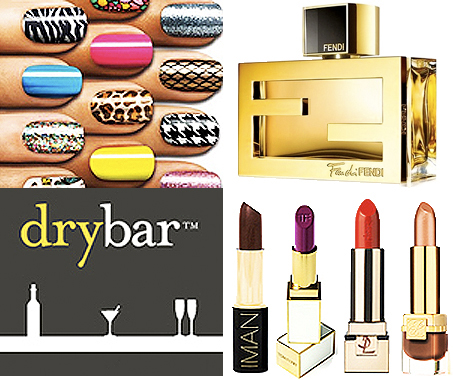 Our beauty must haves for the season are small enhancements that garner grand impressions. Morning, Noon or Night, these are just a few that will compliment any look:
SALLY HANSEN – What's the greatest thing since sliced bread??? No it doesn't begin with an "I"…( I – Phone/Pad/Pod)…Give up??? It's the nail polish appliqué…I've been wearing the ESSIE – "Ballet Slippers" hue for years. Why??? It's simple, when I wore color on my nails, it magically transferred to the document that the V.P. had just requested, hence…Extra work for me…Now, the "nail" wonders have arrived!!! With color and design variety, easy application, extended wear and the low cost (compared to a manicure), Sally Hansen's "Salon Effects" is an absolute MUST.
FENDI – Fan di FENDI – Housed in a signature Fendi phial with genuine metal hardware, the notes range from pear and peppercorns to patchouli and jasmine. This fragrance bestows a fruit scent with a pop of spice. Perfect for a cool Autumn day.
DRYBAR – The catchphrase says it all…"No Cuts. No Color. Just BLOWOUTS." (Wash included, of course)…Born and bred in the Los Angeles area, the chain has slowly trickled Eastbound with salons in Texas, Arizona, Georgia and the Big Apple. You want a quick hair makeover before that industry party or the plethora of upcoming holiday parties??? Hurry and reserve your spot because the combination of high quality and low cost will equate to a definite wait list.
LIPSTICK – The lip gloss craze over the past few years clearly endangered the use of lipstick everywhere…Really, when is the last time you've purchased your favorite shade??? It's been a while for me too, but it's back and with the resurgence comes the need for patience and most importantly…A mirror.

Let's face it, with lip gloss you just glide it on and clear out your corners, but with lipstick it takes an ounce of skill and  a steady hand. Some of my favorite shades for the season are: Iman – Jaguar/ Tom Ford – Violet Fatale/ YSL – Le Rouge/ Estee Lauder – Tiger Eye.
From the top to the tips and toes, your fabulous ensemble will be complete with a beauty boost.