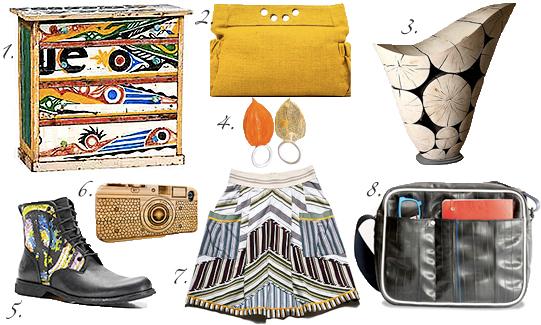 My ECO conversion is inevitable…At one time, the onslaught of attractive and artful Eco – Friendly product was non – existent. Well today, there is a bevy of choices that will convince you as well…I feel my "footprint" shrinking as I type!!!

A few of our favorites are:
1. ARTLANTIQUE  – "Commode Assane" – Chest of Drawers – Utilizing wood from the vibrant painted fisherman boats found on the banks of West Africa, these ECO furniture pieces will add a "POP" to any decor.
2. NAZLY VILLAMIZAR – Oversized Jute Clutch – Made from a natural fiber grown in Colombia, this jute clutch is perfectly paired with any daytime or evening look.
3. JEA – HYO LEE – Wood Stool – With sculptures ranging from wood and steel to stone and nails, this artist pushes the proverbial envelope in Eco art and furnishings.
4. SARAH HOOD – Spice Jewelry – Infusing the natural world with our daily grind, the Sarah Hood collection introduces a smidgen of peace and serenity with every design.
5. TIMBERLAND – Ringo Starr Collection – Beginning December 1st., through their initiative "Canvas That Cares", Timberland will auction off 75 pairs of boots featuring Starr's original peace sign artwork on eBay to benefit international non-profit WaterAid.
6. SIGNICASE – Bamboo M1 Camera Hive – A bamboo casing that can be customized to your specifications, Signicase has cornered the market for being Eco – friendly AND extremely accommodating to your design needs.
7. BURNING TORCH –  Upcycled Striped Skirt – Eco AND cute??? This chevron skirt is certainly that and more…
8. ALCHEMY GOODS – The Mercer – Compiled from bike inner tubes, the Alchemy brand offers numerous messenger bag and accessory options that will keep your personal belongings safe and dry..