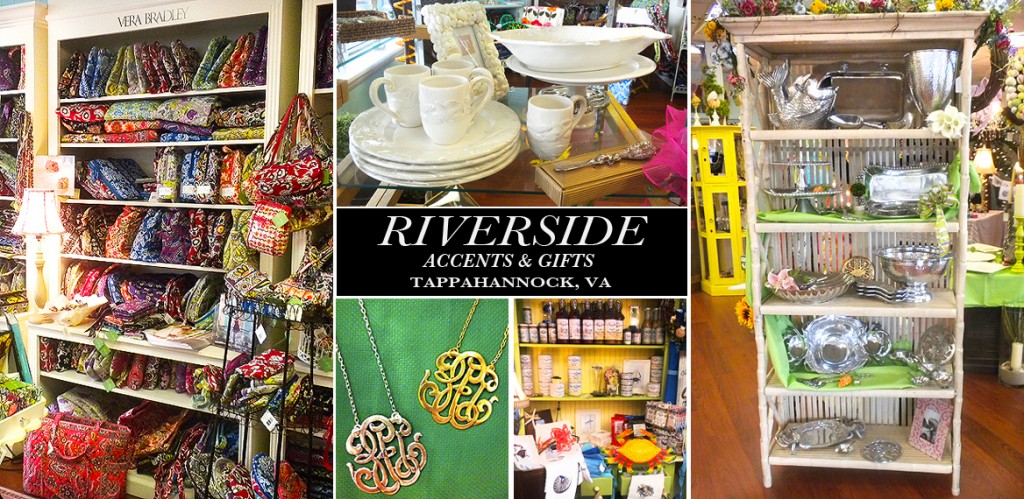 As you all know, I LOVE to travel but I have to admit, that although I've been all over the world, one of the best routes, in my opinion, is down the East coast through the D.M.V. (aka Washington D.C., Maryland and Virginia).
Since I've become accustomed to the meteoric speeds of New York City, the gorgeous landscape, fresh, clean air and change of pace (i.e., return to normalcy) is what I crave on holidays.
This weekend, while traveling for Easter, I stopped at one of my favorite boutiques in Tappahannock, Va…RIVERSIDE Accents & Gifts. The proprietors, Amy Brizendine and Jennifer Beck, have culminated unique handbags, clothing, accessories, jewelry, stationary and house wares that result in an exclusive specialty shop which showcases modern sensibilities packaged in country store charm.
Touting brands Vera Bradley, Lilly Pulitzer, Spartina 449 and John Wind, as well as a bevy of staple giftware and collections from various design houses from near and far, the duo has definitely carved a niché for an alternative to the local haunts (i.e., Walmart and Peebles.)
Ready to enhance your lifestyle??? If you're ever on Route 17 and pass through Tappahannock, RIVERSIDE is the perfect place to start…