Last modified on 2012-04-22 17:53:39 GMT. 0 comments. Top.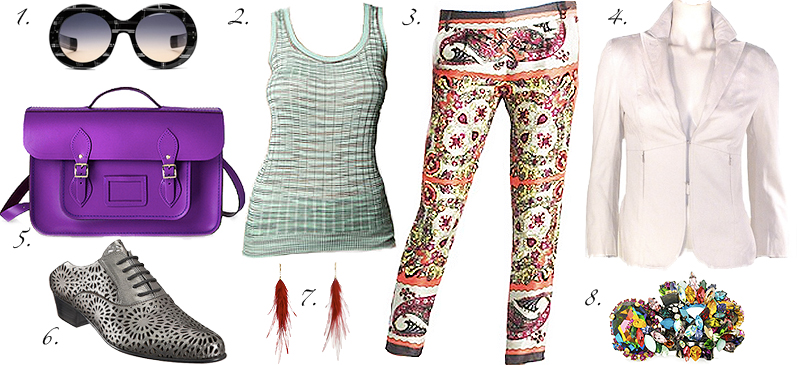 The blending technique of assorted colors, textures and patterns is not the easiest task to accomplish, sometimes it takes a bit of practice. After a few tries, VIOLÀ…Refined Eclecticism. Some of our season favorites???
1. OLIVER GOLDSMITH – "KoKo" – These over-sized frames are perfect for an "undercover" moment. With a hint of pattern (AKA "black lace"), they're the perfect combination of contemporary and eclectic fusion.
2. M. MISSONI – Ribbed Space Dye Tank – Has MM² ever steered you wrong??? Of course not…And this simple tank incorporating a twist of pattern and texture is easily interchangeable with any wardrobe piece.
3. J. CREW – Café Capri in Kerchief Paisley – Print anyone??? This season is one for a little MORE pop in the wardrobe department and these paisley print pants are a great addition.
4. COSTUME NATIONAL – "Zippy" Jacket – I love to add vintage pieces to current styles and the "Zippy" jacket from Costume National looks classic but has a few surprises up it's sleeve, literally. (i.e. zippers…FAB…FAB…FAB…)
5. THE CAMBRIDGE SATCHEL – The Backpack – My husband bought me a silver Cambridge satchel for Christmas and I LOVE it. Crossbody…Various sizes and colors…Plenty for the fashionista to choose from…Again…LOVE!!!
6. HAIDER ACKERMANN – Pewter Laser Cut Oxford – Talk about the perfect shoe…It's Spring here on the East Coast which means too cold for sandals/flip flops AND too warm for shoes. Well, this laser cut slipper oxford provide ventilation and comfort with its folded down heel.
7. JEEYUN HUN DESIGNS – "Red Red Wine" Feather Earring – When I think Spring, my mind drifts to light and airy. And Jeeyun Hun's creations fit the bill. An array of gorgeous feather designs that add a beautiful flair to any look.
8. ERICKSON BEAMON – "Confetti" Gunmetal Cuff – I've always loved to pull looks from the Erickson Beamon collection. They think out of the box. Want a piece that will turn heads??? Check out EB…It's guaranteed.
Last modified on 2011-11-14 16:12:48 GMT. 0 comments. Top.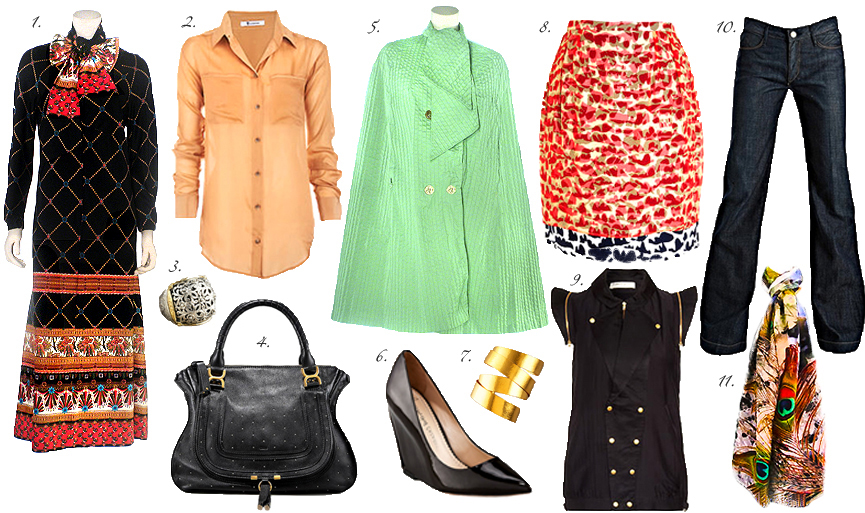 Well, it's officially Fall and to get a jump on the "MUST HAVES" for the season, we have scoured the collections to find the essentials for your wardrobe.
For me, I insist on having looks that are easily interchangeable from work to play and staples that will last far longer than the trend of the moment.  But, whether it's shoes, jewelry, handbags or scarves, I also make sure that I implement accents to enhance any look of the day. Here are some of our selections for the season (thus far…):
1. CHRISTIAN DIOR – Vintage Lounge Dress w/ necktie bow from LA VINTAGE DOSSIER…Hate being caught with the same outfit as a colleague at work. Well, vintage is the way to go…Stellar one of a kind looks. FAB!!!
2. T by ALEXANDER WANG – Button Front Blouse – A staple…Everyone needs one.
3. KONSTANTINO – Silver & Gold Dome Ring – The statement ring.
4. CHLOE – Marcie Hobo Studded Satchel – The perfect handbag that transcends time.
5. TUXSTER – Vintage Double Breasted Cape w/ necktie bow from LA VINTAGE DOSSIER.
6. JEAN – MICHEL CAZABAT – Wedge – A classic wedge that makes a "point".
7. VAN DER STRAETEN – Wide Wrap Cuff – This piece will satisfy your need for hardware minus the noise, (i.e., bangles).
8. TIMO WEILAND – Ink Blot Skirt – Combination patterns and fabrics…Perfect for the season.
9. VALENTINE GAUTHIER – Adjustable Vest with removable sleeves – Two looks in one? How economical…
10. EARNEST SEWN – Flare Denim – Your closet is full of skinny, straight and boot cut jeans…Now, it's time to "FLARE"!!!
11. TOLANI – Peacock Scarf – "POPS" of color. Lovely…
Last modified on 2011-11-14 06:24:02 GMT. 0 comments. Top.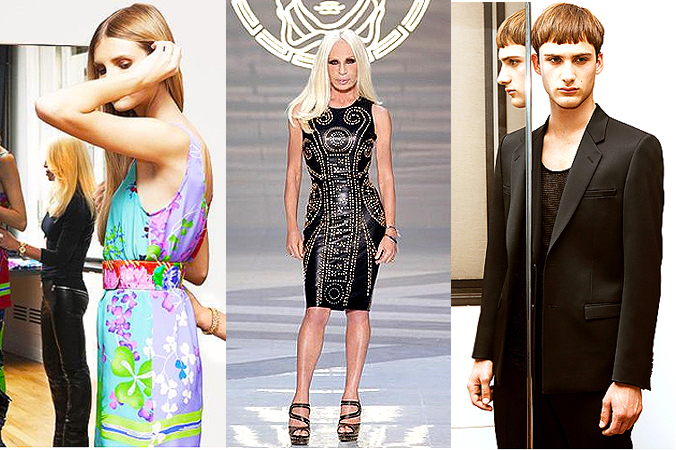 A couple of years ago, from Donatella's perspective, co – mingling the Versace brand with ANY of the mainstream store markets (i.e., H & M, Target, etc.) was inexplicably OUT of the question…Though almost all of  her competitor's had done just that…created for the masses, not for just the, in her opinion, "ELITE"…
Kudos to the person who took on the challenge of persuading her to take the chance, I'm certain she needed  a massive amount of convincing…
With the insurgence of anything 80's currently the hottest thing on the rack, this collection may obliterate the Lanvin sellout record from last year…depending on the price of course…After all friends, this is H & M, not Neiman's…
Are the fashionistas happy??? Of course…Is this a perfect match??? Or a grave misstep??? We shall soon have the answer. But one thing is for sure, the lines will be down the block and around the corner at every H&M store here in New York City!!!
What's the buzz??? The Versace "ICONIC" collection, will entail womenswear, menswear  and housewares. For women, Versace signature prints and studded leather…For men, tailored suiting with both collections touting shoes and accessories. The housewares, introduced for the first time in a designer collaboration at H & M,  will comprise of  linens…pillows, bedspreads, etc., which I have no doubt will add a POP to any decor…
Everything's now available online…Have FUN!!!
Last modified on 2011-11-08 17:31:47 GMT. 0 comments. Top.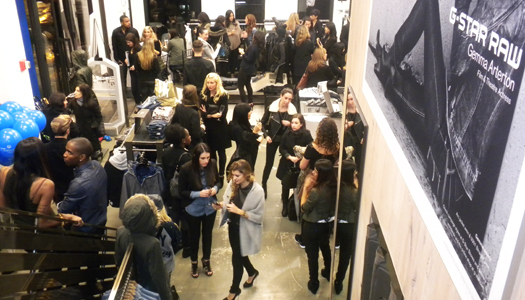 After a cold, rainy New York City day, the G-Star & Elle Magazine collaboration fête, held at the flagship store, was just what I needed…A tutorial in how to wake up the fashion zealots, the party was armed with makeup, hair and manicure stations for pampering and plenty of staff on hand to elaborate on the G – Star brand.
Prior to mingling with the hipsters in SoHo, I previewed the S/S 2012 collection and was blown away by the attention to detail…Trust, this is NOT your run of the mill denim. Whether it be the textile, construction or simply the utilization of secret dye techniques, the wealth of elements were too many to ignore…
Touting several lines, (RAW Essentials/ Raw Sustainable/ Laundry Army/ Correct Line) the collections have surpassed the "weekend jean" cliché. If you're searching for a perfect denim with a twist of cool and individual flair???
G-STAR is bound to have a look or two that will pique your interest…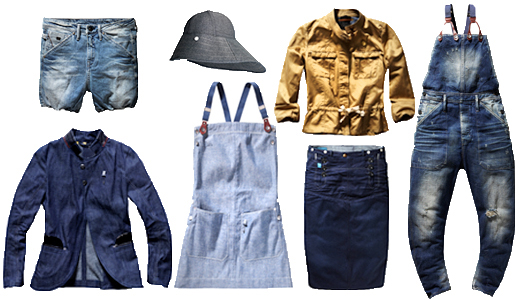 Last modified on 2011-10-19 23:22:40 GMT. 0 comments. Top.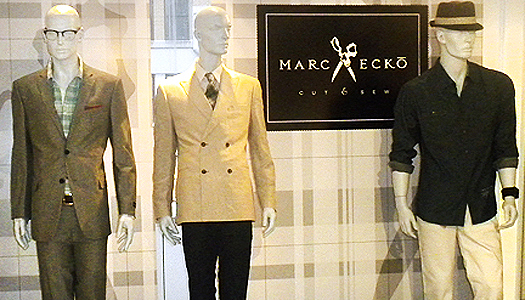 The ever popular labels of the late 90's have transformed, morphed or simply, matured into brands that appeal to a distinguished crowd and the "rad" set . Gone are the super size cut jeans and oversized polos, now, choices range from tailored suiting and slim fit denim to a collage of various looks with complementary accessories.
MARC ECKÔ – Established as one that is synonymous with clean design and a tailored hand touting a twist of ego, his new venture, "Cut & Sew", easily transcends economic lines. Similar to the original brand, "Cut & Sew" will be worn by the uptown, mid – town or downtown man…The collection offers suiting and separates, as well as accessories: ties, hats, watches and eyewear.
ROCAWEAR – This company has also evolved, still exuding the street swagger that made it popular, but in a refined and polished package. With sleek jackets, shirts, jeans, etc., the introduction of eyewear and hats complete the look.
ZOO YORK – On the playful side, ZOO YORK is back on the map as one of the preeminent providers of street wear. Known for their skateboard gear, the inclusion of all other elements will make the shopping easier…One stop shopping…The perfect solution!!!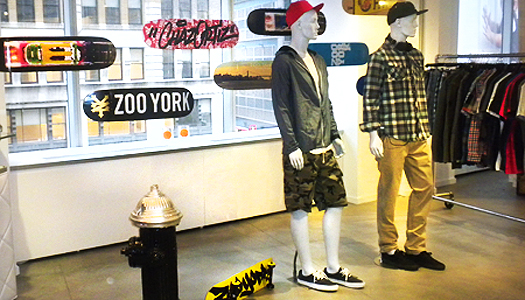 Last modified on 2011-11-19 23:15:24 GMT. 0 comments. Top.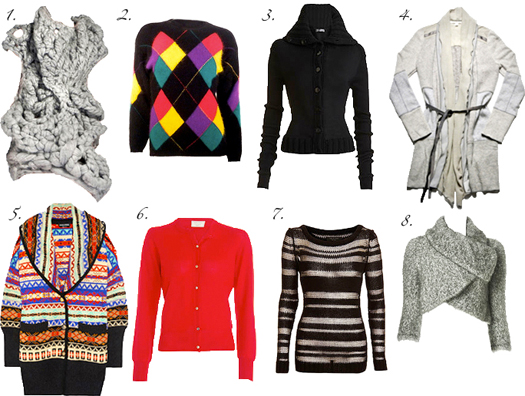 Do you feel that??? Slowly, but surely, the barometer is reading cool, brisk temperatures. The key word for these moments??? LAYER…LAYER…LAYER.
What's the easiest way to layer??? Sweaters, of course…Regardless of the construction, be it crew or high collar, wool or rabbit, chunky or extrafine, the end result should be warmth, comfort and, most importantly, CUTE!!!

These are some of our favorites for the season:
1. JOHAN KU – The Hole – 100% Wool – The extremely chunky, sculpture – like silhouette knitwear is the signature element of this designers repertoire. Beautiful pieces that transform a simple look into an art show.
2. RAFAELLA – Paragon – Angora and Rabbit Hair Blend – Yes…Argyle is making a comeback and this sweater is one of the softest textures touting a backdrop of black and POP of neon…A MUST HAVE!!!
3. PROENZA SCHOULER – High Collar Cardigan – With a mixture of cashmere, wool and silk where can you go wrong?!? Slim fit, extra long sleeves and FABULOUS high button collar…LOVE!!!
4. BURNING TORCH – Recycled Cashmere Cardigan – This up cycled cashmere cardigan is chocked full of details that would make even the most non Eco – conscious fashionista become a zealot for the cause!!! Silk charmeuse front panel, Crinkle chiffon drape collar, Metallic textile inserts, Leather belt…The perfect addition to any Fall wardrobe.
5. SONIA RYKIEL – Intarsia – Chunky Wool Blend – This wool blend cardigan is an easy transition layering piece that provides all that any FAB closet should have…Spirit, Splash of color and the comfort of Simplistic Panache.
6. KITSUNÉ – Classic Round Neck Cardigan – All should have a basic button front sweater in the closet. Preferred colors for me??? Black (of course…) and a vibrant color, red is good…Kelly green is GREAT!!! This extra fine merino wool look from Kitsuné is a "no brainer".
7. RAG & BONE – Kobra Sweater – Again, the layer piece comes in various styles, this knit scooped neck sweater by Rag & Bone adds a bit of sex appeal to an ensemble that's plain and needs a burst of pizazz.
8. ALICE + OLIVIA – Florence – Cropped Sweater – Add a twist to your look with this chic, criss – crossed button front, 3/4 length sleeved, "bolero" sweater. In heather grey, this soft, yet sassy look is easily transitioned from work to play.
Last modified on 2011-10-08 17:58:06 GMT. 0 comments. Top.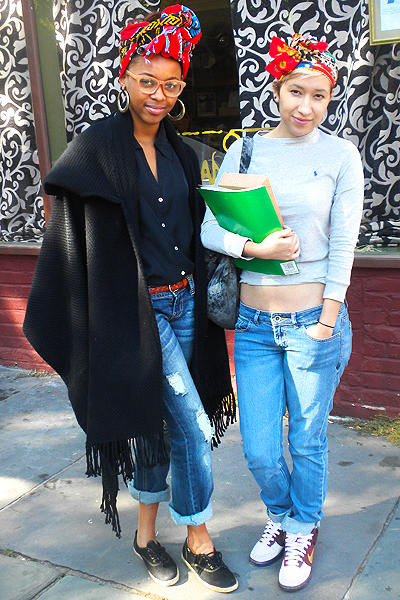 While strolling in Brooklyn this morning, I bumped into a couple of fashionistas who were dripping with style!!! Hailing from Houston, Racquel Simone & Yaneth Valdez manage to infuse some Southern flavor to the eclectic streets of Clinton Hill.
Last modified on 2011-10-04 01:06:57 GMT. 0 comments. Top.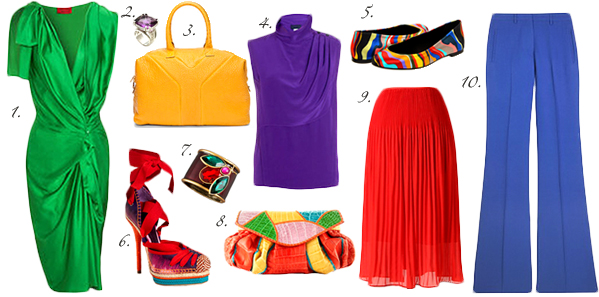 Regardless of how it's donned, the trend of the season is jewel tones. Whether vibrant or lurid, from dresses, separates and accessories, the fashionistas are introducing a POP of color to their wardrobe. These are some of our favorites:
1. LANVIN – Wrap Front Dress – AKA "The Green Goddess"…Need I say more?!?
2. MARISA PERRY – Fire Ring – Dripping with diamonds and a HUGE Amethyst stone, this one's a keeper…
3. YVES ST. LAURENT – Medium Easy Satchel – A beautiful canary yellow leather handbag is just the right size.
4. DEREK LAM – Asymmetrical Draped Blouse – This violet, sleeveless, mock neck blouse is perfectly paired with a suit or jeans.
5. GIUSEPPE ZANOTTI – Barth Multi – Color Flats – A sublime pair of flats for running errands and enhancing any look.
6. CHRISTIAN DIOR – "Tahiti" Platform – Make a statement…multi – tone platform heels all wrapped in a bow.
7. OSCAR DE LA RENTA – Crystal Bug Cuff – Accentuate your wrist with just the right amount of color and "bling".
8. CARLOS FALCHI – Patchwork Purse – Alligator bag that doubles as a clutch and  transitions easily from day to evening.
9. ANTHROPOLOGIE – Dolce Vida Crimped Crimson Midi – Diaphanous fabric that flutters effortlessly.
10. ETRO – Electric Blue Straight Pant – Cool blue with a twist of funky fun.
Last modified on 2011-08-18 21:02:59 GMT. 0 comments. Top.

It's that time of year again…Anna Wintour's third installment of  the WORLD shopping day!!! Are we excited??? Of course, it's a great time to be out and about and spend, spend, spend for a cause.
Check out the website to plan your shopping extravaganza!!!
Last modified on 2011-10-04 01:09:12 GMT. 0 comments. Top.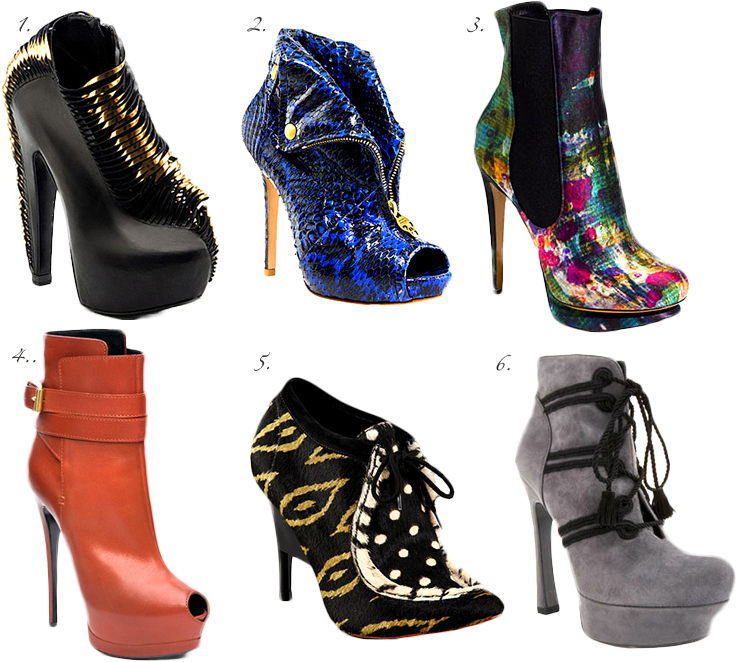 My favorite season is upon us…Regardless of how you refer to it, Autumn or Fall, the time is now to find your wardrobe mainstays before your size is no longer available.
While perusing the net for great finds, I've noticed a comeback of the "Bootie"…A bootie is a cross between a pump and boot that usually includes a substantial heel and ankle coverage. Well, some of our favorites are embellished, either through textile, minute details or all out decadence!!! These caught our eye and made the LA DOSSIER list:
1. UNITED NUDE for Iris Van Herpen – Synesthesia – Chock full of flavor!!! Avant – guarde with gold sinuous pops of splendor.
2. ALEXANDER McQUEEN – Snake Biker Jacket – With a zipper that gives you instant attitude, these will jumpstart any look.
3. NICHOLAS KIRKWOOD – Erdem Double Gore Satin – Resembling watercolor, this Erdem pumps are a stunner!!!
4. GIUSEPPE ZANOTTI  – Double Belted Ankle – Clean, simple with bold lines, this is a staple for any closet.
5. LOEFFLER RANDALL – Wallaby Lace Up – A mixture of pattern is the "new black", so this bootie is a keeper.
6. YVES ST. LAURENT – Palais Passementerie – With details resembling military nuances (passementerie), this bootie is a MUST!!!
Last modified on 2011-08-15 22:02:33 GMT. 0 comments. Top.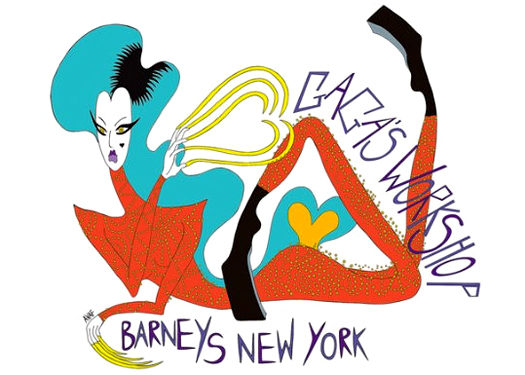 For the little "Monsters" that live and breathe all things GAGA, this will certainly brighten your day!!!
The Holiday 2011 campaign for Barneys New York will showcase the Lady herself in an installation designated "GAGA'S WORKSHOP". The collaboration includes Lady GAGA, Nicola Formichetti (LOVE him), the infamous fashion stylist and current Mugler creative director and artists duo (Eli Sudbrack and Christophe Hamaide Pierson)  from AVAF (Assume Vivid Astro Focus).
Similar to the advertising artwork created for the project, the exclusive gift items, will be just as eclectic and utopian.  An entire floor will house GAGA'S WORKSHOP at the flagship store from November through January 2nd. There will also be various items found at other Barneys New York locales and their company website.
Additionally, in true philanthropic Lady GAGA fashion, Barneys New York will donate 25% of sales from all items featured in GAGA'S WORKSHOP to a charity of her choice.
The Queen "Monster" & Barneys New York??? I foresee lines around the block…'TIS THE SEASON!!!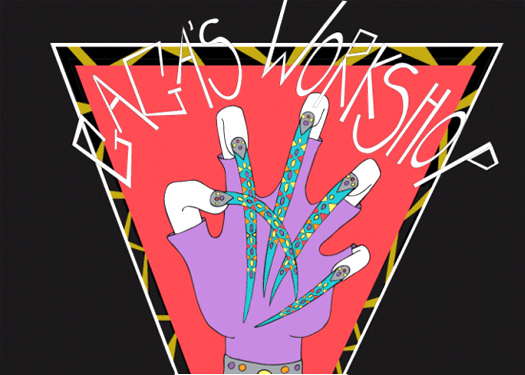 Last modified on 2011-08-15 22:02:12 GMT. 0 comments. Top.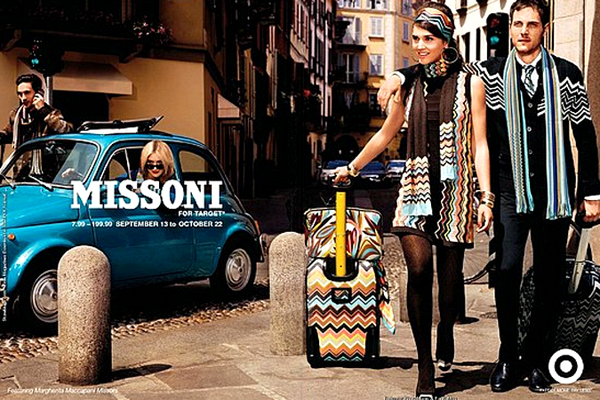 WE LOVE IT LONG TIME!!! Yes…Countdown!!! All that ADORE anything Missoni, as I do, should "Save The Date"…September 13th is the debut of the Missoni for Target collaboration. (Aaaahhh!!!) Do you hear that??? The clouds just parted, the sun's rays peeked through and the choir sang….(Aaaahhh!!!)…You heard it that time right?!?
Yes, the collection contains 400 pieces, from women, men and children's wear to house decor (tableware, blankets, throw pillows, furniture) to luggage, makeup bags, hair accessories, stationary and a BIKE!!! The list goes on and on….
With the advertising campaign showcasing the heir to the throne, Margherita Missoni, granddaughter of the founders Ottavio and Rosita Missoni, the brand will certainly attract the fashionistas in training and succeed in obtaining new "FAN"atics for the design house.
Now, if we compared this collection to all of the previous designer collaborations, could any of the other's hold a candle to this one??? Dare I say it…NO. Is this the best one yet??? YES…Okay, maybe I'm a bit biased, being that Missoni is one of my most favorite designers, but I believe most of you would agree.
Either way…I'll see you there!!!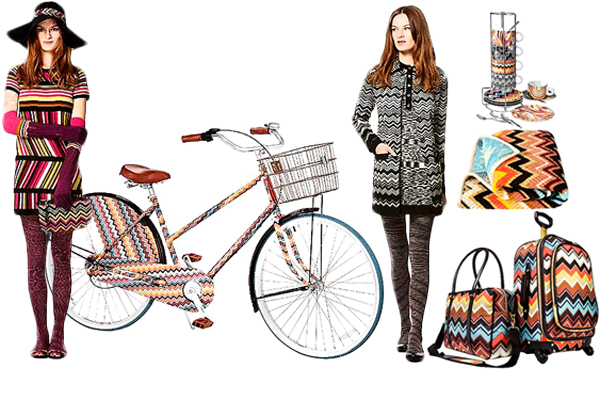 Last modified on 2011-08-15 22:01:55 GMT. 0 comments. Top.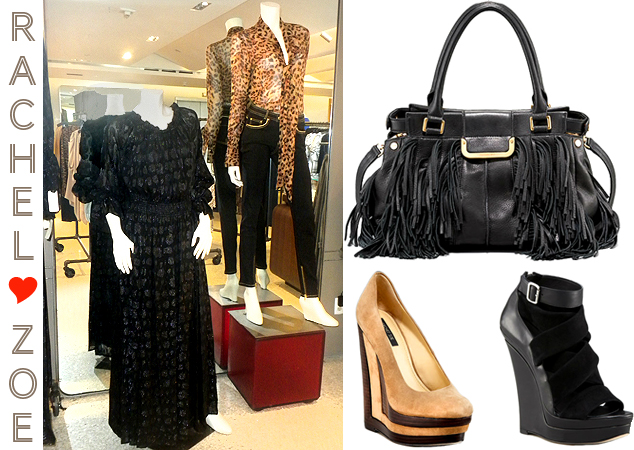 Today, I FINALLY had a chance to slip into Bergdorf's for a glimpse of the new Rachel Zoe Collection that debuted on August 1st.
With a primo location centered at the elevators on the fifth floor, I expected to see racks and racks of her Autumn wears for work and play, but to my dismay…I couldn't find it!!! I asked a couple of sales associates and they both directed me to the same location…No problem, I'll check again…And again…No luck.
After inquiring once more,  the mystery was solved…I was escorted to an empty rack…Okay, okay…it had 6 pieces, which equates to empty for me…But, I digress…I realized this was why I couldn't find the collection, IT WAS SOLD OUT!!!
Granted, I had previewed the looks online, but since I'm a "hands on" type of person, I wanted to SEE and get a feel for them in full color. Nevertheless, the few pieces that were available are stellar!!!
The designs are a compilation of  70's era reminiscence and current trends, including the Diane blouson metallic maxi dress – LOVE… The camel military jacket fabricated with medium weight felt and her deluxe dark skinny denim w/ inseam zippers. And, don't get me started on the handbags and shoes!!! The "Brigitte" Fringe??? A "MUST HAVE" on my list – and Of course, it's on backorder…Who knows how long I'll have to wait. Uggghhh!!! Sorry, I'm digressing again…
Is the collection a sure fire winner??? Hey the proof is evident…It's ALL GONE right…BRAVO!!!
Last modified on 2011-10-21 19:36:11 GMT. 0 comments. Top.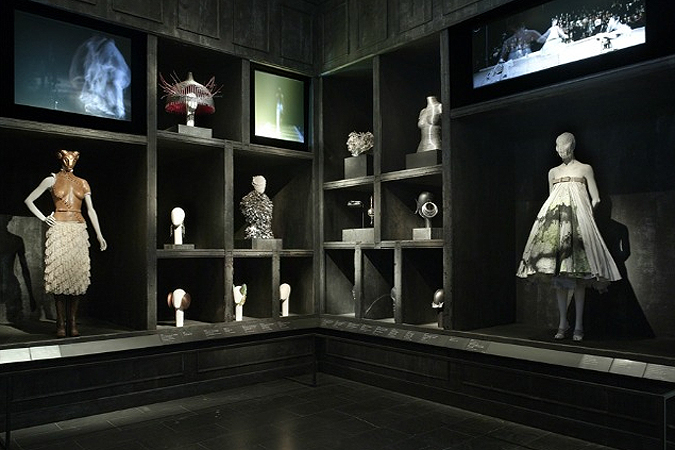 As I and my friend/fashion cohort, Raquel, walked briskly to the Metropolitan Museum for a glimpse of the "SAVAGE BEAUTY" exhibition, we were dreading the infamous wait that others had been experiencing since May…But, considering there were only 4 days before the show's departure, we decided to grin and bear it. Hey, it might be fun right?!?
Well, as we turned the corner, bracing ourselves for a sinuous line extending through Central Park, ALAS!!! To our surprise, there WAS no line. How fabulous is THAT!!! Our plan to come on Wednesday instead of Friday was turning out to be the best decision yet…Then we walked inside….Uggghhh. Nobody mentioned that the line that we were expecting outside was snaked around the mezzanine and throughout various eras of art masterpieces. Then we saw the sign…WAIT TIME : 2 -1/2 HOURS?!? Double Uggghhh!!!
Luckily, our MET membership gave us a V.I.P pass to the front of the line…Now, if that's not worth the $100 dollar yearly fee, I don't know what is…So, we went straight to the velvet rope, entered the foyer, made a left and OMG…just a wall of people on both sides, but, minus the wait we just dodged??? Piece of cake…
The collection…Awe – inspiring. The textile, construction and details within each piece exposed a glimpse of how complex his train of thought must have been in order to produce such work, reminiscent of Galileo and  Michaelangelo, who possessed visionaire abilities centuries ahead of their time.
Being a fashion editor, I've been lucky to pull from the Alexander McQueen collection for projects. I know the beauty, understand the quality and scale of exorbitant time, money and skill it takes to complete one pièce de résistance, let alone several collections.  In which, the next MUST top the last, if not, it would be considered "normal". But, he surprised us every time.
I've written several excerpts regarding my LOVE for Alexander McQueen's creations and his genius. Ironically, my first "LA DOSSIER" article was about him on the day that he died…I know, SAD but true…
Although his successor has carried the torch and done him proud, none can take his place OR his throne.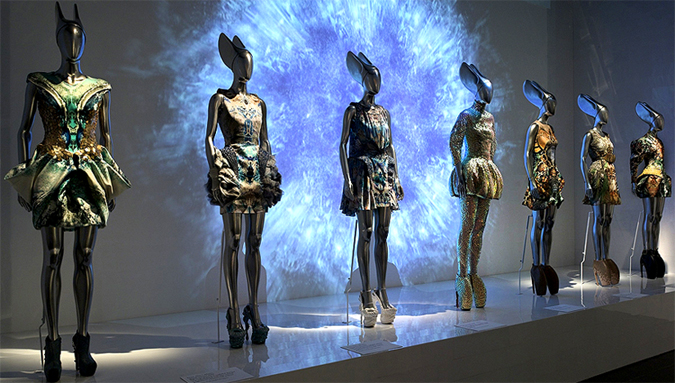 Last modified on 2011-08-07 17:35:32 GMT. 0 comments. Top.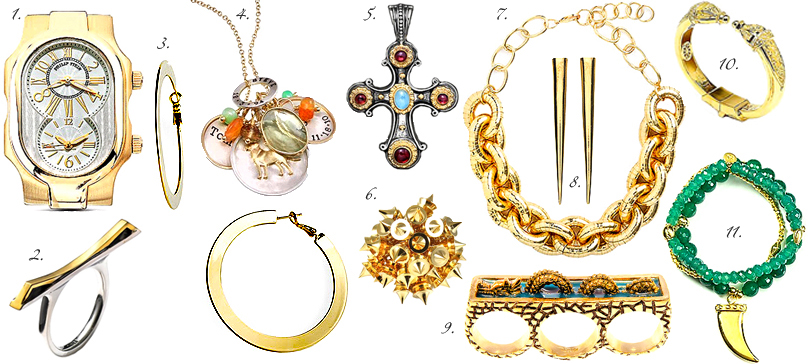 Despite your preference, one thing is for certain, the gold accessory has reemerged with a vengeance!!! It is the quintessential MUST for the season.
Don't misunderstand, gold supplements have always had its place at the jewelry counter, but in the past few years it's taken a backseat to the world of "BLING"…The brighter the better right?!?
Well, with the gilded treasure in such abundance, styles and variety run the gamut…From the classic hoop and bangles to contemporary designs, pop art and symbolic pieces, there should be no issues finding a favorite. Check out our picks:
1. PHILLIP STEIN – Large Signature Watch
2. ELIZABETH AND JAMES – Sterling and Gold Scallop Ring
3. NATASHA COUTURE –  70's Hoop Earrings
4. HEATHER MOORE – Oval and Round Necklace
5. KONSTANTINO – Sterling and Gold Cross
6. LARUICCI – Straight To The Point Ring
7. STATUS GOLD – Sequin Textured Necklace
8. JENNIFER FISHER – Large Flat Cone Earrings
9. CRYPTID – Moat Monster – 3 Finger Ring
10. MARISA PERRY – Marrakesh Button Bangle
11. GOOD CHARMA – Horn Charm Green Onyx Bracelet
Last modified on 2011-07-29 03:46:17 GMT. 0 comments. Top.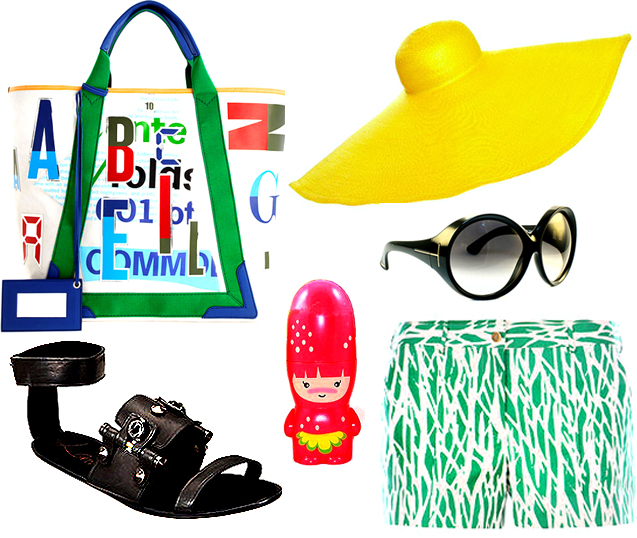 For the past few days, the heat has been UNBEARABLE….OPPRESSIVE even…How bad??? 105 degrees in the shade…and that's just the temperature!!!
Living in the concrete jungle has it perks (museums/ great restaurants/culture/ nightlife), but let's not forget the negatives…Unfortunately, that same concrete that enables the masses to maneuver through the city with ease also contributes to the higher temperatures and don't even try to venture in the subway…Union Square??? INTOLERABLE.
Luckily, the weekend usually brings a trek out of the city, whether it's to the Hamptons, Martha's Vineyard or Fire Island, being prepared is the first rule of simplistic fashion (in my book anyway…)
Here are a few pieces that will ease the transition from the hustle and bustle to relief, repose and relaxation…
BALENCIAGA – Diam Alphabet Tote – Nice and easy. Large enough to tuck your essentials for the weekend.
KOKIN – Large Brim Floppy Hat – Perfect for the rays…Remember it's still HOT!!!
TOM FORD – Alessandra  – I LOVE these shades…Oversized for extra protection, from the sun and paparazzi.

LANVIN – Studded Sandal – Available in Black and Cognac, this is a simple flat studded with flare. CUTE!!!
PRETTY FRUIT  – Hand Fan – Whether you're on the beach, deck or porch, this cool blast of air will come in handy.
DIANE VON FURSTENBURG – Miggy Short – Gorgeous prints that coincide with any look, DVF…You can't go wrong.
Last modified on 2011-05-23 20:47:02 GMT. 0 comments. Top.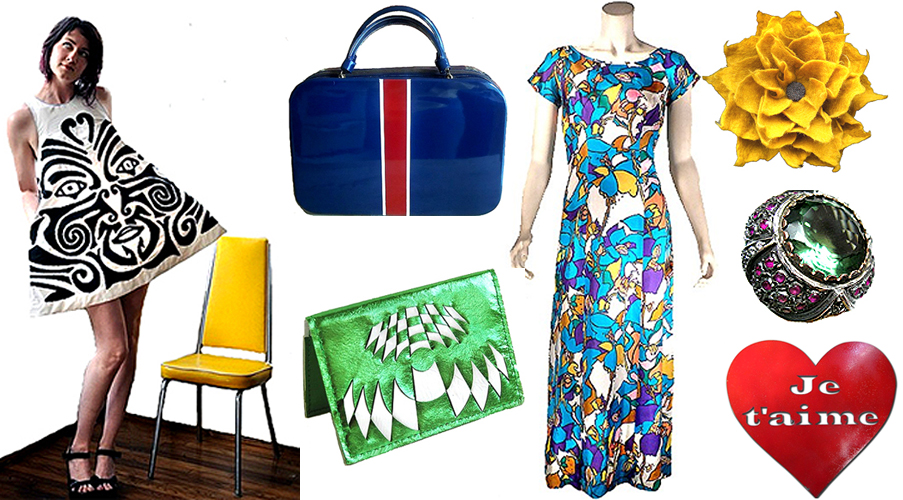 Similar to Facebook and Ebay, the ETSY website is ridiculously addictive!!!
Looking for one of a kind treasures, knicknacks and a bonanza of unique items??? This is the place to find it…Inundated with any and everything that you can dream of…Spanning from handmade designer goods including clothing, jewelry, handbags, art, home decor and furniture to vintage finery, if you seek…You shall find!!! Here are some "stores" that we LOVE…
TOOLGRRL – Maori Mini Dress Custom Handsewn Applique – A true artist, her collection also includes t-shirts, belts and gowns.
VALISE VISA – Vintage Mod Purse in Navy, Red & White – Travelling??? Want to include a bit of flair and vintage charm??? Well, Valise Visa can help with pristine vintage luggage (which includes original hardware and details), crossbody bags and handbags.
BiCHEN – Metallic Leather Cardholder – Apple Green – With her signature kaleidoscope design along with paillettes and flowers in leather, BiCHEN's collection includes wallets, cardholders, handbags, brooches and cellphone holders.
LA VINTAGE DOSSIER –  ETSY – Vintage Floral Caftan with scoop back and FABULOUS flowing train – Are you a vintage connossieur??? Me too…LA VINTAGE DOSSIER has fantastic one of a kind finds that run the gamut of eras and designers.
BRIGITE – Honey Yellow Flower Felt Brooch – BRIGITE has created couture pieces from felt fabrics at an amazing price!!! Her collection includes jewelry, home decor, handbags and clothing. GORGEOUS!!!
FIGISTANBUL – Fontana Di Trevi – If you LOVE cocktail rings like I do, FIGISTANBUL is a MUST for your jewelry box. Lovely gemstones with details to boot, not to mention the colossal size of each piece…FAB!!!
STUDIO724 – French LOVE Sign in Aluminum – Lucia Bennett's Studio724 is bursting with unique home decor, handbags, art, furniture, and jewelry fabricated  with metals, felt, leather, industrial components and wood. BEAUTIFUL!!!
Last modified on 2011-05-23 01:59:53 GMT. 0 comments. Top.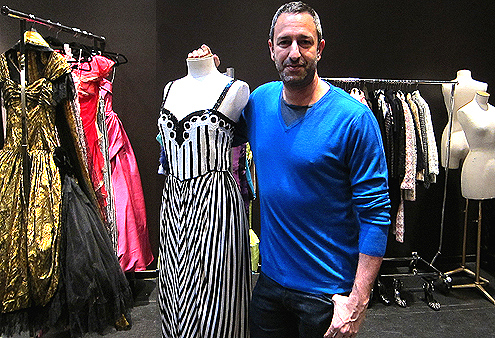 The infamous DECADESTwo "POPPED" back into the city for it's bi – annual shopping extravaganza!!! Held in SOHO's posh KiKi Montparnasse boutique on Greene, the bounty of unbelievable wares were astounding to partake…
If you're looking for high end designers for a fraction of the price, then this is the place…Is it possible to have more Chanel at a pop up store than in the boutique a block away??? Maybe not, but there was no mistake that Christos Garainos (pictured above) and his staff definitely came to play.
In all honesty, the DECADESTwo gauntlet was tossed in the ring with the rest of the competition and it's one that is marked on all fashionistas, celebrity, socialite and wannabe's calendars as a MUST on the "to – do" list.
You never know if you'll find that Balenciaga or Fendi bag from two seasons ago that you wanted sooooo bad, but couldn't find OR the Louboutin's or Nicholas Kirkwood's that you would have siphoned $900 dollars for but couldn't find your size…Well, you're in luck…now Christos has them and you're only paying $400 dollars. Yes, that's why it's one of the hottest events on the fashion schedule…High end bargains. I know…I know…some may say $400 dollars is NOT a bargain, especially through the unstable economy, but those that identify…Understand.
And with a potential reality show simmering, the DECADESTwo brand is on the verge of riding the "viral" train…Internationally!!!
Trust me, even Bergdorf's, Barney's and Neiman Marcus doesn't come close to the amount of clothing and history that DECADESTwo showcases for the 4 day stint. So, if you're looking for shoes, handbags, jewelry and of course, clothes…Be ready next time…
Again, there are no words…
Last modified on 2011-04-22 19:47:53 GMT. 0 comments. Top.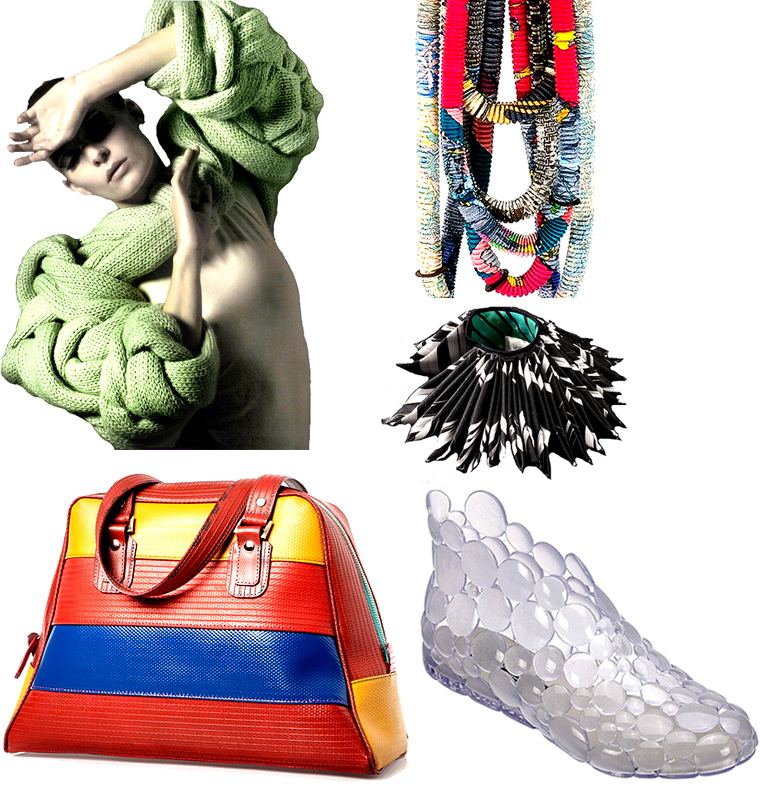 As I'm sure you've noticed, the articles posted this week was in observance of the international "EARTH/ ECO" celebration. Admittedly, until my research dive into ecological fashion, I had NO idea that there were so many designers and FABULOUS product available in such abundance…
The combination of textiles utilized and the detail in fabrication gives new meaning to "Your trash is someone's treasure"!!!
Via distinct, modern and state – of – the – art ideas, there are a surplus of methods and perspectives on ECO creations. That said, these are a few that clarified their stance on ECO-wear:
STINE LADEFOGED – Knits – This Danish designer has knitted her way to fashion FAB!!! By assembling different gauges and exploring various techniques, she has created, not only, unique pieces but, a niche for her design.
HERMÈS – Eco Scarf – Just one of the accessories from the "Petit H" collection compiled of defective inventory and design remnants, these necklaces are made of leather scraps and scarf fabric. POUBELLE de LUXE…No?!?
MICHELLE LOWE – HOLDER – Cuff – Handmade from African black and white printed cotton this design is constructed to form an angled cuff with peaks. STUNNING!!!
ELVIS & KRESSE – Bowling Bag – Reminiscent of the "American Tourister" or "Samsonite" bags of the 70's and compiled of de – commissioned British fire hoses, this bag is something that would add a significant POP to any handbag collection…HOT!!! (Excuse the pun).

MELISSA PLASTIC – Gaetano Pesce – Made from recycled plastic in Brazil, this "transformer" of a shoe incorporates a design of molded plastic circles connecting at the edges. Wanna change it??? Grab some scissors and tailor it to your specifications… From boots to ballerina flats. CUTE!!!
Last modified on 2011-04-19 19:21:55 GMT. 0 comments. Top.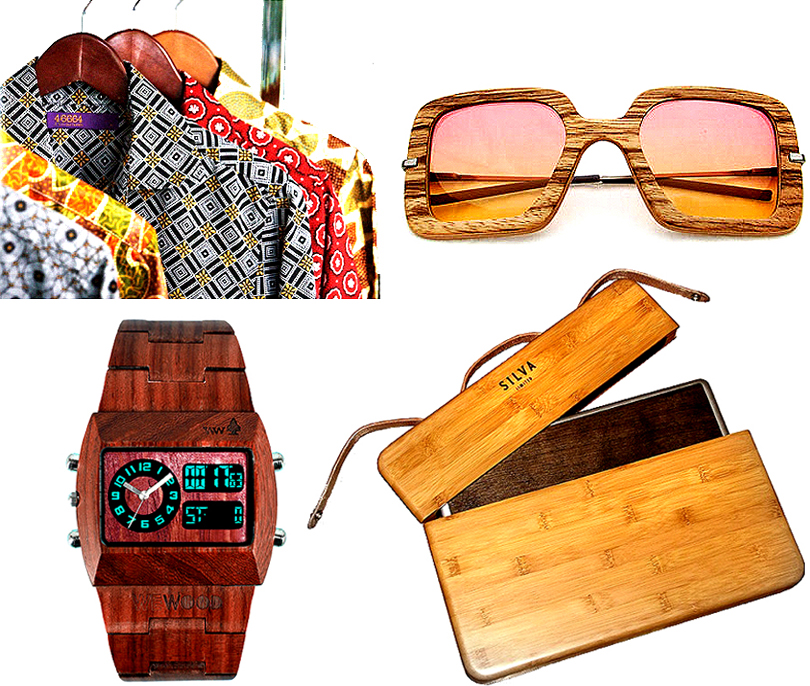 From simplistic fabrics and basic designs to pushing the envelope and thinking out of the box, it's official, the ECO – Friendly world has come a long way!!!
Through research, I've discovered a plethora of designers, world renowned and new to the market, that are well on their way to making the transition to ECO domination…
46664 – The Nelson Mandela apparel line – With ECO at the forefront of Mr. Mandela's new venture, the brand includes both women and men collections detailed with intricate and gorgeous prints.
iWOOD ECODESIGN – Zebrawood sunglasses – Made from reclaimed exotic woods used for private jets??? Just relaying the story behind the frames will earn ECO points…FAB!!!
WeWOOD – Chrono Watch (Brown) – With a catalog of various styles, this is a sleek and beautiful way to keep time with your ECO focus. Partnering with the American Forests organization, with every watch purchased…A tree is planted. WONDERFUL.
SILVA – Bamboo Macbook Case – Handcrafted, chic and ridiculously stylish, this will definitely attract gawkers who are wondering what you're carrying encased in wood…Attention and ECO Friendly??? The perfect formula to convince the non-converted to jump on the ecological bandwagon. LOVE!!!
Last modified on 2011-04-13 17:09:18 GMT. 0 comments. Top.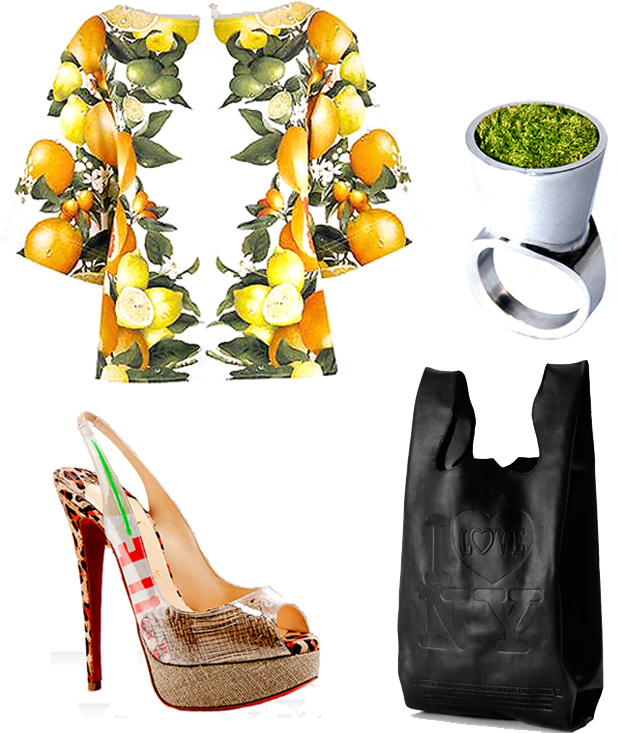 For the past few years, the ECO movement has continued to grow (excuse the pun) to the effect that fashion houses are now throwing their proverbial ecological gauntlets in the ring…
At one time, the production of environmental clothing were inundated with looks that can best be described as boring and blasé, due to simple cuts and colors. But now, the fashion and accessories are as chic and stylish as their not so ECO counterparts…A few of our choice picks include:
STELLA McCARTNEY – Citrus Print Cotton Langsat Top – Known for her love of everything ecologically sound, Ms. McCartney has introduced a pop of color for the Spring that would pair perfectly with slim cut jeans and chunky pumps…
HAF – Growing Tree Ring by Hafsteinn Juliusson – Their mantra is "A clash of jewelry, gardening, couture and organism". Honestly, the cool factor can't be denied…And, for those who do NOT possess a "green thumb", it's the perfect starter kit…A bit of green in the concrete jungle!!!
CHRISTIAN LOUBOUTIN – ECO – Trash – Made from CL snippets and snares taken from bins after shoe fabrication, each pair is one of a kind…Eco – Friendly AND the only one in the world??? Trash NEVER looked so good!!!
CAST of VICES – With four style choices from the "Corner Store" shopping bag series, this reusable tote is a keeper. The opinions of "Econistas" vary, but to those who accept leather, this is the ultimate accessory for your day of shopping.
Last modified on 2011-04-12 02:10:33 GMT. 0 comments. Top.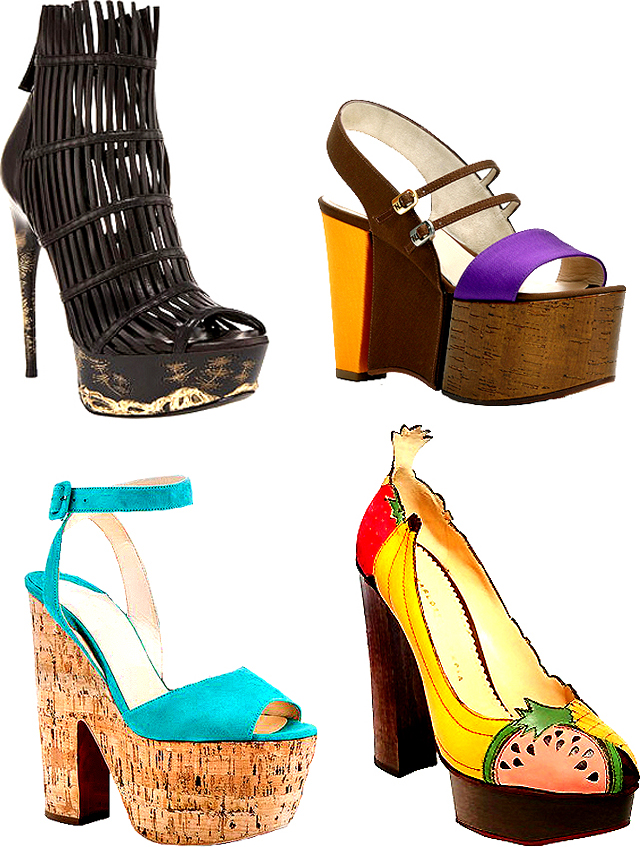 A staple in the 70's era, I thought the platform trend would fizzle just like the bell bottom craze of the the same time…Obviously, I was mistaken…It's been a couple of seasons now and it seems that platforms have created it's own niche in our fashionable lives.
Outlandish to some, this shoe craze comes in many shapes, colors and varieties, fabric covered, wooden or cork, all demand a glance and who doesn't love the extra 4 inches in height!!!
ALEXANDER McQUEEN – Samurai Platform Cutout
FENDI – Super Platform Mary Jane
CHRISTIAN LOUBOUTIN – Super Dombasle
CHARLOTTE OLYMPIA – Bananas Is My Business
Last modified on 2011-04-10 13:36:22 GMT. 0 comments. Top.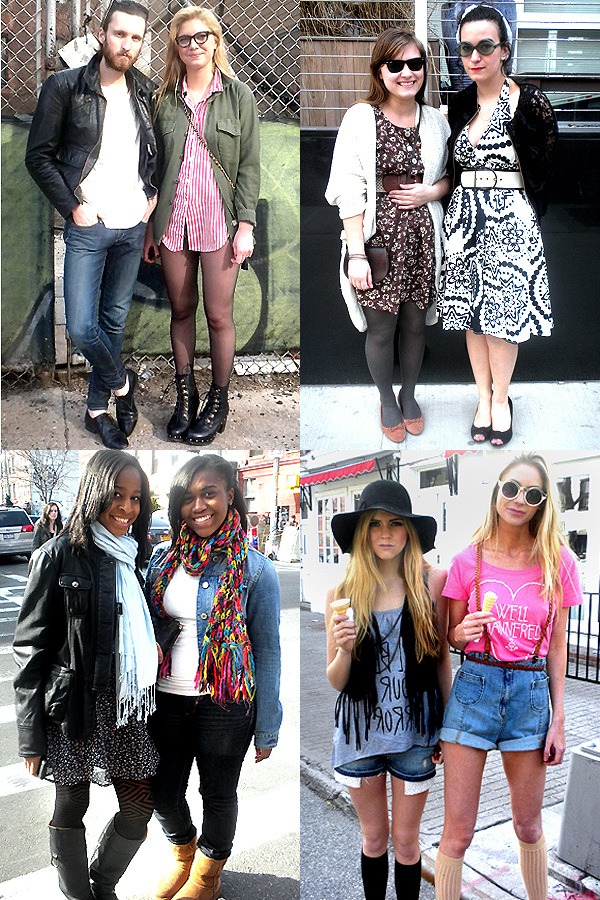 Although the official day of Spring was three weeks ago, it has felt like the middle of Winter…HORRIBLE…But, today we were granted a glimpse of the wonderful weather that's just around the corner…
That being said, we knew the fashionistas would be hitting the streets and parading their favorite wares throughout the city…Some of the most fashionable were found in Williamsburg, Brooklyn. We spotted various prints, colors and textures that ranged from short shorts and halter dresses to frilly skirts and dress shirts.
With the occasional cool breeze, layering was the necessity but, accessorizing was the key…Whether it was ULTRA cool frames, crossbody bags, belts, hosiery or scarves, the masses wore it well and declared…
SPRING HAS SPRUNG!!!
Last modified on 2011-03-28 03:41:39 GMT. 0 comments. Top.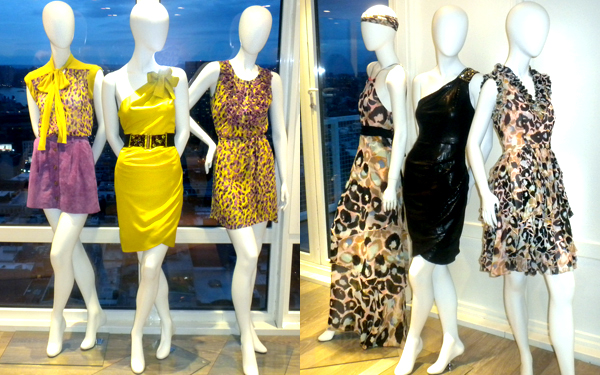 Presenting at the penthouse in the ultra – modern and magnificently chic Mondrian SOHO, the Matthew Williamson collection for Macy's Capsule series is a combination of bohemian glamour and soft silhouettes, perfect for the Spring and Summer season.
The inclusion of printed fabrics, ruffles, bows as well as asymmetric details created a blend of effortless fashion choices.
Available in Macy's stores and online beginning April 13, 2011, the selection will include scarves, tops, dresses, leather and suede at an affordable price point.  And, let's face it, in our ongoing recession, it's always a positive to look FAB at a FAB price.

The Mondrian, Macy's AND Matthew??? MMM…What a night!!!
Last modified on 2011-03-28 03:27:35 GMT. 0 comments. Top.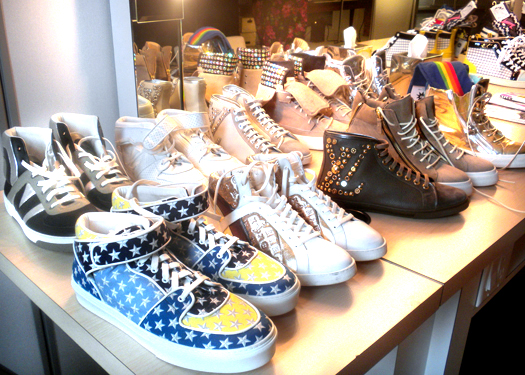 Well, Friday was shoot day for FLAUNT Magazine!!! Being that the story concept is featuring some of the hottest sneakers for the 2011 Spring and Summer season, as the fashion stylist, it was my responsibility to pull the most fashion forward looks.
The shoot headliners included Christian Louboutin, Guiseppe Zanotti, Louis Vuitton and Jeremy Scott for ADIDAS to add the extra PUNCH that we usually go for…
Working with photographer, Massimo Gammacurta is always a trek down the WILD side. Our collaborations have graced the pages of InStyle, Surface, WAD, Sur La Terre Genève and a "LOLLI – POP" project that resulted into an unbelievable coffee table book.
The project was a HUGE success…As usual, we had a blast and the images are AMAZING!!! Stay tuned for the fashion layout in FLAUNT Magazine's April/ May issue.
Tomorrow??? Returns…Sad but true.
MASSIMO GAMMACURTA – LOLLI – POP
Last modified on 2011-03-28 03:29:15 GMT. 0 comments. Top.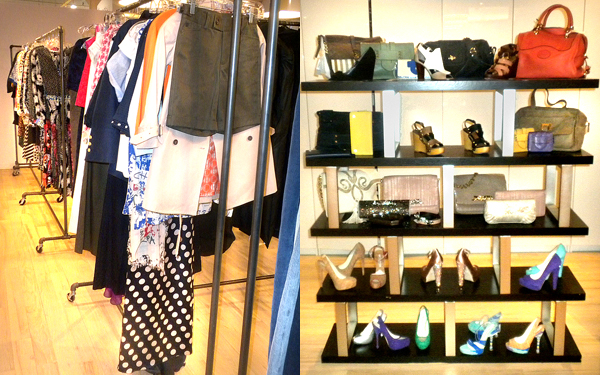 I've been pulling for the FLAUNT Magazine project and it's been a loooonnnngggg day!!! First, it rained…Not the worst, but it can make for an uncomfortable time, running in and out of showrooms, umbrella in hand, damp ankles, frazzled hair, etc…
By the time I reach home, after the rainy day, I'm exhausted and a mess, but as a fashion editor, the end result is what matters…My pull list is hopefully complete and the concept that I've been given is concise. Usually, I pull items that embellish the project and push the envelope a bit more…
At this showroom (pictured above), I loved the SUNO, Carolina Herrera and Hanii Y collections and of course the perfect pumps, Brian Atwood or Bruno Frisoni. But nothing completes any look like a handbag, here it's a toss up between Comptoir des Cotonniers or George, Gina & Lucy…But, I digress…
Tomorrow…I pick up…Yes, another long day, but, at least it won't be raining!!! Ahhh, the life.
SUNO / CAROLINA HERRERA / HANII Y
COMPTOIR des COTONNIERS / GEORGE, GINA & LUCY
Last modified on 2011-03-21 18:25:11 GMT. 0 comments. Top.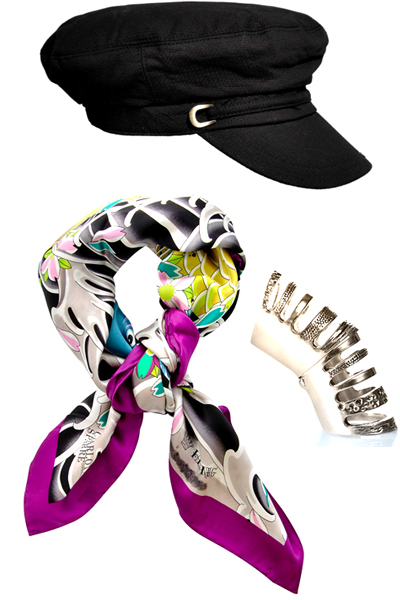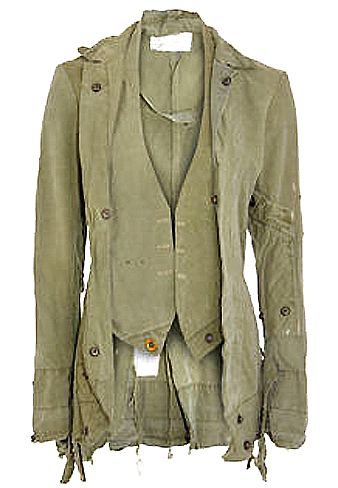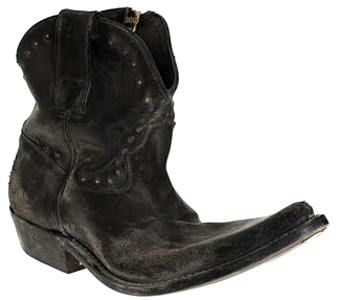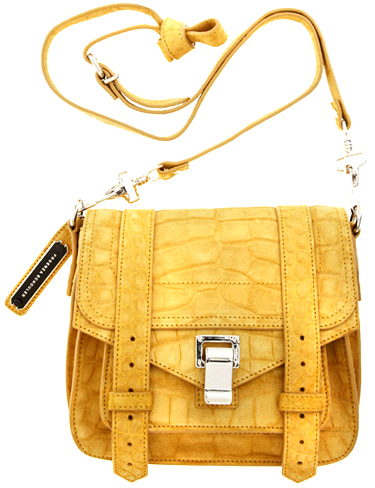 Spring is just a week or so away and the winter to warm weather wardrobe transition is such a chore, but the mixing of the two during the changeover can be fun and fashionable.
Personally, for me, layering is the key…After all, you never know when the climate will shift. (Here on the East Coast anyway…:)
First step, choose a jacket that will compensate, NOT fluctuate the body temperature. I always pack a scarf to be prepared for the unexpected brisk breeze, a hat so I don't have to worry about haphazard hair, rock one piece of chunky jewelry, strut in my most comfortable cowboy boots and complete the look with a crossbody bag to carry all the essentials.
These are some of my favorites:
BETMER – Nautical Cap – Classic.
PAMELA LOVE –  Sterling Knuckle Ring – Her name says it all…LOVE!!!
CHARLOTTE SPARRE – Scarf – Perfect "POP" of color.
GREG LAUREN – Tailback Jacket – A military duffle bag??? Ingenious. I'm "Vested"…
GOLDEN GOOSE – 107 Short – Studded, Rugged and Worn…Cute.
PROENZA SCHOULER – PS1 Mini Croc Crossbody Bag – In yellow ocher??? YUM…
Last modified on 2011-03-13 17:28:40 GMT. 0 comments. Top.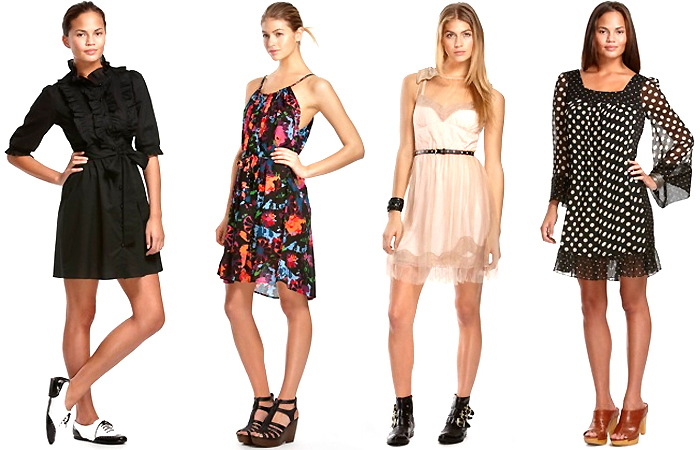 Are you ready??? Target will be showcasing a relaunch of their popular "GO" International collection on Sunday, March 13th.
Since commencing the series in 2006, Target has collaborated with both established and up and coming designers which has tantilized and created a frenzy among the hip set that clamor to purchase items from premiere fashioners.
This time around, there will be plenty of your favorites to choose from all at once!!! The designers include, Thakoon, Alice Temperley, Jovovich – Hawk, Behnaz Sarafpour, Zac Posen, Richard Chai, Tracy Feith, Libertine, Rodarte, Rogan, Paul & Joe, Erin Featherstone, Luella Bartlett, Tara Jarmon and Tucker…
This event is sure to be a HOT spot…My advice, wear flats or better yet…Go HERE. : – )
HAPPY SHOPPING!!!
Featured Dresses Above: Alice Temperley…Thakoon…Rodarte…Jovovich – Hawk
Last modified on 2011-03-02 20:57:37 GMT. 0 comments. Top.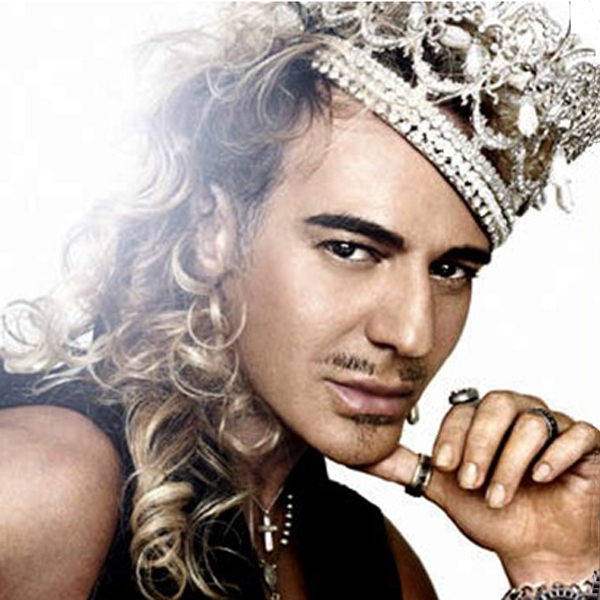 To showcase spectacular presentations every year at fashion week is a feat in itself. But the geniuses in fashion, Karl Lagerfeld, John Galliano, Alexander McQueen (R.I.P), etc., do it like only they can…
True, they all have their unique approach, but equally they still end at the same location…Drama. The current show is one that we're certain John Galliano would like to drop the curtain, turn up the house lights and yell "CUT!!!!!"
As with any racial remark disparaging a culture, it's a harsh and horrible antisemitic rant that has drudged memories of a deplorable time.  Regardless of the outcome, his reputation as a fashion prodigy will never be questioned, but his actions will forever damage his credibility as a human being.
Last modified on 2011-01-22 05:53:57 GMT. 0 comments. Top.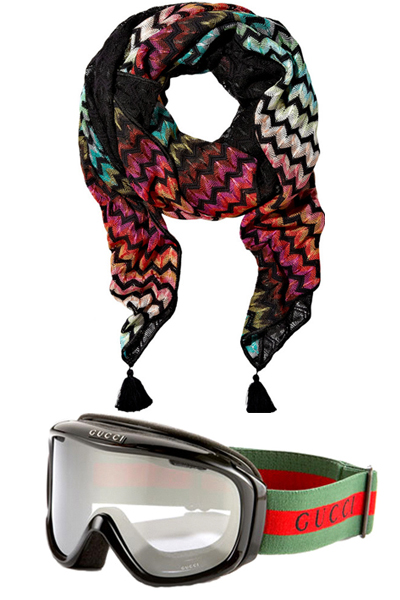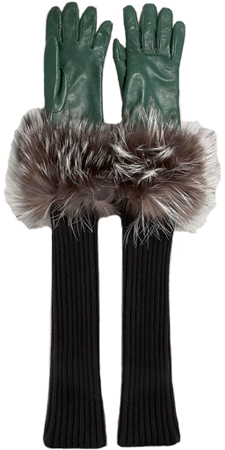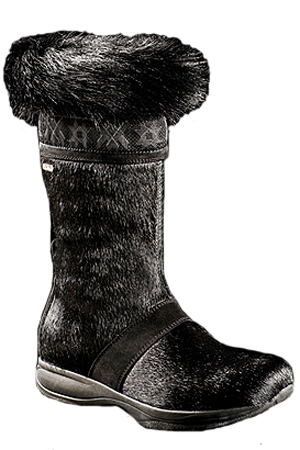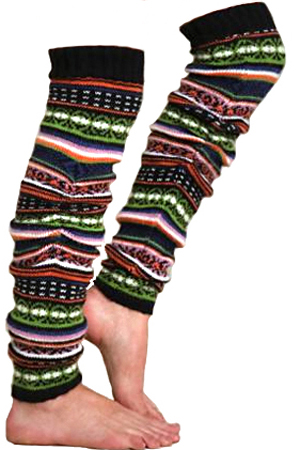 We've endured a snow storm every week since the New Year and there's no end in sight!!! After all, it's still January…Are you prepared???
With the howling winds, knee high snow, not to mention streets and corners overrun with water and ice, it's a must to have the proper accessories for the elements.
The basics??? A perfect pair of shades/goggles to protect from the swirling air, scarf, gloves, legwarmers to warm appendages (hands, arms, legs) and snow boots for waterproof feet.
Don't give the weather a chance to alter your FAB day!!! Our choices???
MISSONI – Crochet Zig -Zag Scarf
GUCCI – Snow Goggles
BYTE by TESO – Fur Cuff Arm Warmer
FREE PEOPLE – Leg Warmer
SEARLE – Tecnica Water Proof Sestriere
Last modified on 2011-01-06 22:35:09 GMT. 0 comments. Top.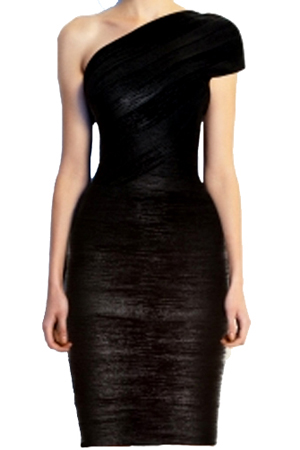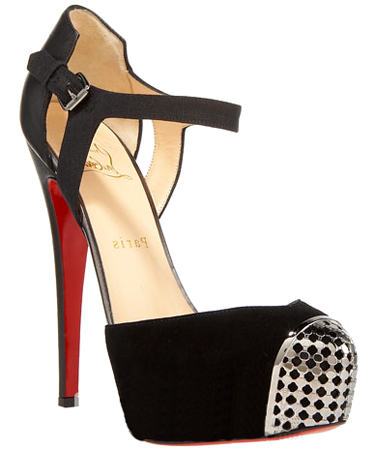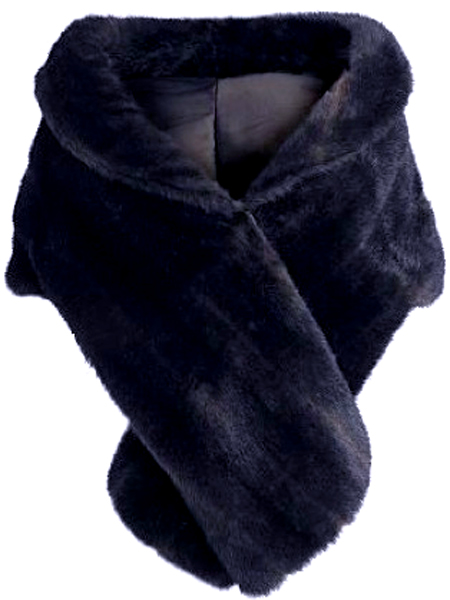 Well, all good things must come to an end…Luckily, all ends succumb to new beginnings. Goodbye 2010…HELLO 2011.
Ring in the new year in as you always do…STYLISHLY!!!
HERVE LEGER – Foil Print Dress
CHRISTIAN LOUBOUTIN – Boulima Exclusive d'Orsay Pumps
HOUSE OF WARIS – Flame Bracelet
FENDI – Mini Border Line Sequin Clutch
JASPER CONRAN – Faux Fur Wrap
You can find these and a plethora of other goodies at:
Last modified on 2011-05-11 00:28:36 GMT. 0 comments. Top.
Trekking through record low temperatures from the East to West Coast has been exhausting…Especially when it's not OFFICIALLY Winter yet!!!
Are you wishing for Spring and Summer weather like I am??? Maybe a quick Caribbean or Hawaiian getaway…Hmmm.
Well, wherever you land, do it in style during your R & R…
MICHAEL KORS – Twist Waist Shirtdress
MAYA BAG – Handmade In Belize
GIUSEPPE ZANOTTI – Tribal Cuff Flat
KAREN WALKER – "The Village" Frames
Last modified on 2011-03-03 00:07:22 GMT. 0 comments. Top.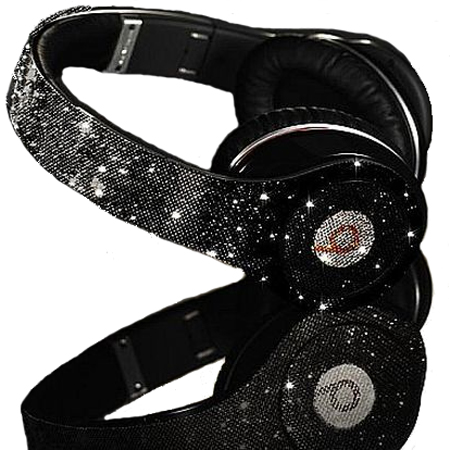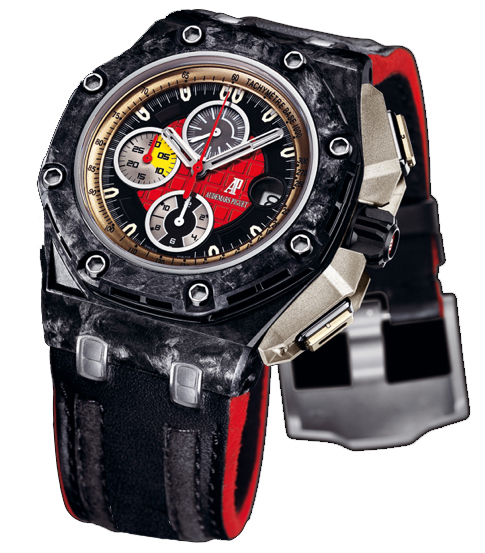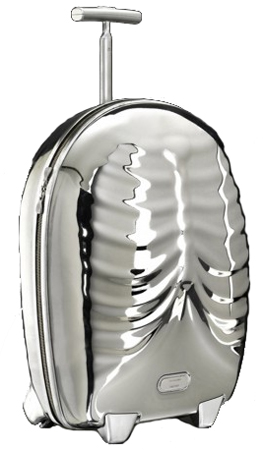 Whether for a birthday, Father's Day or Christmas, all men appreciate gifts once in a blue moon. In any case, technology, accessories (travel or personal) and an occasional spa day will always brighten his mood. Hey, your thoughtfulness may lead to extra goodies for you.
BEATS BY DR. DRE – My husband LOVES these earphones. For a little extra punch you can customize through CRYSTAL ROC…(for a price, of course).
AUDEMARS PIGUET – Royal Oak Offshore Grand Prix Chronograph Watch
SAMSONITE – Alexander McQueen Collection – Carry On Luggage
Last modified on 2010-12-11 14:53:13 GMT. 0 comments. Top.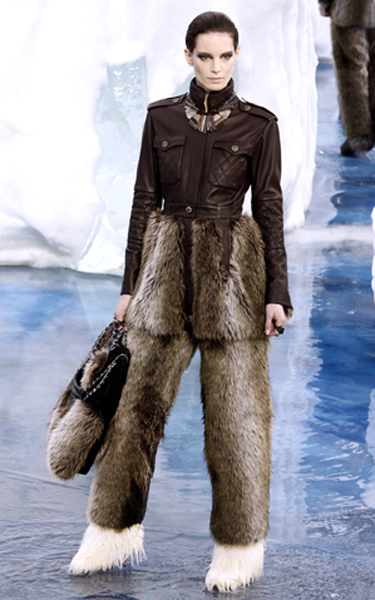 I have to admit that when the first few looks emerged from the glaciers at the F/W 2010 CHANEL fashion presentation, I thought "Is this a joke…Am I being PUNKED???"
Well, apparently, the jokes on me…Karl Lagerfeld must be best friends with mother nature and received a text from her detailing the RIDICULOUS Canadian cold blast we would be hit with in Autumn…Yes, we're still in the Fall season.
It's 14 degrees this morning…Wouldn't this Chanel look be perfect for today??? Stay warm…
Last modified on 2010-12-14 22:10:30 GMT. 0 comments. Top.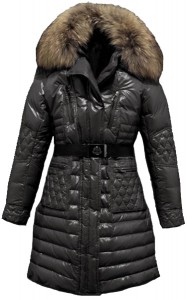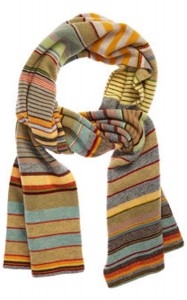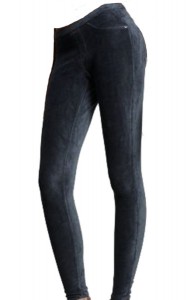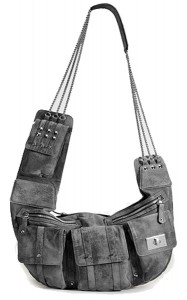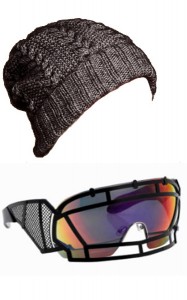 It's unbelievable that it was 60 degrees last week here in New York City. Well, the barometer has dropped drastically!!!
Forget the cute layer effect (sweater / gloves / scarf). Autumn is OVER…It's time to break out the heavy duty…
Thus, a "Look We Love".
MONCLER – Maillol
DIANE DE CLERCQ – Striped Muffler
HUE – Grey Corduroy "Jeanz"
BE & D – Crossbody Hobo
EUGENIA KIM – Jim 1
LINDA FARROW – KTZ
LOEFFLER RANDALL – "Lucy" Knit Booties
NEIMAN MARCUS / BERGDORF GOODMAN / BARNEYS NEW YORK / MACY'S /BLOOMINDALE'S / NORDSTROM / SAKS
Last modified on 2010-09-10 05:21:41 GMT. 0 comments. Top.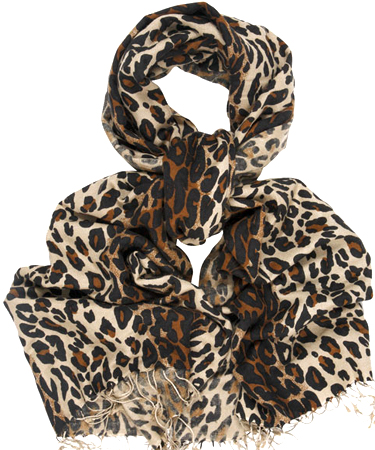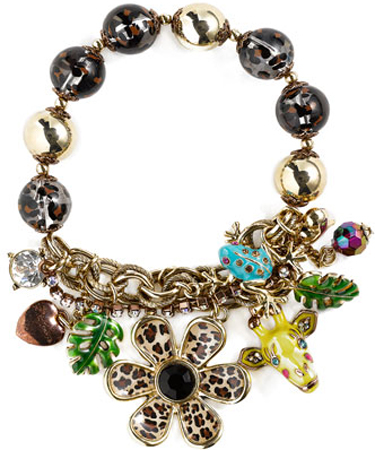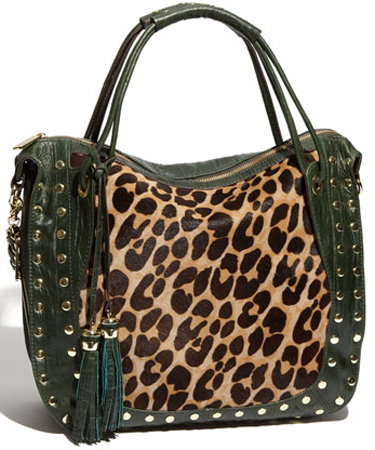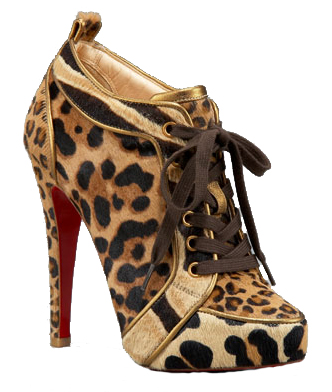 I could easily say that leopard is the "NEW BLACK" for the season…but really, does anything HONESTLY replace black? Especially in New York City. Dare I say….NO!!!
But, this Fall, the leopard trend is at the top of the list as the "MUST HAVE" for the season. I would NEVER co – sign on a head to toe look, but a spot here, a spot there (excuse the pun)…just a little dab to get their attention.
My "POPS" toward spot perfection?
TOLANI Leopard Scarf
BETSEY JOHNSON Leopard Bead Stretch Bracelet
ALENA Leopard Studded Calf Hair Hobo
CHRISTIAN LOUBOUTIN Leopard Print Lace Up Boot
WEAR IT WELL!!! : -)
Last modified on 2010-09-03 21:08:03 GMT. 0 comments. Top.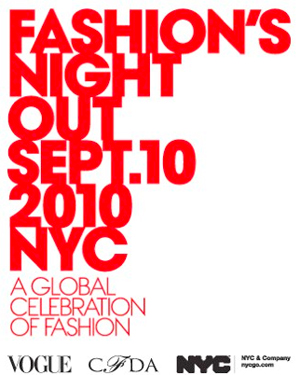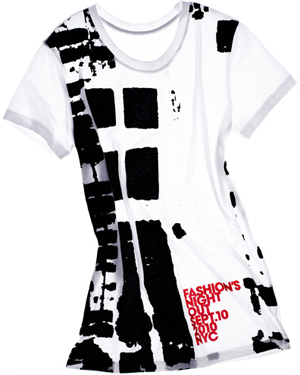 On September 10th, VOGUE Magazine, the CFDA (Council of Fashion Designers of America) and NYC & Co. presents FASHION'S NIGHT OUT. For the second consecutive year, retailers will extend store hours and designers will plan events or make special appearances to help generate a buzz for fashion and increase revenue during our hovering recession.
In addition to the FNO event, on September 7th, a public fashion show will be held in the NEW fashion week venue, Lincoln Center. A portion of the proceeds will benefit the New York City AIDS Fund. In my line of work, receive invi to shows to review the new collections. I think giving the public a chance to experience a treat like this is a great idea!!! And only $25.00… You can't beat that…The fashion show presentation will focus on the hottest fall 2010 trends that will be available in all major department stores (Macy's/ Nordstrom/ Saks Fifth Ave./ Bloomingdale's, etc.) as well as smaller chains (Barneys/ Fred Segal/ Neiman Marcus/ Bergdorf Goodman, etc).
Last year, the global event was a success for participants worldwide and generated traffic and excitement around fashion. Because of the enormous amount of time to plan, compared to last year, there are so many ways to plan your evening…Country/ Borough/ Neighborhood/ Specialty…
HAPPY SHOPPING!!!
Last modified on 2010-09-01 15:56:42 GMT. 0 comments. Top.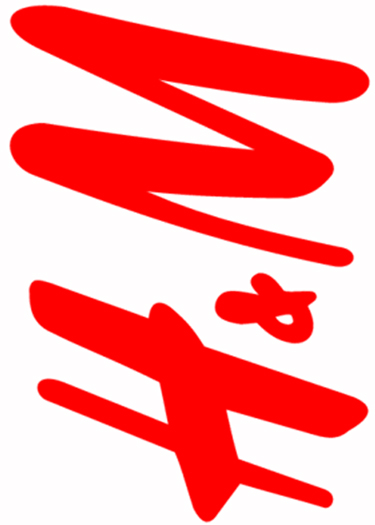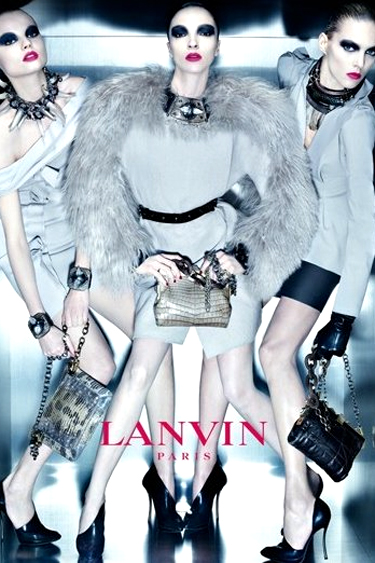 Since H & M released the videos, riddled with secrecy, regarding their next designer collaboration, the Swedish giant has been sideswiped with lucid innuendo of who it could be….The rumor??? LANVIN.
Excited…Thrilled…Even Titillated…No definitive word can describe the feeling that accompanied the first word I spoke…"WHOA"… when I read the WWD article.
My opinion? This is a big one…Granted, it's still not confirmed, the official announcement is scheduled for September 9th…
So what do you get when you mix a working class retail chain with an exclusive fashion house? H & M + LANVIN = Blue – Blooded BEDLAM…
TRUST…Fashionistas from Uptown, Downtown, East and West will be waiting in line, donned in their best disguise and ready to fight for a piece of the collection…
Last modified on 2010-09-03 18:40:43 GMT. 0 comments. Top.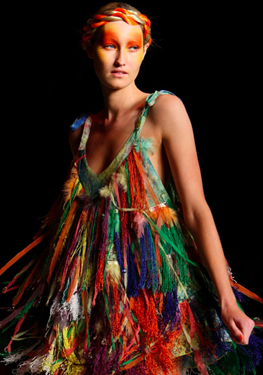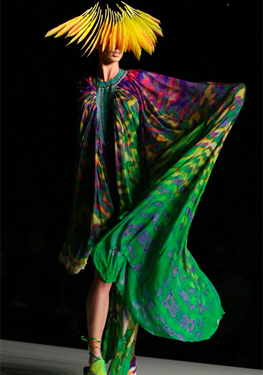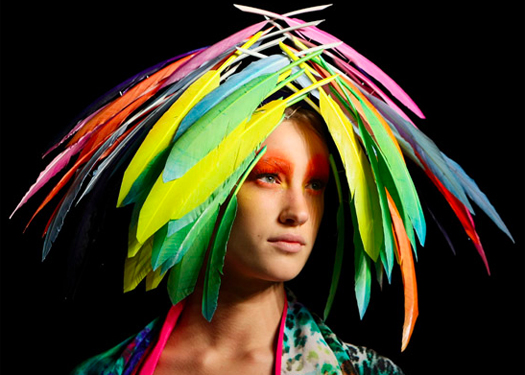 In the wake of the August 2010 IMAX 3 – D re – release of AVATAR, Camilla Franks presented her collection that showcased her interpretation of the phenomenon at the Rosemount Sydney Fashion Festival held in Syndey Australia.
I LOVE the color…Great for an eclectic photo shoot!!!
Last modified on 2010-07-25 04:01:54 GMT. 0 comments. Top.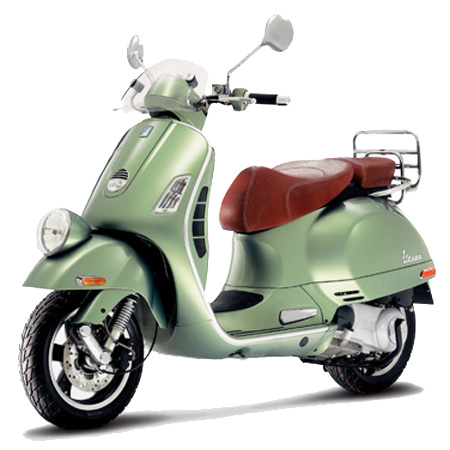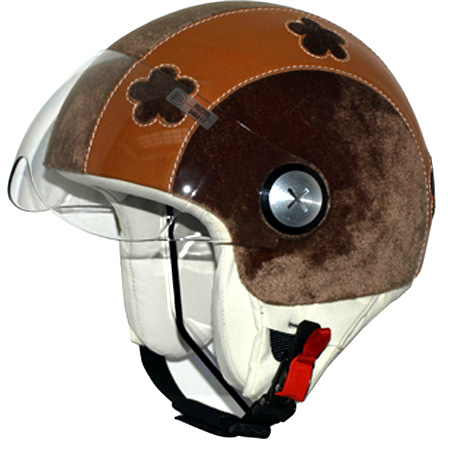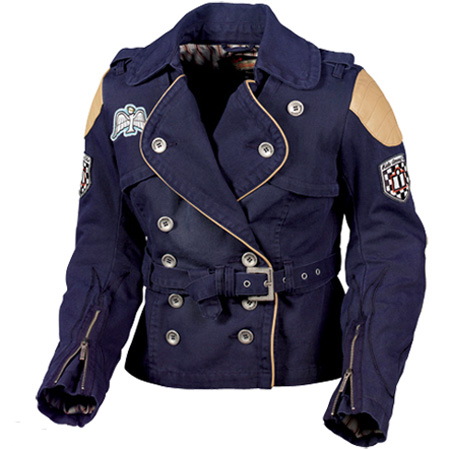 When I lived abroad in Milano, Italy, the city literally ran on mopeds…EVERYBODY had one. It was a necessity to navigate the tiny streets (which, in most parts, were cobblestone). They were easy to park, easy to weave through traffic and easy on gas.
Fast forward to the present…Mopeds AKA Scooters have grown to HUGE popularity in New York City in the past few years and the masses are understanding the convenience in the two wheeler that's a little faster than a skateboard or bicycle and slightly slower than a full fledged motorcycle.
Well, following protocol, you should always attempt to "Style & Profile" so I've found some fashionable accessories to compliment your Vespa / Honda or Vintage Lambretta.
VESPA – GTV300 – One of the most popular scooters in the world.
FASHION HELMET – Ingeo & Milkofil – Helmet company based in Amsterdam, Netherlands that create custom helmets for the scooter elite.
OGIO – No Drag Backpack
ICON – Rogue Cycle Jacket – Motorcycle Apparel
Last modified on 2010-09-04 17:27:46 GMT. 0 comments. Top.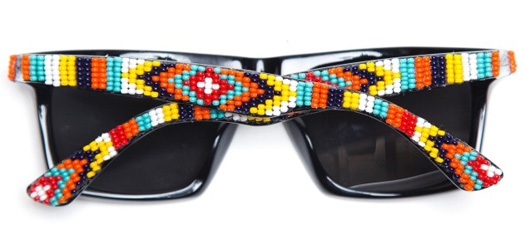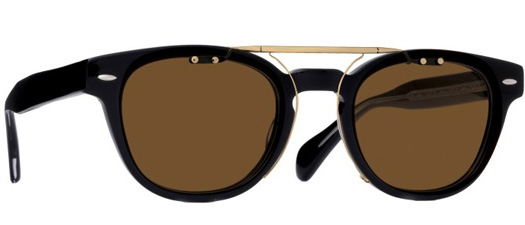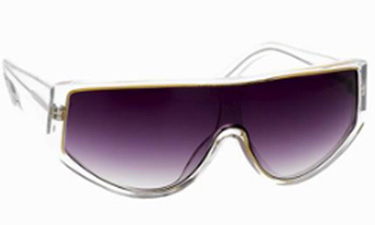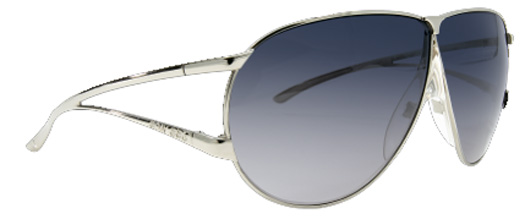 The reports say that the sun will be EXTREMELY intense in New York City this Summer…And if you're like me, you won't walk out of the door without your favorite shades of the season.
My favorites range from classic to reflective to (of course) ANY sort of embellishment…Shown are a few that I LOVE!!!
MOSLEY TRIBES – Lyndel Beaded
OLIVER PEOPLES – Sheldrake Flip – Up / Clip-On
LINDA FARROW – Matthew Williamson
JEEVICE – Tricky II Limited Edition
Protective…FAB…CHIC!!!
Last modified on 2010-06-13 21:19:09 GMT. 0 comments. Top.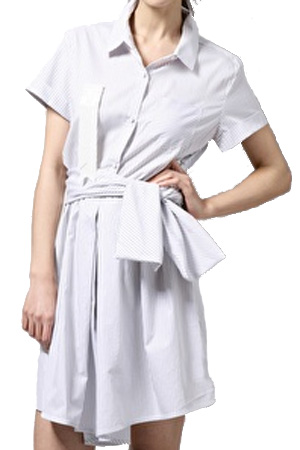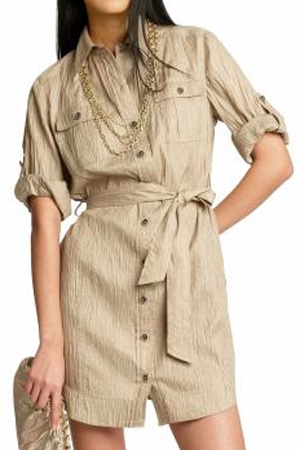 I've always been a fan of the shirt dress…no nonsense attire that's perfect for running errands, window shopping or Sunday brunch.
While searching for the ultimate piece for the Spring / Summer season, I found several that caught my eye and was surprised (both pleasantly and shockingly) at the sliding scale of the price point.
Regardless of the amount, my picks would look FAB in the Hamptons, Malibu, SOHO or MV (Martha's Vineyard).
RICHARD NICOLL – Adorable…The cotton grey and white striped cap sleeve dress embellished with a white ribbon and attached belt is a nice addition to your wardrobe. It can be yours for a cool $975.00.
BANANA REPUBLIC – How cute!!! Crinkled fabric, button-front, chest pockets, roll-up sleeves with a sash belt.  All this for $120.00.
For either, all you need is a snazzy bag and shoe to complete the look. Have FUN!!!
Last modified on 2010-05-23 13:33:26 GMT. 0 comments. Top.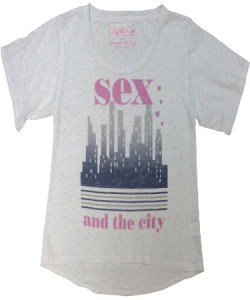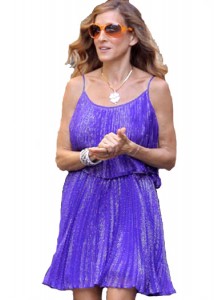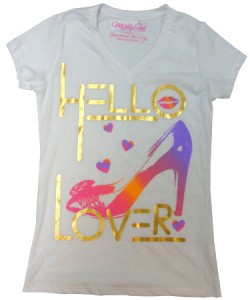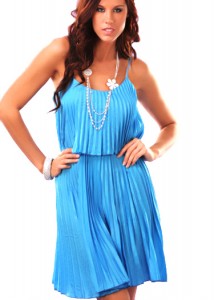 Five days and counting!!! I'm certain the entire WORLD is aware of the Sex and The City 2 movie release on May 27th and I have the perfect fashion antidote for the die hard FANatics of the gregarious girls of the megalopolitan.
Due to the HUGE popularity of the original collection, MIGHTY FINE has produced the second installment of their Sex and The City  t – shirt mélange that ensures you're part of the club. Whether it's the Sex and The City throwback, the gold chain "Carrie" nameplate, the flirtatious "Hello Lover" rainbow pump top in heather grey or the "I'm  A Carrie" t-shirt, they're definitely a trendy hit…If it's on your list of "MUST HAVE'S", pick up your favorite at a Bloomingdales near you…
Another great find is an identical replica of the Halston dress that Carrie wears in the movie. Created by AMI CLUBWEAR the Spaghetti Accordion Pleated 2 Tier dress is a steal for $27.00.
HIP…CHIC…TRENDY…
Last modified on 2010-05-12 22:16:51 GMT. 0 comments. Top.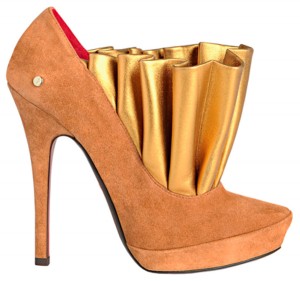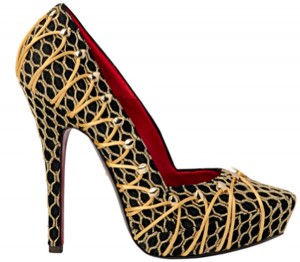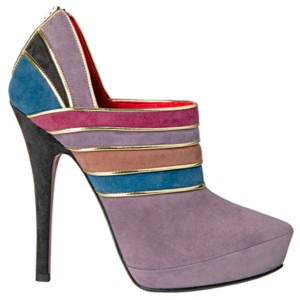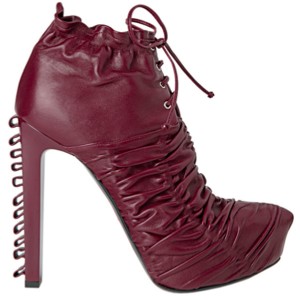 The Cesare Paciotti F / W 2010 collection is inundated with enticing details that are so convincingly FAB.
The details?
Suede multi – color booties in gem tone hues trimmed with gold piping…
Ankle boots that contain ruche elements resembling waves of leather…
Pumps that display leather folds that open like the tail of a peacock at the crown of the foot…
Corset pumps…Need I say more?
And the design components continue, varying in complexity and intricacy with each creation.
I've pulled from Cesare Paciotti for various projects (both publication and celebrity appearances) for years and they always push the envelope a little more. Either with the fabrication or the shoe design in general.
Vying for attention like all the other glamour girls? Stop them in their tracks when you sashay (YES…SASHAY!!!) through the door in your Paciotti's…They won't know what hit them!!! : – )
Last modified on 2011-03-02 23:17:44 GMT. 0 comments. Top.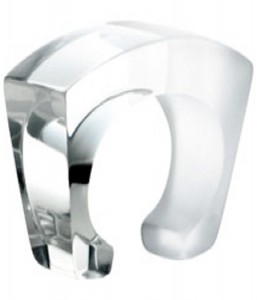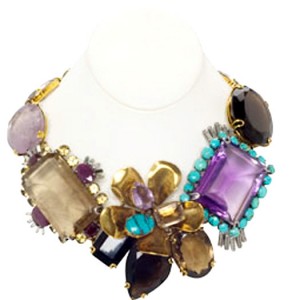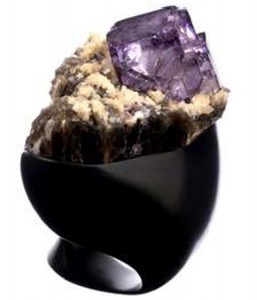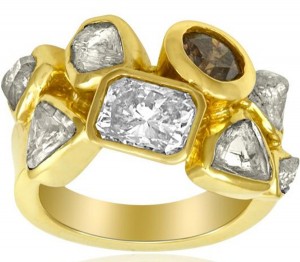 All jewelry armoire's should possess one or two statement pieces that are big, bold and display bizarre bliss. (i.e., a piece that catches and holds ones attention)…
Some ideal picks are those that are eco – friendly (wood / precious stones / metals)… But even if they do not tote the "ECO" moniker, they should still be flawless, fashionable and FABulous, of course…

Below are jewelry designer collections that fit the bill. Peruse their sites, get an idea of what you like and feel would look great and while window shopping look for that "STATEMENT" piece that represents you.
ENJOY!!!
PATRICIA VON MUSULIN – Lucite Square Bracelet – www.patriciavonmusulin.com
IRADJ MOINI – Amethyst and Topaz Necklace – www.iradjmoini.com
CHRISTINE J. BRANDT – Purple Snow Crocus – www.christinejbrandt.com
RUFF AND CUT – Boulder Cluster – www.ruffandcut.com
Last modified on 2010-04-29 21:39:04 GMT. 0 comments. Top.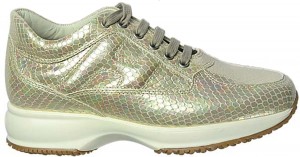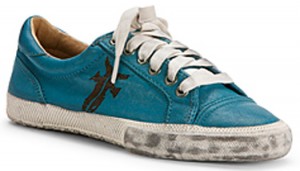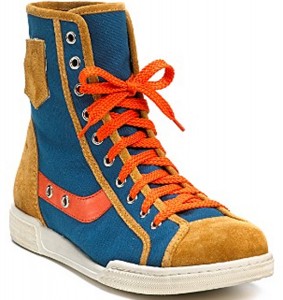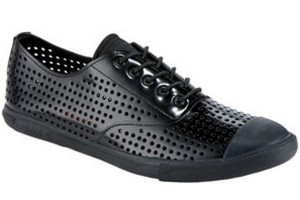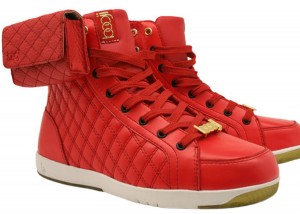 At one time, there were only a handful of sneaker designers to choose from (i.e., Adidas / Nike / Puma / Converse).
But recently, other mainstream designers have thrown there laces in the ring and gave chase to the notable sneaker industry. With the inclusion of the proverbial "SALVO" that has been hurled into the fray comes new textures, fabrications and prints.
My picks are a mix of old, new, well known and unknown (well, until now : – )…Enjoy!!!
HOGAN – Gold Snakeskin –  www.raffaello-network.com
ADIDAS – Fafi X – www.adidas.com
FRYE – Kira Low – www.thefryecompany.com
MARC by MARC JACOBS – High Top Lace Up – www.marcjacobs.com

PRADA – Prada Perforated – www.prada.com
BOOJI – Regal One – www.boojihouse.com
Last modified on 2010-05-23 00:08:09 GMT. 0 comments. Top.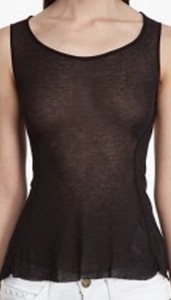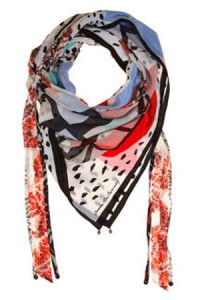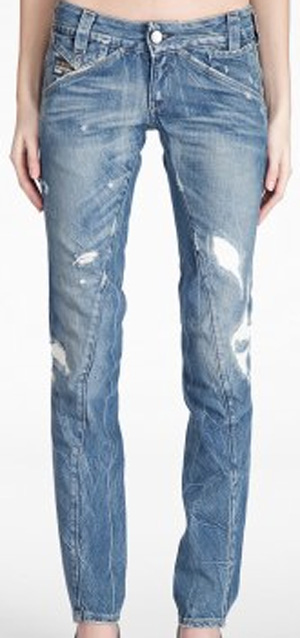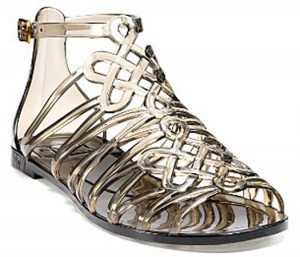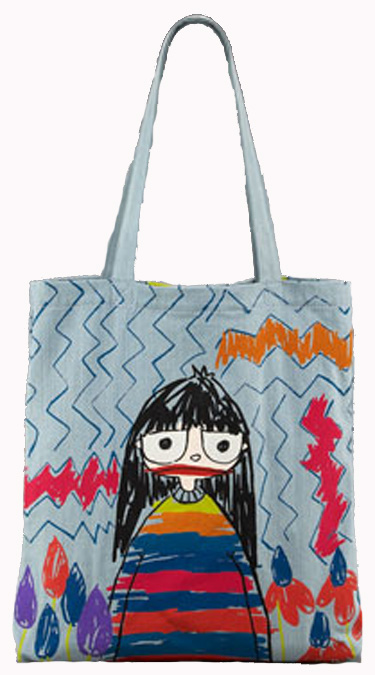 Since Spring has SPRUNG, it is a MUST to have basic staples to compliment your statement pieces for your Spring and Summer wardrobe.
My "Spring Staples"? Cute tanks, jeans with a perfect fit, scarves and light jackets for the cool mornings and evenings, a tote that can hold your necessities and daily pickups (i.e., magazines, lookbooks, etc.) and of course a stylish yet, comfortable shoe…
These are some of my FAVES:
RICK OWENS – "Lilies" Backless Tank – www.rickowens.eu
E2 – Scarf – www.barneys.com
HELMUT LANG – Flecked Linen Jacket – www.helmutlang.com
G – STAR – Exper Custom Repair Jeans – www.g-star.com
DIANE VON FURSTENBURG – "JAYA" Gladiator Jellies – www.dvf.com
MARC by MARC JACOBS – Sketchy Brunette Miss Marc Tote – www.marcjacobs.com
Last modified on 2010-04-21 04:30:19 GMT. 0 comments. Top.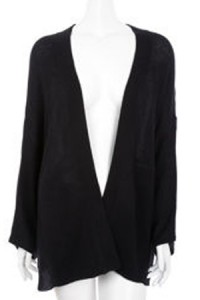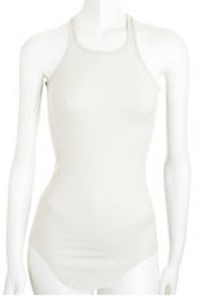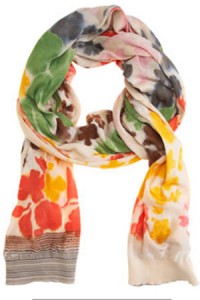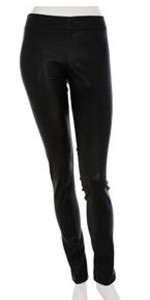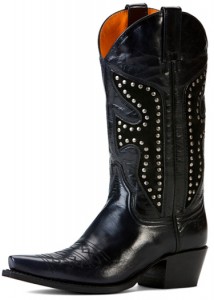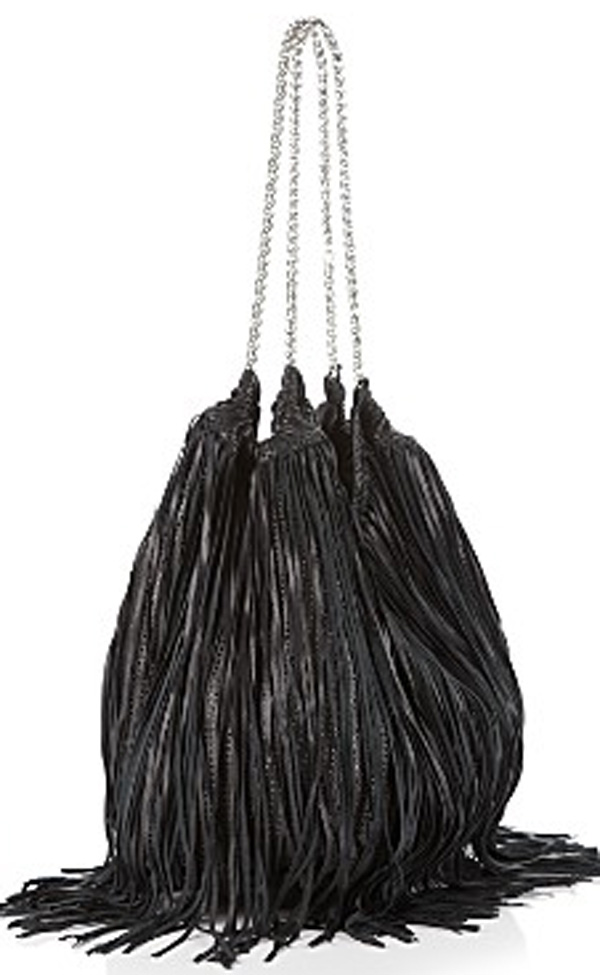 My schedule today is BEYOND hectic and since it's still cool here in New York City, I've decided to layer…layer…layer.
My look? Calm…Cool…and Collected. ; – )
LUTZ & PATMOS – Origami Cardigan   www.lutzandpatmos.com
RICK OWENS – Ribbed Bodysuit   www.rickowens.eu
MARIKA CHARLES – Tutti Frutti Printed Scarf   www.marikacharlesfactorystore.com
THE ROW – Motorcycle Pants   www.barneys.com
FRYE – Daisy Duke Cowboy Boots   www.thefryecompany.com
ELIE TAHARI – Fringe Tote   www.elietahari.com
Last modified on 2010-05-26 19:55:15 GMT. 0 comments. Top.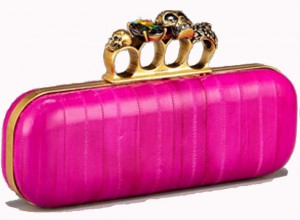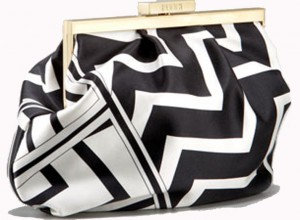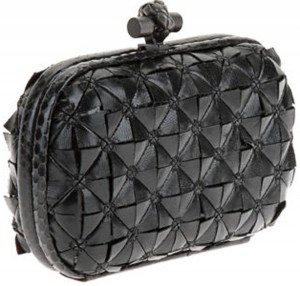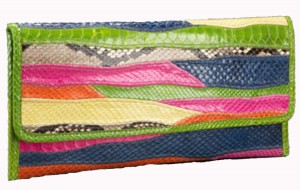 I LOVE a clutch bag, large enough for your necessities (phone, lip gloss, etc.) and small enough to tote without being a hassle when carrying…
If the bag has "PERSONALITY" (i.e., gem embellishment, intricate textile or a combination of the two…) and compliments your fashion ensemble, you'll be the epitome of FAB!!!
My favorites for the Spring?
ALEXANDER MCQUEEN – Eel Brass Knuckles Clutch   www.alexandermcqueen.com
PUCCI – ZigZag Clutch   www.emiliopucci.com
BOTTEGA VENETA – Knot Capreto Ayers Clutch   www.bottegaveneta.com
CARLOS FALCHI – Patchwork Python Clutch   www.carlosfalchidesign.com
Last modified on 2010-04-20 20:12:04 GMT. 0 comments. Top.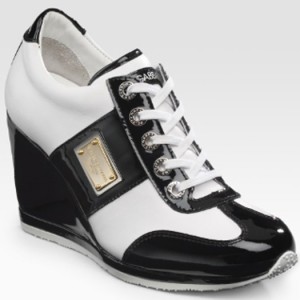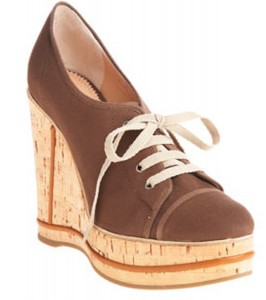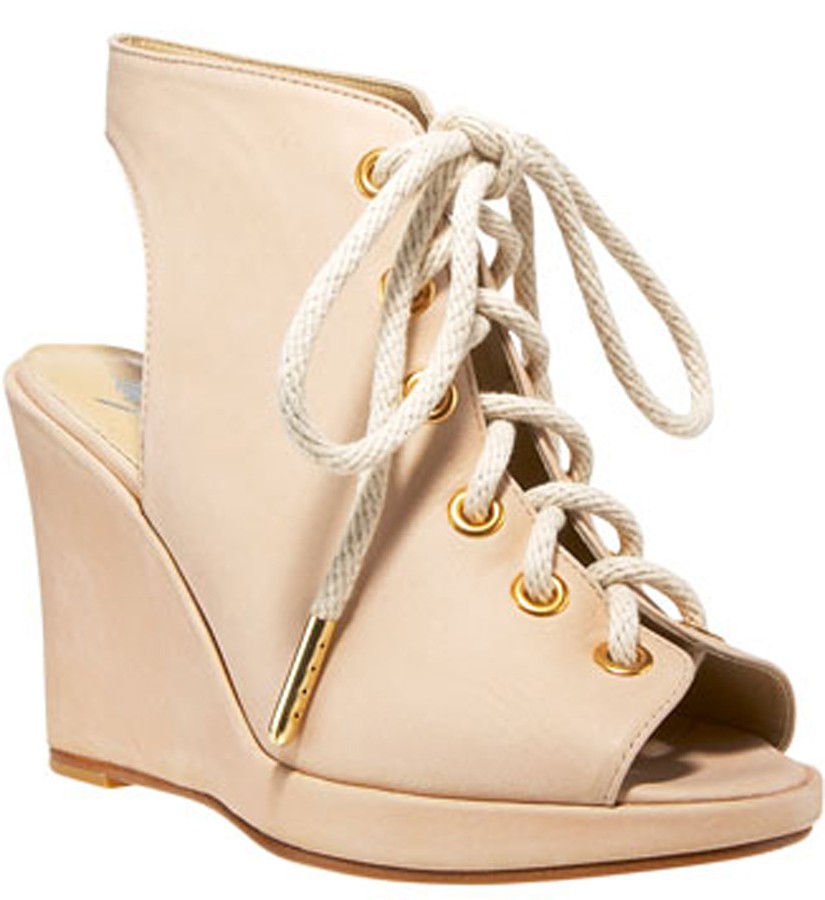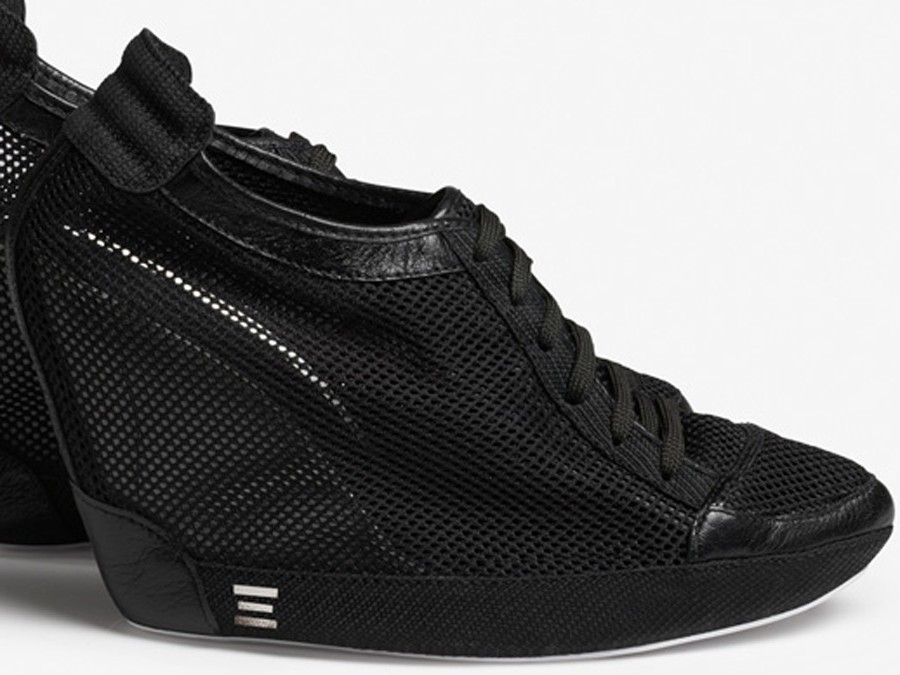 Platform sneakers have been in the mix for the past couple of seasons, but there hasn't been an influx of fashionistas strutting the streets with the revamped footgear.
This Spring/Summer season, I think they are ready for a full fledged comeback. There are a plethora of designers jumping on the trend wagon, from Prada, Chloe, Ash and Dolce & Gabbana to Adidas, Volatile, Skechers and Victoria's Secret.
Luckily, there are also a range of price points that will keep everyone HIGH STEPPING…
Just add a cute off the shoulder tank, light wash jean short (pleated & rolled up), cross body handbag and a great pair of your favorite vintage sunglasses!!!
DOLCE & GABBANA – Black & White Platform   www.dolcegabbana.com
CHLOE – Tan Suede & Cork Sole   www.chloe.com
OPENING CEREMONY – Peek – A – Boo Lace Up   www.openingceremony.us
ADIDAS SLVR 106 – Mesh Wedge (available in white / gold / black)   www.adidas.com
Last modified on 2010-04-15 03:40:40 GMT. 0 comments. Top.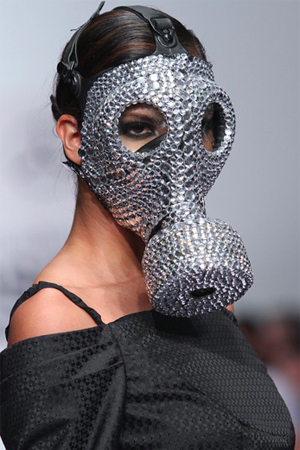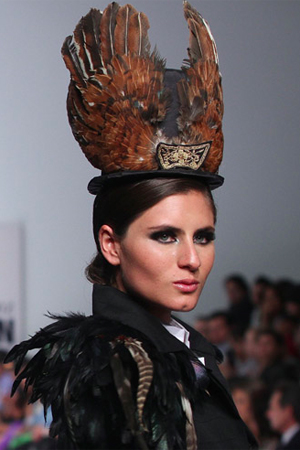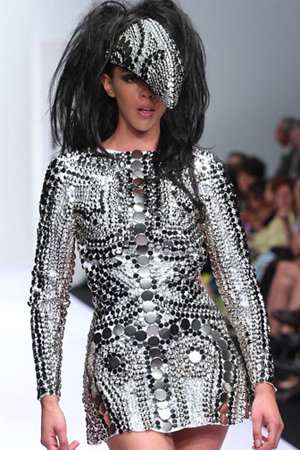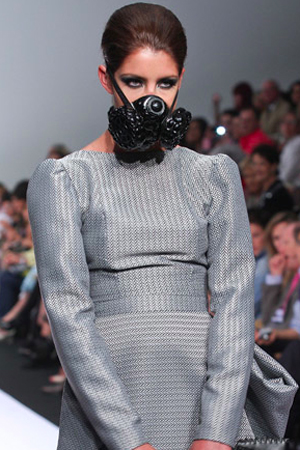 At Mercedes Benz Fashion Week – MEXICO, Gianfranco Rene made his point undoubtedly clear…No matter what you're facing in this day and age, dodging bullets, gas or wildlife always be FASHIONABLY prepared!!!
The armored dress is intriguing and a MUST to shoot, (excuse the pun), but the two heavily embellished gas masks stopped the show.
HAUTE!!!
Last modified on 2010-04-16 06:32:32 GMT. 0 comments. Top.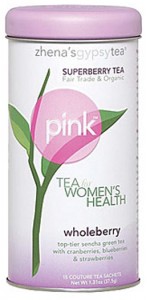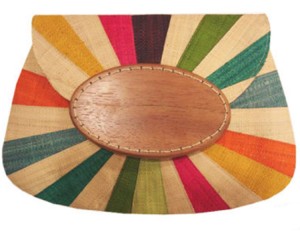 ZHENA'S GYPSY TEA is a proud partner in the mission of The Breast Cancer Research Foundation® to achieve prevention and a cure for breast cancer. A minimum of 85 cents of every dollar goes to research and awareness programs. (These Green Teas come in a variety of flavors: Acaiberry, Cacaoberry, Cherryberry, Wholeberry and Pomberry)
MAD IMPORTS is a socially & environmentally responsible company that markets handmade fashion accessories from Madagascar & Kenya . The sale of our products enables families to gain economic independence and promotes environmental conservation.
ENVIRONSAX believes that giving back to the environment and the organizations who are actively protecting it is essential in ensuring that the planet we leave to our children will be just as beautiful and healthy. We are proud sponsors of many charities including Australian Marine Conservation Society, The Surfrider Foundation and The Royal Forest and Bird Protection Society of New Zealand.
OXFAM AMERICA UNWRAPPED: When you give an Oxfam gift, you support their efforts to provide lasting solutions to poverty, hunger and injustice. They listen, you contribute and together we work to make gifts that do good in our world.
Last modified on 2010-05-26 19:59:46 GMT. 0 comments. Top.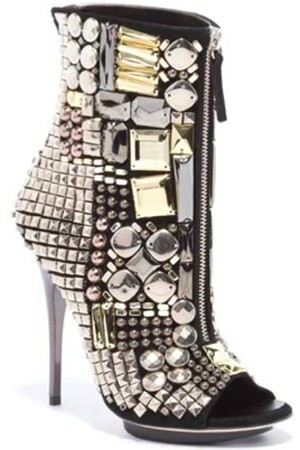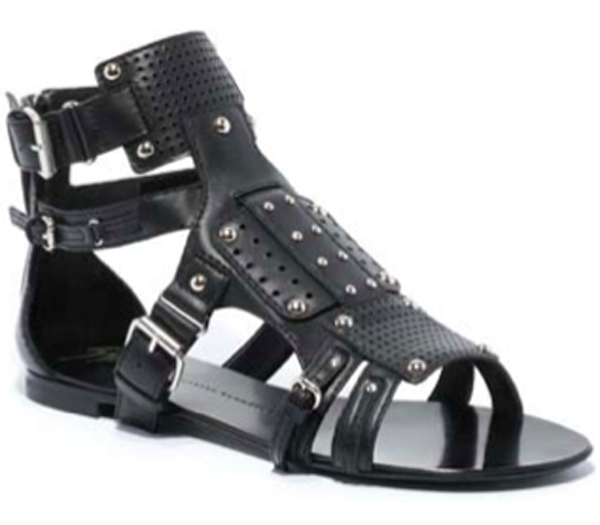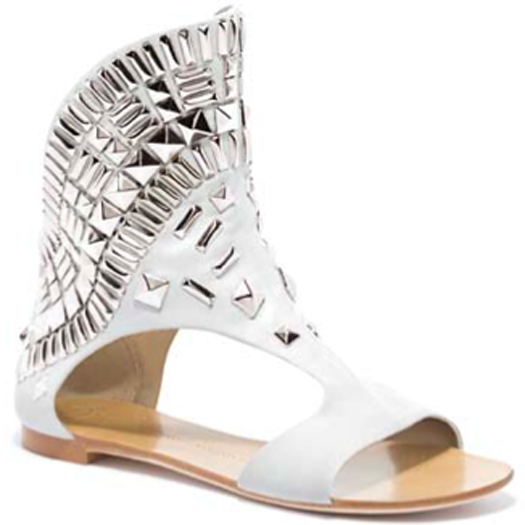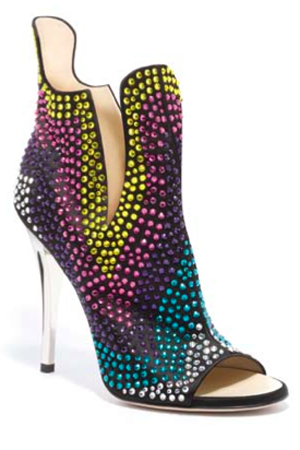 All fashionistas familiar with the Giuseppe Zanotti brand are waiting desperately for the Spring / Summer 2010 collection to be delivered to their favorite boutiques to pick up the must have FAB footwear addition for the season.
The S/S 2010 looks DO NOT disappoint!!! The Zanotti name is synonymous with pushing the proverbial envelope and adding a bit of fastidious flare to their creations. This season, they have satisfied the hip shoe cravings of the fashion forward sect. From the rockers and divas to the grunge clique. (yes…the fashion grunge collective are still in effect) : – )
You'll find that they have integrated gladiators and super chic pumps with details of intricately designed crystals, buckles, studs, zippers and precious stones.
Their celebrity following? Beyonce, Kylie Minogue, Mary J. Blige, Charlize Theron, Penelope Cruz, Alicia Keys, Fergie and the list goes on and on and on…
LOVE!!!
Last modified on 2010-03-25 19:20:32 GMT. 0 comments. Top.
I saw this bag and it stopped me in my tracks!!! Diane has done it again…LOVE!!!
Last modified on 2010-03-25 21:19:16 GMT. 0 comments. Top.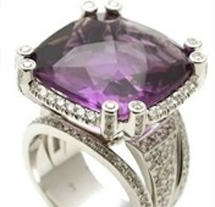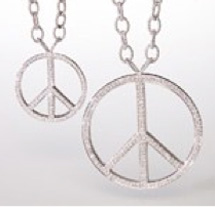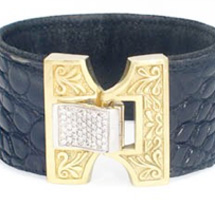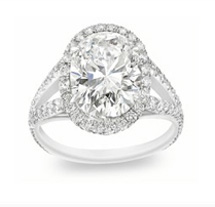 Marisa Perry jewelry is sooooo gorgeous, not to mention versatile!!!
Located in Soho, the store carries an array of collections ranging from rowdy rocker to bold bohemian to drop dead divine.
From the most decadent diamond engagement rings, precious gemstones, crocodile leather cuffs with diamond clasps and the list goes on and on….
It's the perfect marriage (literally and figuratively). Douglas is the coolest and designs all the pieces and Marisa is a natural force of nature, passionate for the product, she is a highly regarded businesswoman.
Rest assured, Marisa will find the perfect gift for you.