Last modified on 2010-03-25 13:31:12 GMT. 0 comments. Top.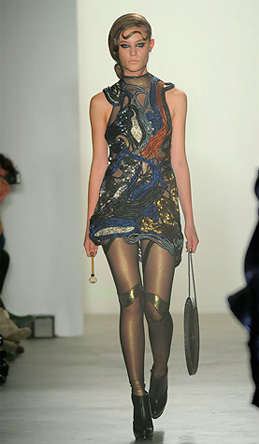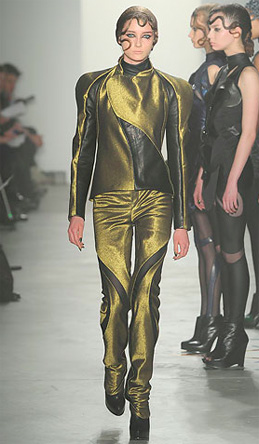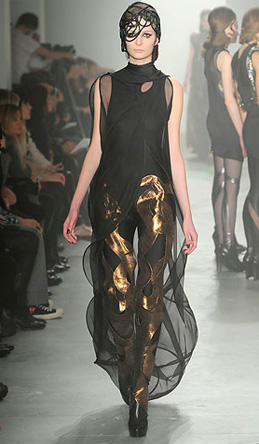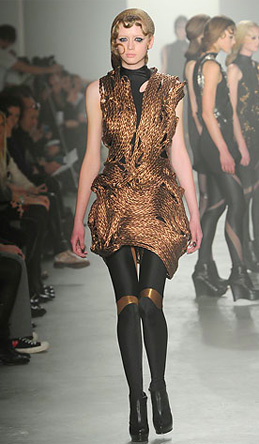 Threeasfour are up to their old tricks again…..In a good way. ; – )
The laser cut designs, attention to detail in regards to the construction and materials utilized for the garment and of course, the "OUT OF THIS WORLD " aspect displays their tenacity for the task at hand.
Unfortunately, it's been a while since I've pulled from the brand, but I look forward to the next few months. I can't wait for the concepts to flow in so I can showcase their work. I'm happy that they are still progressing, going strong and definitely pushing the envelope.
Last modified on 2010-03-25 14:13:06 GMT. 0 comments. Top.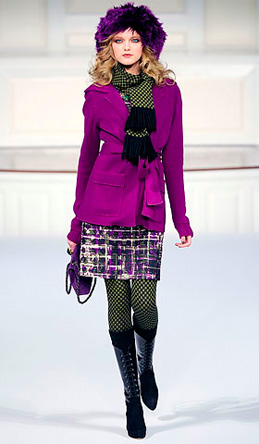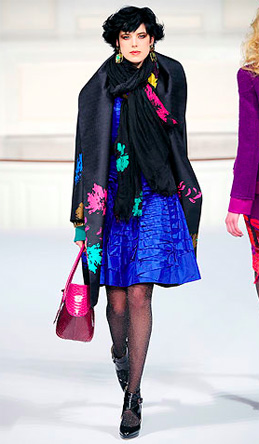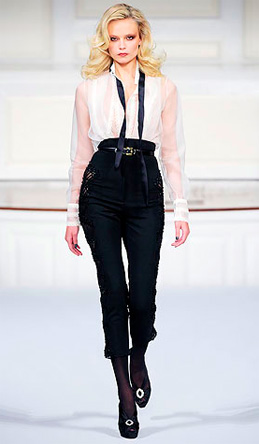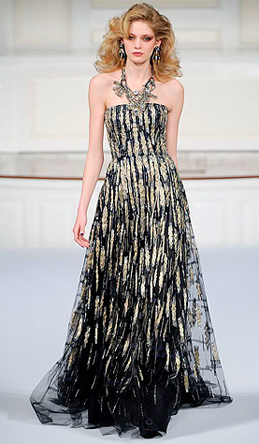 If Oscar de la Renta did nothing else, he clearly covers the bases with this collection.
To elaborate, from beginning to end he ensured that his severely sophisticated Uptown (Eastside) sect and the starlets of the red carpet would be purchasing from this collection.
In regards to daywear, the combination of fabrics and color hues are breathtaking. The palettes bursts resonate the images of peacocks spotlit in the night or the vibrant colors of the purple blue bird. Beautiful…..
In turn, the evening wear is also captivating, but in a concise, true glamour fashion. I love the tuxedo blouse coupled with Oscar's feminine version of the mariachi pant. (note the empire waist) But, the stars of the show were the gowns. One word….STUNNING!!!!
But, that's no surprise….This IS Oscar!!!
Last modified on 2010-03-25 14:18:23 GMT. 0 comments. Top.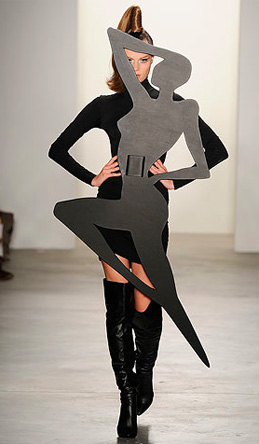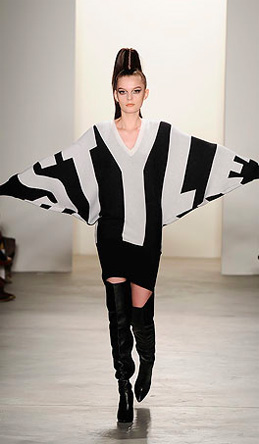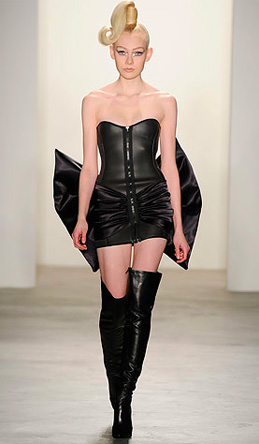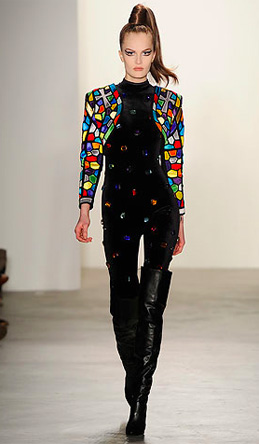 We all know that when Jeremy Scott debuts any collection, it's inundated with frills, innuendo and most importantly FUN!!!!
For me, JS is a MUST SEE because he thinks out of the box, his prints, props and designs are always thought provoking. This presentation was not as outrageous compared to previous seasons, but there are a few pieces that get a definite THUMBS UP!
Case in point, the batwing sweater dress that announces that you ARE style (although you wouldn't walk around like you're an airplane), but yet, I get it….FAB!!!
The bejeweled looks, the super bows and "cross" numbers are stellar, but, personally, I can't wait to pull the model on model looks….Oooohhh….The layout will be HAUTE!!!!!
Another piece that caught my eye was worn by the designer himself…..Embellished Adidas top Mr. Scott…..I like… ; – )
Being a smart businessman, his marketing skills are on point…Obviously, this is is the PERFECT platform to showcase his collaboration with Adidas. (An FYI moment)
(Yes, I know I'm late, but the JS Wings – Rainbow (Kazuki), are definitely on the "Dossier Dibs" list) : )
Last modified on 2010-03-25 14:21:47 GMT. 0 comments. Top.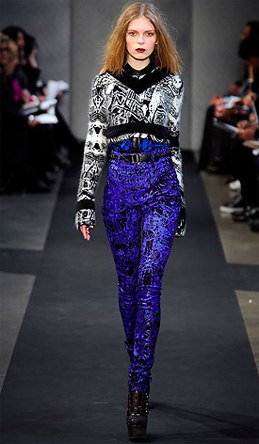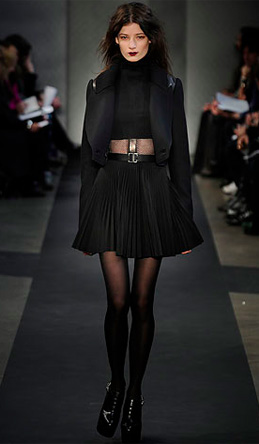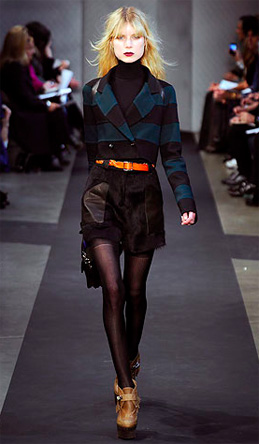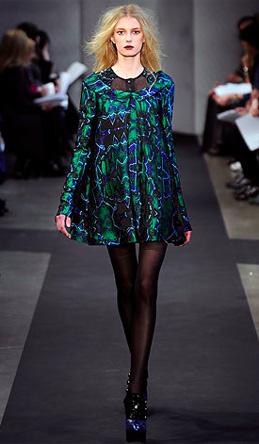 What does the Proenza Schouler F/W 2010 collection say to me? Basically, it screams…"DO NOT TOUCH UNLESS YOU POSSESS THE " Triple F" FACTOR".
"Triple F" = Fit / FAB / Fashionable
Why "FIT"? Fit because if you're wearing the skinny graffiti jeans, baby doll dresses, mini skirts or shorts, you'll be showcasing your legs. And yes….you should be fit.
FAB because the integral ingredients incurred to construct the layers of lush, woven jacquard, fur, toggles, empire waists, etc. is a recipe for triumph. They definitely tapped into the high school genre. (Varsity jackets / cheerleading skirts / sweatshirts)
Fashionable because it is perfect for their target (young, chic hipsters).
A hit for the "IT" crew!!!
Last modified on 2010-03-25 14:08:24 GMT. 0 comments. Top.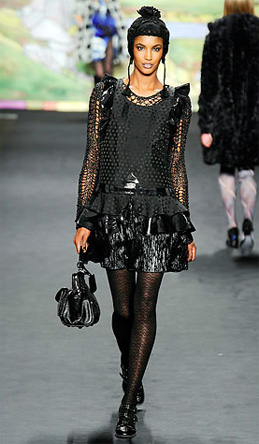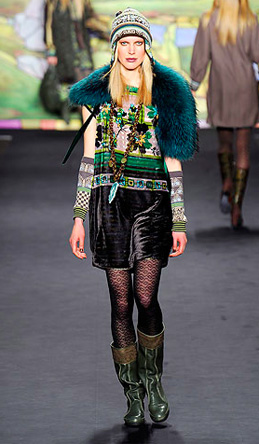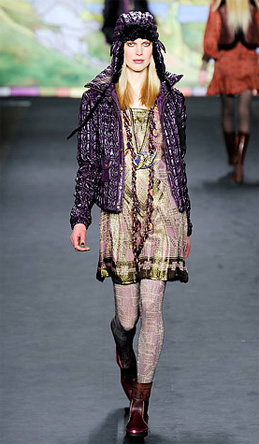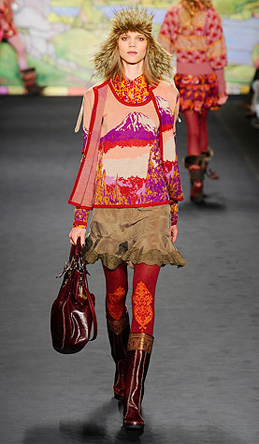 The intricate patterns that Anna Sui develops to covet her show are ALWAYS awe inspiring and striking. For this presentation, she incorporated hosiery to match the detailed motifs in her creations, the attention to detail is stupefying and is a testament of a true artist.
I've always loved Anna Sui's work and to see a snippet of what she's thinking, researching and developing is a true thrill for all who revel in how much work goes into concocting such a collection.
One word…MAGNETIC.
Last modified on 2010-03-25 13:59:51 GMT. 0 comments. Top.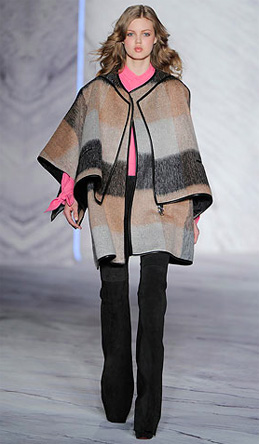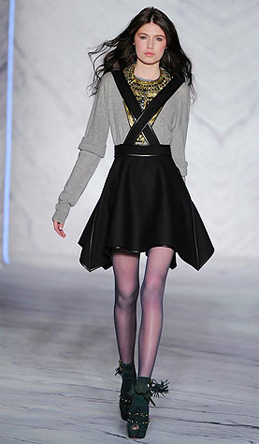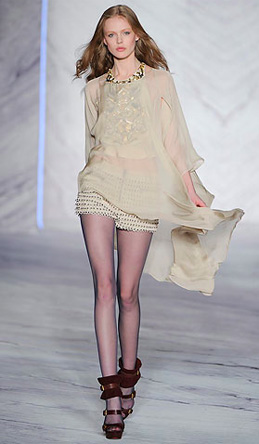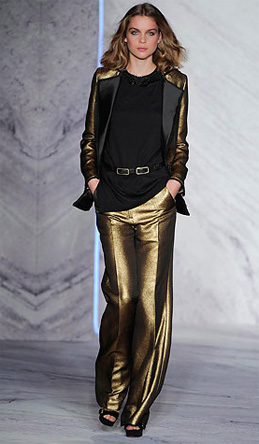 The outerwear in the 3.1 Phillip Lim collection is officially on the "Dossier Dibs" list!!!! Specifically, the cloak / cape (second look)….Thanks to the infinite style of my maternal sides closet (not to mention a few choice vintage shops), I've been wearing cloaks / capes since 2005. Yes…2005….
Nevertheless, I digress…. : )
I adore the fabrication and interpretation. The collection encompasses all phases of a fashionista wardrobe. The splash of metallics, the whisper of fabrics that flow listlessly, the tenacity of the wide leg trouser, the eclectic nature of the jumper dress trimmed in leather, as well as the embellishment gracing the collars of silk blouses, sleeves and grommeted mini shorts.
He has definitely hit the mark with this presentation!!!! Wonderful…
Last modified on 2010-03-25 13:49:58 GMT. 0 comments. Top.
What can you say about Vera Wang?!? She's Vera Wang for goodness sake!!!!
Suitably, her collection is immersed with whimsical details that add a bit of flare to a dress, blouse, skirt or trousers that may seem simplistic task for such an "ICON".
Case in point, the plethora of elements, organza trimmings, lamb fur accents, tulle and sequin collages are strategically placed as to not overwhelm (although there were a couple of heavily accessorized looks….but, not to worry) the "light as a cloud" feel.
The inherent specifications are present along with the exquisite tailoring.
Visionary….Vivacious….Vera.
Last modified on 2010-03-25 13:19:45 GMT. 0 comments. Top.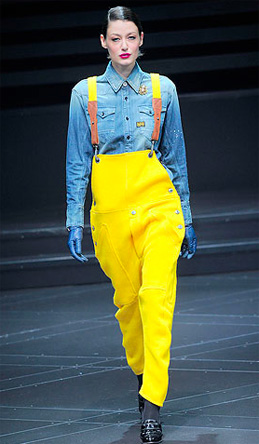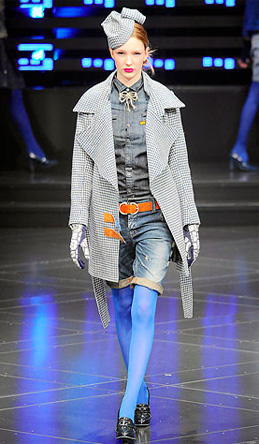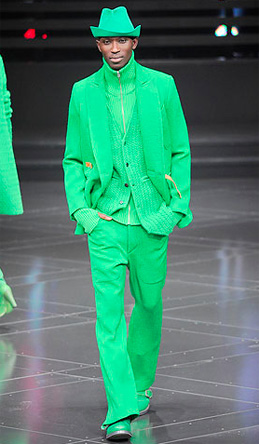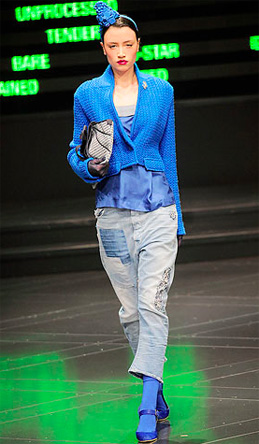 Jeans are everywhere nowadays, from the convoluted and outrageously expensive to the plain and cost effective, yet, I appreciate when a designer establishes a twist on or around the simplistic design.
G – Star has done just that by incorporating bright hues (neon yellow / kelly green / cerulean blue), patchwork on the jeans as if they're truly vintage, tattered, battered and deconstructed shorts, shirts and trousers.
And, yes…I am a true fan of the jean shirt (I have at least 20) and the fact that the brand threw in some jumpers, cropped sweaters and plaid coats to compliment the vision is eye catching and duly noted.
Hmmmmm….NICE!!!
Last modified on 2010-03-25 13:26:06 GMT. 0 comments. Top.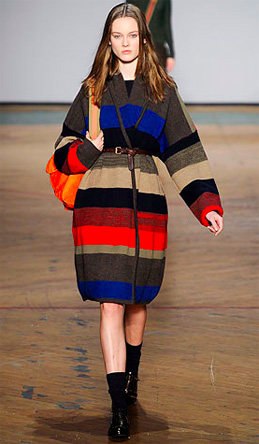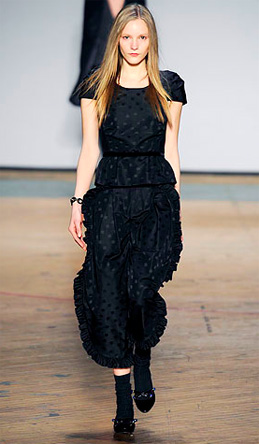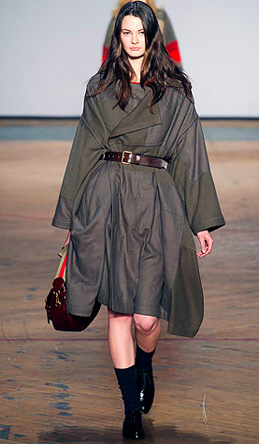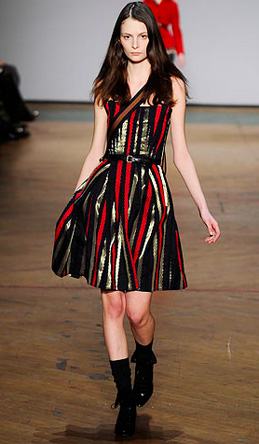 The Marc by Marc Jacobs collection accomplished what it was designed and determined to be…..Fun, FRESH and  Flirty.
The coats…double breasted, oversized and belted, zippered….The collections color palette leaned toward army of old, with red trims and army green peppered throughout the presentation.
The accessories…cross body slinging bags enhanced with grommets & zippers most comprising of leather with multi – color canvas straps, half calf socks and wing tip oxfords (LOVE). Fur hats, vertical & horizontal stripes, knee & calf length skirts, dresses and trousers.
This is a presentation that has sooooo many elements that it's deemed to be a HUGE seller come late summer.
Last modified on 2010-03-25 14:36:09 GMT. 0 comments. Top.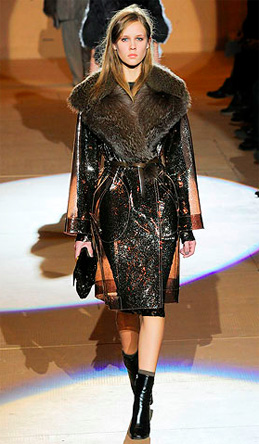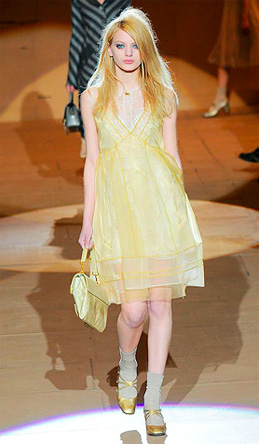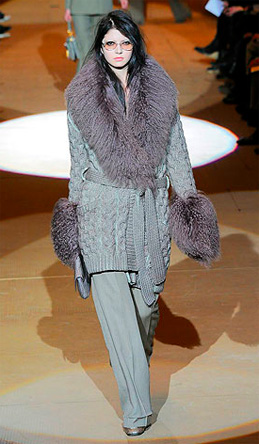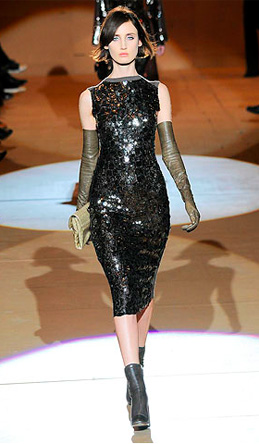 Marc Jacobs appears to have honed in on the basic necessity of the garment with a tinge of "Je Nais Se Quoi".
The collection traveled from simple and minimalistic attire. (A – line, mid calf skirts / wool sweaters / oversized double breasted outerwear) To the majestic, if not sublime, punches of pizzazz (panne velvet / sequined frocks / glittered plastic trench coats capped with fur collars / cable knit sweaters trimmed with lamb shearlings)…..You get the picture?
The color palette was diverse, but remained, predominately, a light, airy feel, which included, whisper thin lingerie overlays, knit dresses, trompe l'oeil bows, etc.
Concise and Cool….End result, IMPRESSIVE!!!!
Last modified on 2010-03-25 13:45:26 GMT. 0 comments. Top.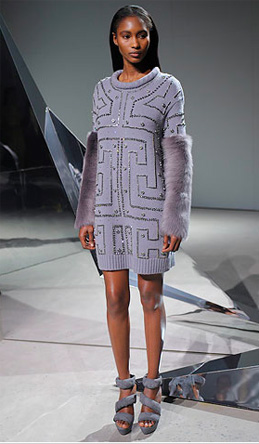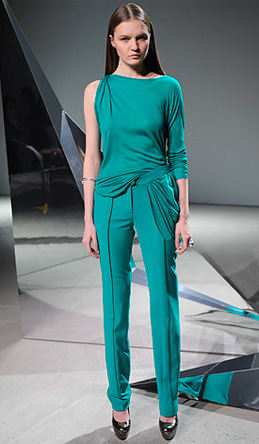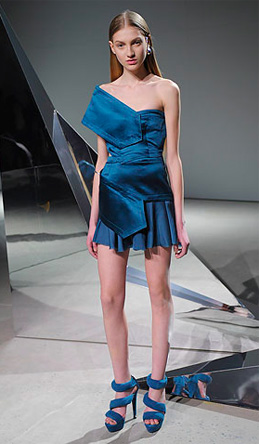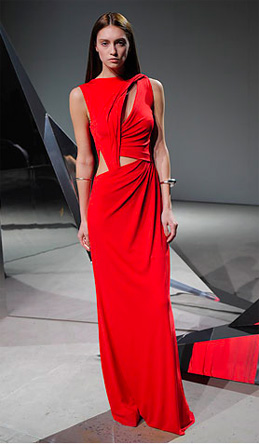 The Halston presentation is abound with geometric influences meandering between the embellishment and construction of the showcased pieces.
The confluence of neutrals and bursts of bright hues complimented the details of the draping (reminscent of Madame Gres – red gown, esp.) which were superlative.
Yes, body conscious (mini skirts, dresses, gowns), but the beauty is in the details. INFINITE!!!
Last modified on 2010-03-25 13:41:59 GMT. 0 comments. Top.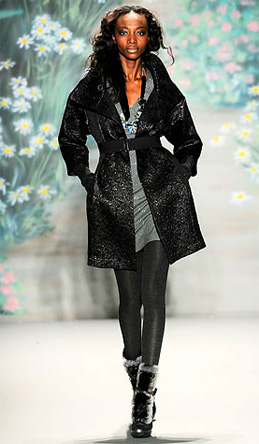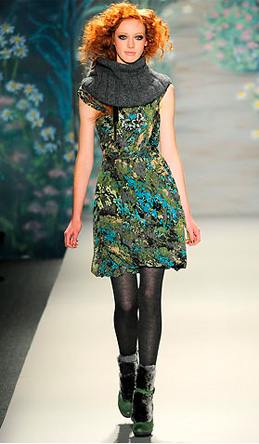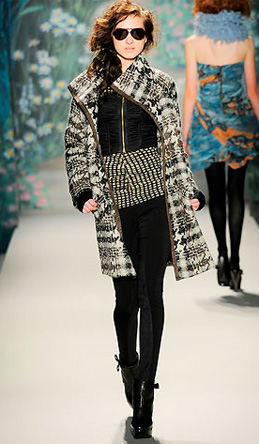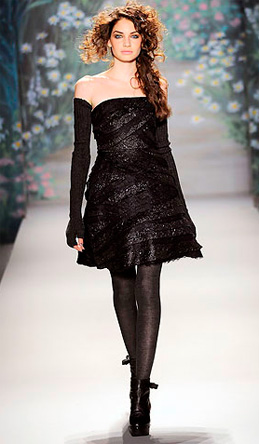 A collection that could saunter directly off the runway, out to Sixth Ave. and continue with their New York City adventure….
Above the knee hemlines, massive comfy scarves, arm warmers, stirrups, dresses encompassed with ruche details and splashes of color provided the onlookers at the Tracy Reese show with day to night inspirations.
The presentation yielded looks that are relevant and in the NOW. Which is perfect for the consummate Reese fan!!!
Intelligent. Charming. Contemporary.
Last modified on 2010-03-25 12:30:40 GMT. 0 comments. Top.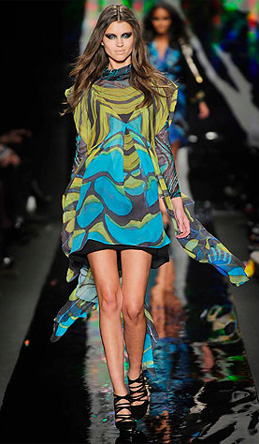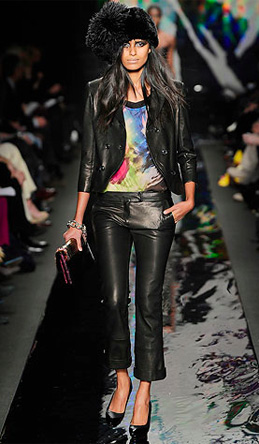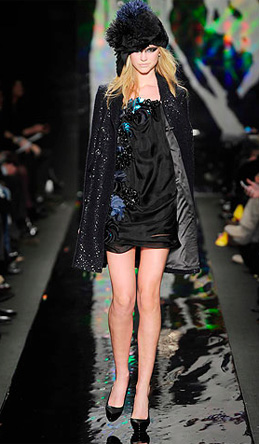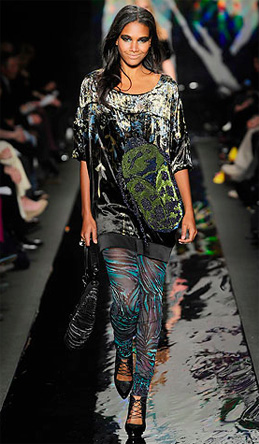 As you all know, Diane von Furstenberg is world renowned for her signature "WRAP" dress. This collection was a concoction of male influences with a female twist.
Lovely… Who doesn't like a black leather suit, the twist, 3 / 4 length sleeves and cuffed trousers. CUTE!!! She also supplemented the presentation with embellishment, burned velvet (PANNE), prismatic prints that cascaded freely down the catwalk, etc.
An ample amount of mixing and matching and an abundant amount to choose from for the fashion conscious. LOVE!!!!
Last modified on 2010-03-25 13:36:24 GMT. 0 comments. Top.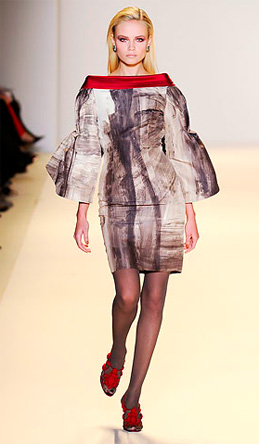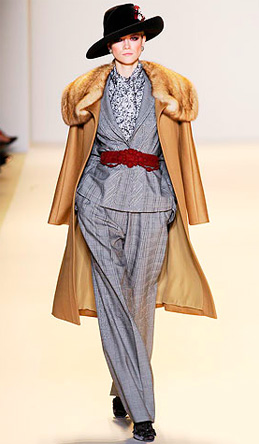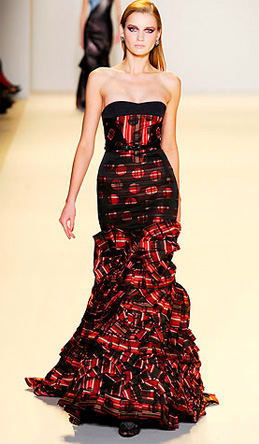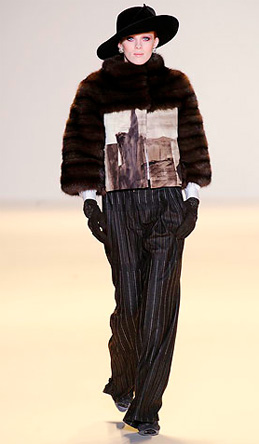 The Carolina Herrera collection exuded elitism at it's best. Some may think of this as an insult, but actually it's a compliment.
The collection is a marvel of components that is reminiscent of a different time. Thus the unveiling of  brushstroke prints, billowing sleeves, sable fur with prints, belted suits, cashmere, plaids, stripes, not to mention (in my opinion) the Cristobal (Balenciaga) enhanced necklines.
Adept…Sharp…Elegant.
Last modified on 2010-03-25 12:23:49 GMT. 0 comments. Top.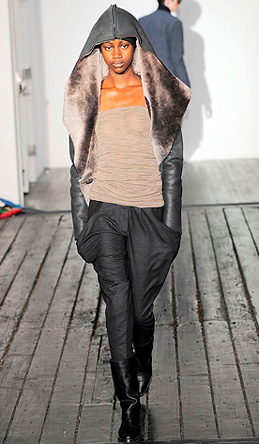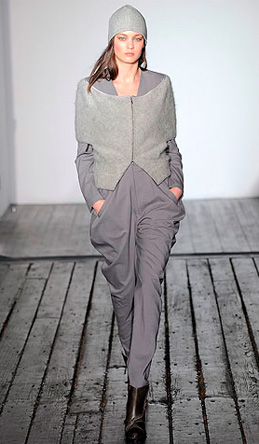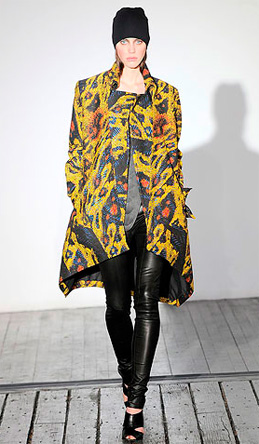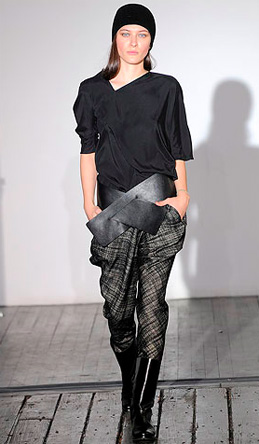 A designer known for a signature design (architecturally inspired), this collection showcased those mainstays. Also included were hints of masculinity in the women's collection.
The inclusion of slouchy pants, behemoth belts, cocoon vests and shearlings notes the diversity in the designers cache. The collection is versatile, stylish (of course) with plaids and prints.
Yes, she has the Michelle Obama connection, but she divulged a few new techniques that raised the bar. NICE!!!!
Last modified on 2010-03-25 12:27:29 GMT. 0 comments. Top.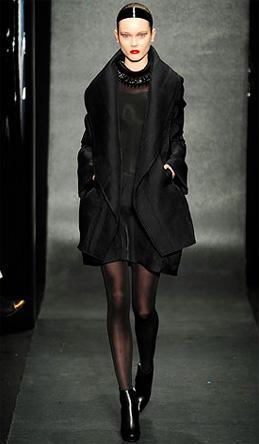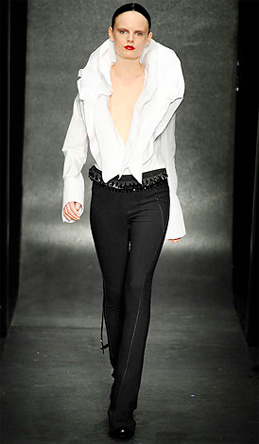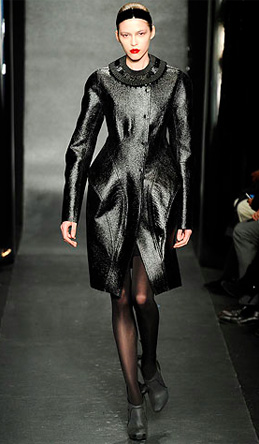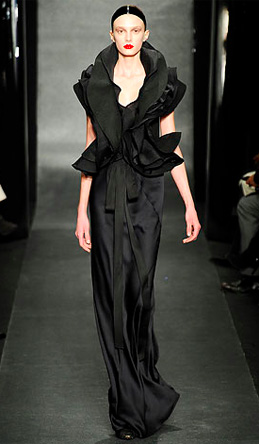 The Donna Karan collection was immersed in black but it was so versatile through the fabric construction, draping and aesthetics that it is easy to overlook. The details contained in the collection are awe inspiring and GORGEOUS!!
Plunging cowl necklines (resembling flower blossoms), varnished wool, fur, organza, satin and beautiful Charles James inspired (in my opinion) collared coats were integral elements.
Donna Karan….25 years. (Unbelievable right?!?)
Last modified on 2010-03-25 12:33:11 GMT. 0 comments. Top.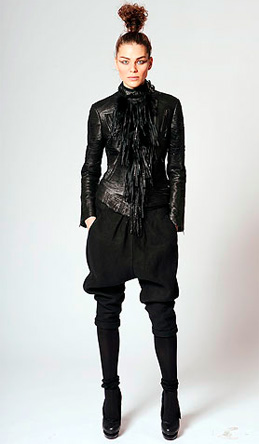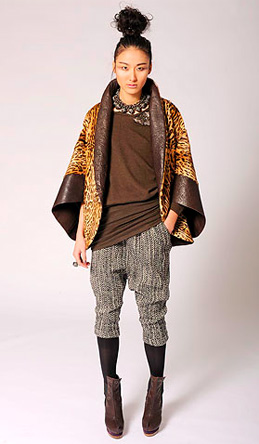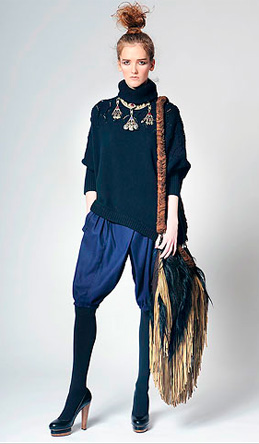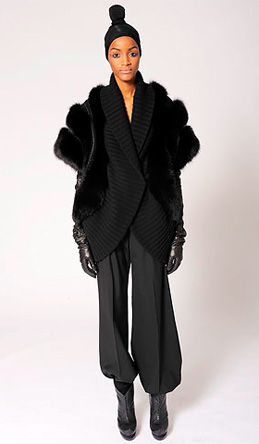 Leopard, leather and suede fringes, zebra, cashmere, fur…This is Malandrino.
Catherine Malandrino appropriately classified her indigenous heavy presentation as "KHAN". The collection looks effortless when it comes to a manner of being chic and eclectic. More importantly, it looks ridiculously comfortable.
Case in point, the culottes (renewed) with a riding pant feel, ultra cool….The fringe bag in different hues is a MUST HAVE for the for me!!! LOVE….
She did it again….Catherine Malandrino.
Last modified on 2010-03-25 12:36:37 GMT. 0 comments. Top.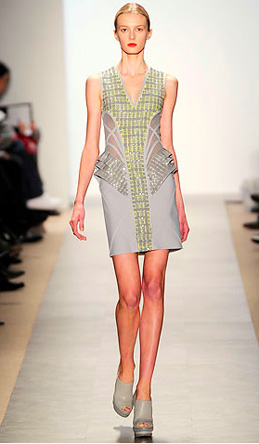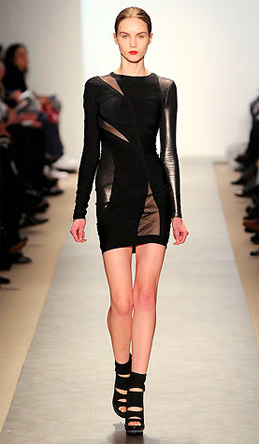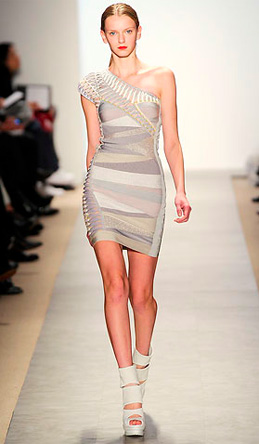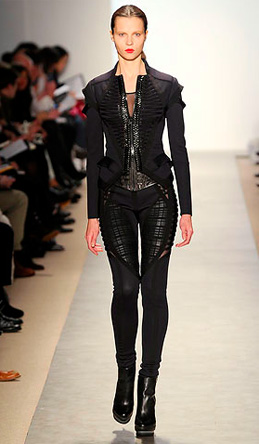 When pondering the thought of strutting in a Herve Leger ensemble, my mind IMMEDIATELY begins to calculate how many more crunches, squats and walking lunges I'll have to include in my workout to pull it off….. ; – )
The collection is high on the "Body Conscious" meter. Nevertheless, the onset of weaving and asymmetrical lines that encompass the presentation are notable and an asset to the piece also known the "BANDAGE" dress.
Yes…A few more crunches….I know this is the Fall collection, but Spring is coming!!!
Last modified on 2010-03-25 12:39:09 GMT. 0 comments. Top.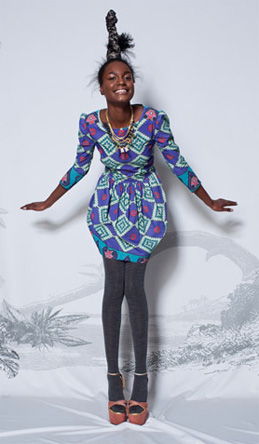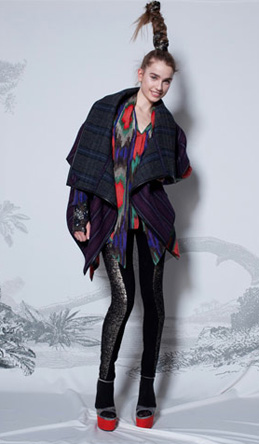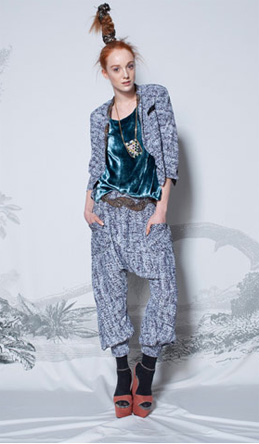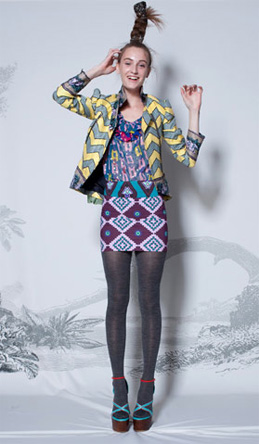 The fusion of intuitive motifs and vivid flashes of fabric formation yields an excellent example of fun and eccentric pieces. The Africa inspiration is doused throughout the collection.
The combination of various textiles is an in your face and bold, but refreshing concept.
And, due to the fact that the "POP" colors are perfect accents to easily couple with any black ensemble, it's a befitting choice to spruce up the, sometimes, mundane New Yorkers Fall wardrobe.
LOVE!!!
Last modified on 2010-03-25 12:42:15 GMT. 0 comments. Top.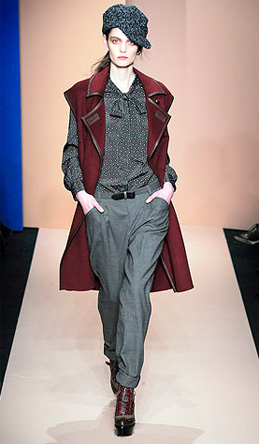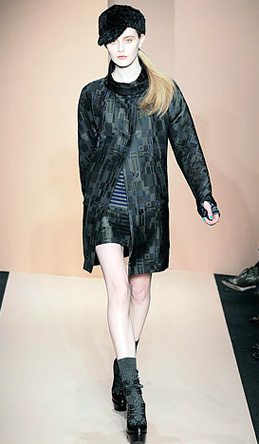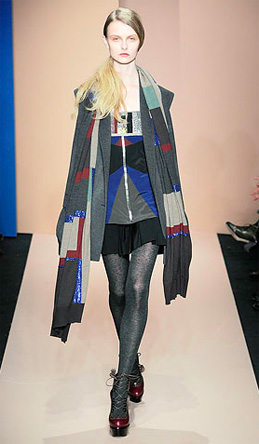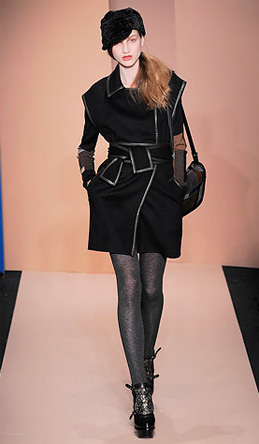 Coats and jackets trimmed in leather, newsboy caps, SUPER short skirts, oversized overcoats. There was a feel of masculinity that increased the intensity and depth of the collection.
The play of graphic details involving both fabrics and color palettes made for an amiable kinship. I appreciated the rich maroon looks that were paired with the charcoal grey pieces. It is a very nice color collaboration.
The end result is a mixture of downtown meets suburbia.
DKNY…D – elightful!!!
Last modified on 2010-03-25 12:44:36 GMT. 0 comments. Top.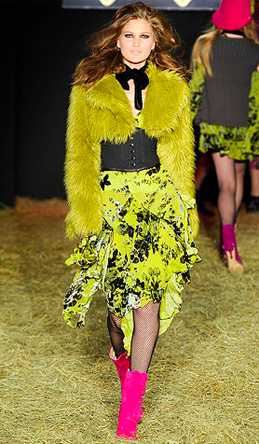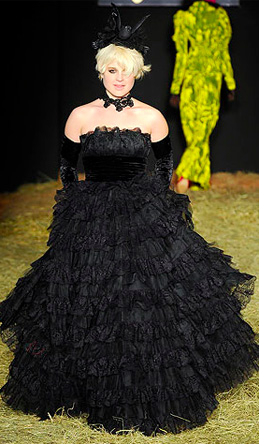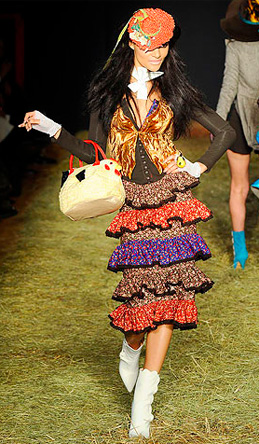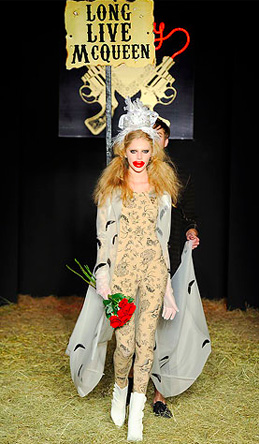 The Wild West was the apparent theme for the Betsey Johnson collection. With the intermixing of colors and prints along with the incomparable energy of every Betsey presentation, it was fun and fancy free.
Train length knits, ruffled skirts, electric color gun motifs, stripes, suspenders and Marilyn Monroe filled the space.
The finale "LONG LIVE McQUEEN" was a sweet tribute and resonated a sad beginning to the fast paced and animated F/W 2010 New York fashion week experience.
Last modified on 2010-03-25 12:47:44 GMT. 0 comments. Top.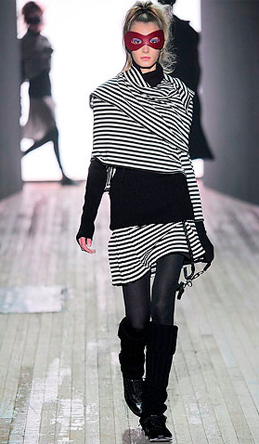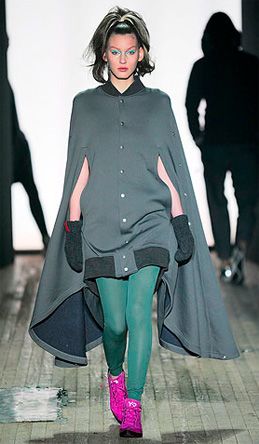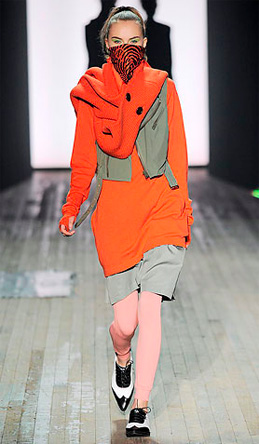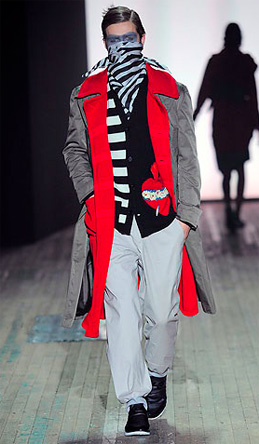 Anybody that knows me is ACUTELY aware that I LOVE the Y-3 brand!!!!
The intrinsic components that formulate the base of the designers creation is concise. LESS IS MORE.
This collection incorporated a bit of everything, draping, color, stripes, masks, sweeping cloaks / capes (for men and women), oh it just goes on and on and on…
The four pocket plaid suit ( I know it sounds a little scary, but believe me it's cute) for men. For women, the zippered sweater dress with leather details…..Mmmmm….
Y – 3 = Yum to the 3rd POWER….
Last modified on 2010-03-25 13:57:12 GMT. 0 comments. Top.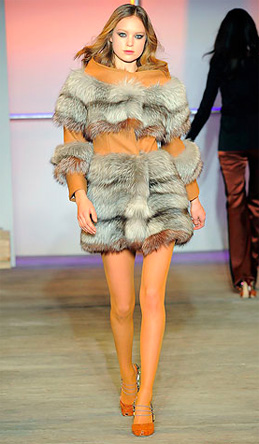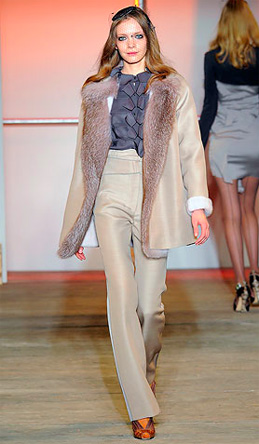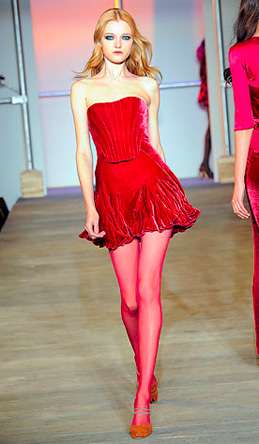 Flirty hemlines, peeps of color, empire waisted pants with cuffs, brooches, corsets, but sadly…..No gowns.
In previous showings, Zac Posen added an exclamation point to his collection presentations when they were concluded with the PHENOMENAL gowns that you knew would engulf the runway.
However, it's a new day and with that he still managed to create some beautiful pieces that will surely be snatched up by the nocturnal party sector.
Still Strong…Paradigmatic Posen.
Last modified on 2010-03-25 13:16:08 GMT. 0 comments. Top.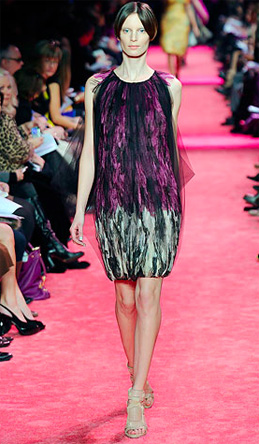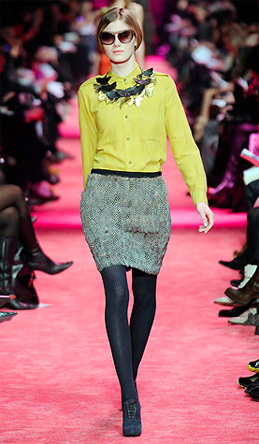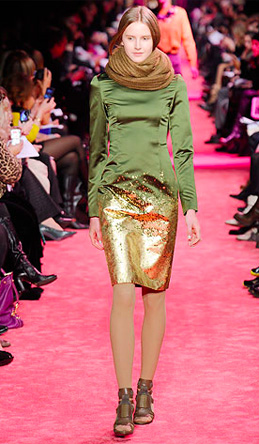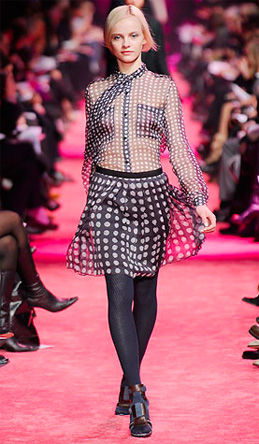 Of course fashion colleagues and I were familiar with the Jason Wu brand before he was introduced to the world by the first lady, Michelle Obama (Inauguration gown).
He's always showcased his aptitude for design and details in his collections.
Well, this show was no different in that aspect, but he did increase his repertoire by introducing more textiles (i.e., feathers, gold leaf, etc.) and a plethora of unique patterns (polka dots included) convoluted with pops of color throughout the presentation.
Wu. Wu. Wu…. ; – )
Last modified on 2010-03-25 14:53:15 GMT. 0 comments. Top.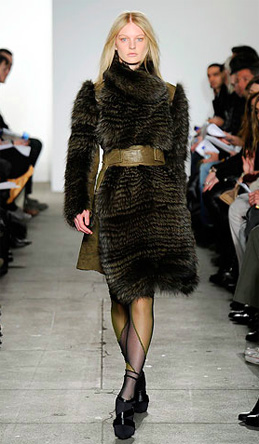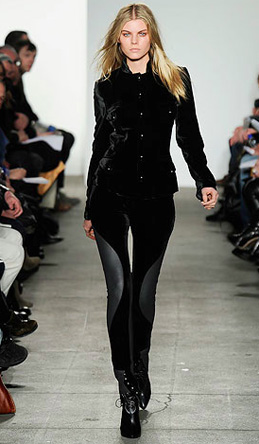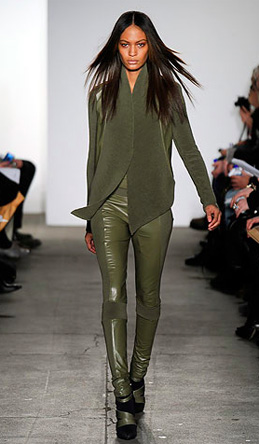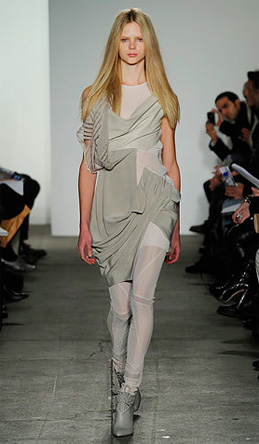 That's right, TITILLATING!!!! The presentation has hints of the military with a twist. The configuration outerwear (coats and jackets, etc.)
I LOVED the details in the fabric and the hosiery / leggings. The mixture of leather, velour, fur and knitwear will definitely be a draw for the hip sector and will increase the Ohne Titel's bottom line.
That's the goal right?? Can't beat that!!!
Last modified on 2010-03-25 14:57:28 GMT. 0 comments. Top.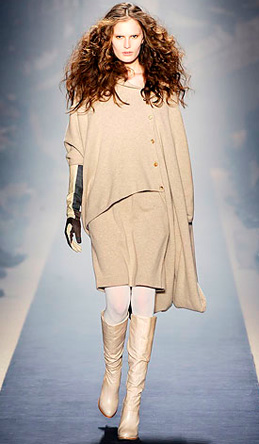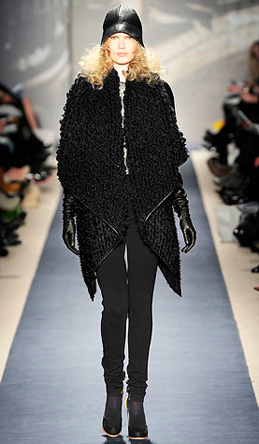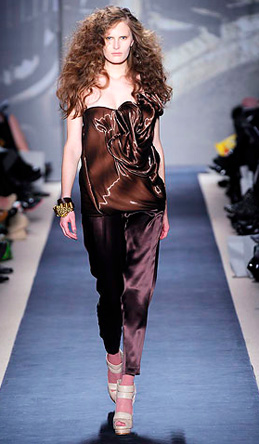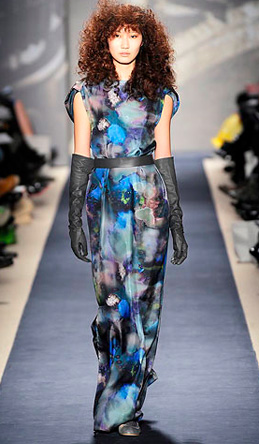 Ports 1961 evoked a sense of being one with nature. The color palette, monochrome & prints, seemed to flow effortlessly.
The construction of the collection meandered between environmental and industrial science, with a the introduction of rubber influences (blouse & coat details).
Personally, I love the draping of the cloak / shawl with crossover button elements, not to mention the wool vest with it's rubber trim. Wonderful!!!!
Last modified on 2010-03-25 12:58:26 GMT. 0 comments. Top.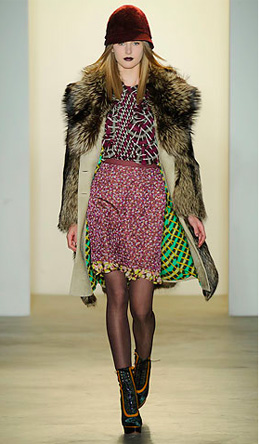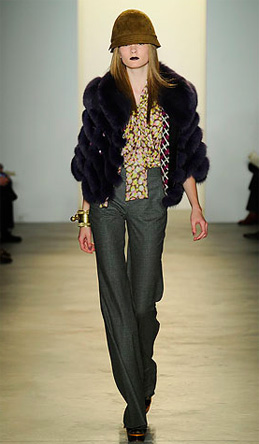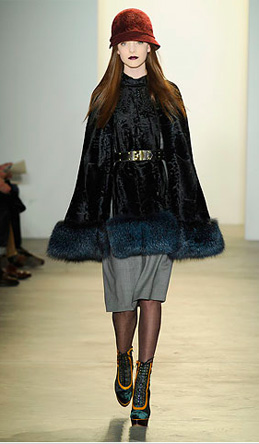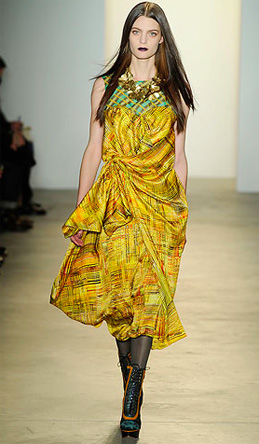 The Som collection was filled with various patterns that were titillating to the eye and psyche. As everyone knows, usually the Fall collections are inundated with dark hues that eventually become a bluuuuurrrrrrr…after a while. : )
Thus, it was refreshing to see an array of patterns and fabrics incongruous yet harmonious. A few sweet additions were the cloche hats and revamped "Mary Poppins" lace up boots. (courtesy of Charlotte Dellal)
YUM…."Som" more please!!!
Last modified on 2010-03-25 13:09:28 GMT. 0 comments. Top.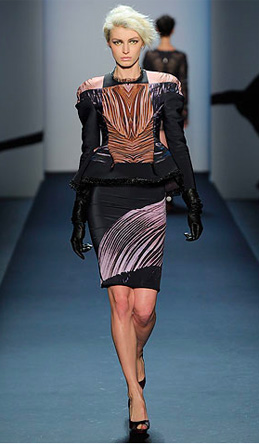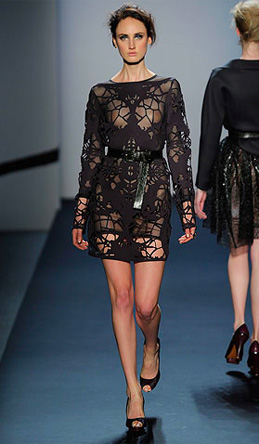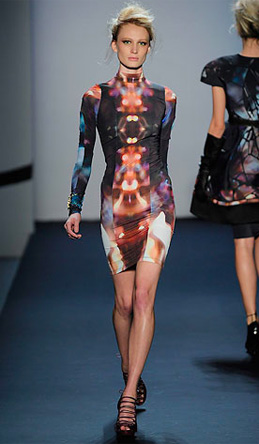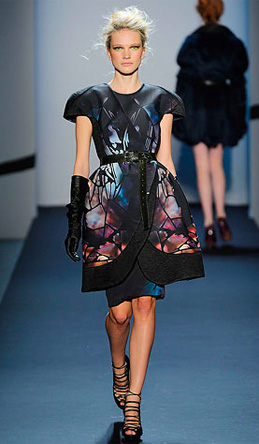 The Michael Angel collection began as a subdued presentation focusing more on the construction and textile of the garment (alpaca skirts, mohair jackets, angora, crepe, etc.), but in true MA fashion, slowly grew to the crescendo that he's known for…His array of kaleidoscope prints.
The geometric prints and attention to details (bow leather belts, full capped sleeves, transparent fabrics, etc.) are both resplendent and eye catching to the fashionista that revels in showcasing a bit of "POP" in their wardrobe!!!
Last modified on 2010-03-25 14:51:19 GMT. 0 comments. Top.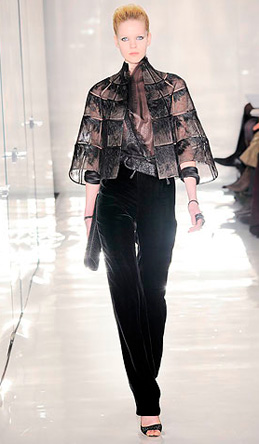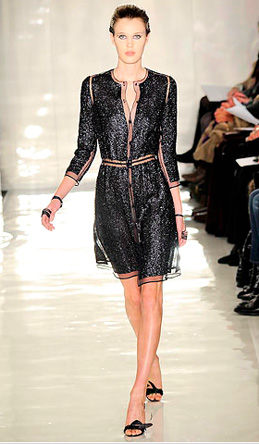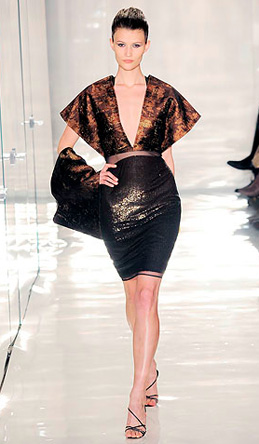 BEAUTIFUL!!! There's no other way to describe the Chado Ralph Rucci presentation. We all know that his attention to detail is IMPECCABLE and it was showcased with notable elements.
The thought process that goes into each piece would be exhausting to the average human being, but it seems that Mr. Rucci creates with ease.
The collection is a meticulous, awe – inspiring delicacy. The fabrics alone, fowl (guinea) feathers, taffeta, tulle, silk moire, sable, horsehair, mink, fox….Need I say more?
Not to mention the fabrication and structure (I.E., swatches, splicing, asymmetrical panels and the lists goes on and on)…..
Couture at it's best. BRAVO!!!!
Last modified on 2010-03-25 12:08:19 GMT. 0 comments. Top.
Toni…Toni…Toni… PLEASE stop trying to coerce me to throw on some silk tulle or organza and take off running down the street! (NOTE: my trail of whispy fabric trailing behind me!!! In my daydream I'm moving in slow motion.(Get the picture?)
Yes, from the first time that I pulled a few of his pieces from Factory PR (Thanks Saba & Kevin), I KNEW he was on to FAB!!!
His technique and fabrication is wonderful. I definitely see gowns that will surely be on the red carpet.
In addition, he pushed the envelope by including bold embellishment and statement attire that Rihanna, Lady GaGa, etc. can unequivocally ROCK!!!
Last modified on 2010-03-25 14:50:50 GMT. 0 comments. Top.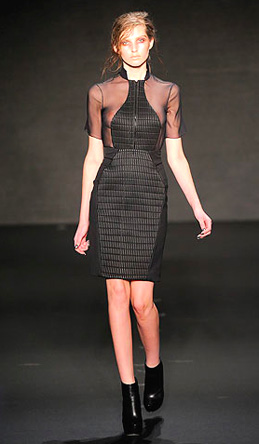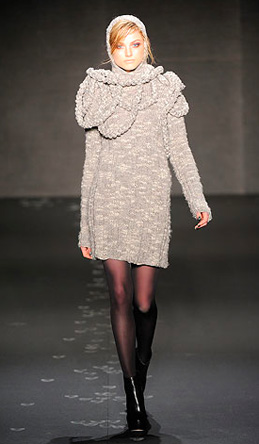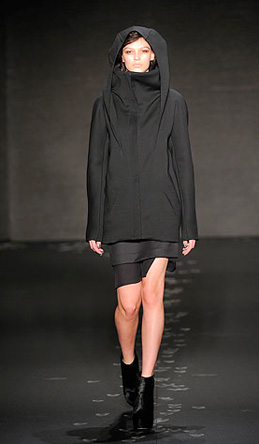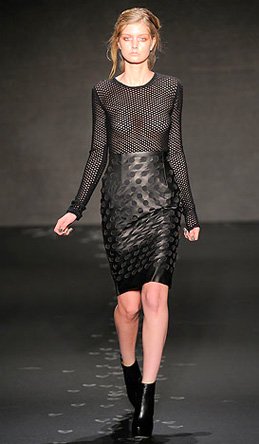 The duo team of Cushnie & Ochs have created a collection that has taunted my young, chic, bad girl side.
Sprinkled with wool, leather & blended fabrics it satisfied all facets of my Fall collection fantasy. Of course, included in my illusion…and the collection, is the detail of quilted frocks, perforated leather, peek – a – boo fabrics and the cranium ensconced hooded sweaters & cocoon coats. No need for scarves here…Which means one less thing to keep track of….LOVE!!!
Of course, as in most collections, there were a few things that I would not wear. But, essentially, it is MODERNE et CHIC.
Last modified on 2010-03-25 14:50:17 GMT. 0 comments. Top.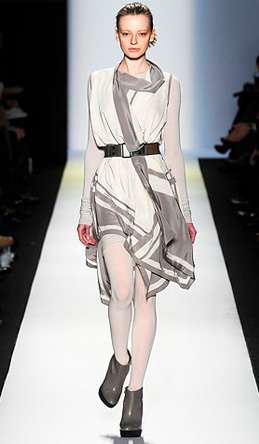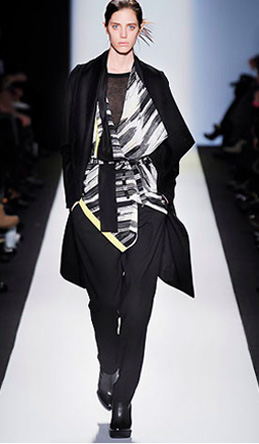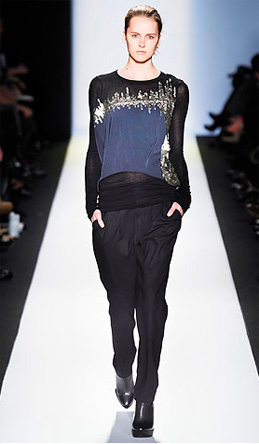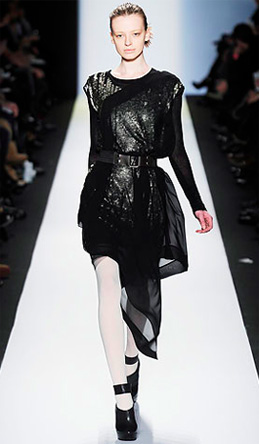 The BCBG Collection was reminiscent of the eighties flair for asymmetrical lines and simplistic color block features with the addition of virtually invisible T-shirt layers.
Personally, I wasn't sold on the white tights (coupled with the black looks), but that's just me….
Nevertheless, it appears that the end factor, which facilitated the business acumen for this collection for the Azria team, was the connection to the customer. The state of the world in regards to its financial woes of the masses was asked and answered.
Intelligible…..Draped, Belted, Embellished….BCBG.
Last modified on 2010-03-25 11:16:27 GMT. 0 comments. Top.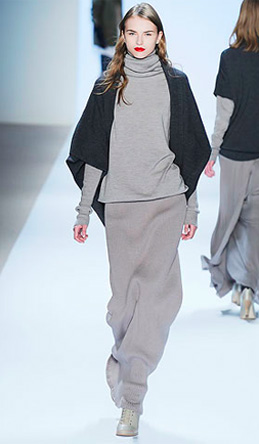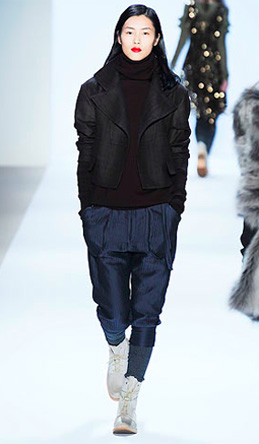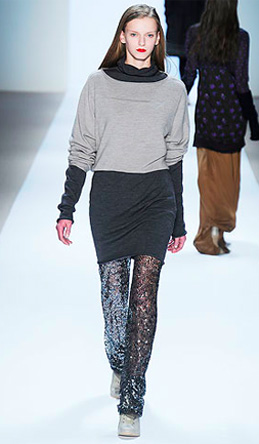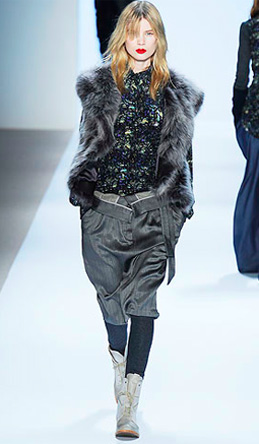 This collection demonstrates a clinic in the"LAYER" process…The synthesizing of fabrics, fur and embellishment.
The former design director for Marc Jacobs has caught my attention with the sleek collection that he manages to integrate with cozy fabrics.
Extremely modern yet classic. AND is working it with comfortable shoes. ; – )
I concur Mr. Chai…LOVE!!!
Last modified on 2011-08-08 17:42:23 GMT. 0 comments. Top.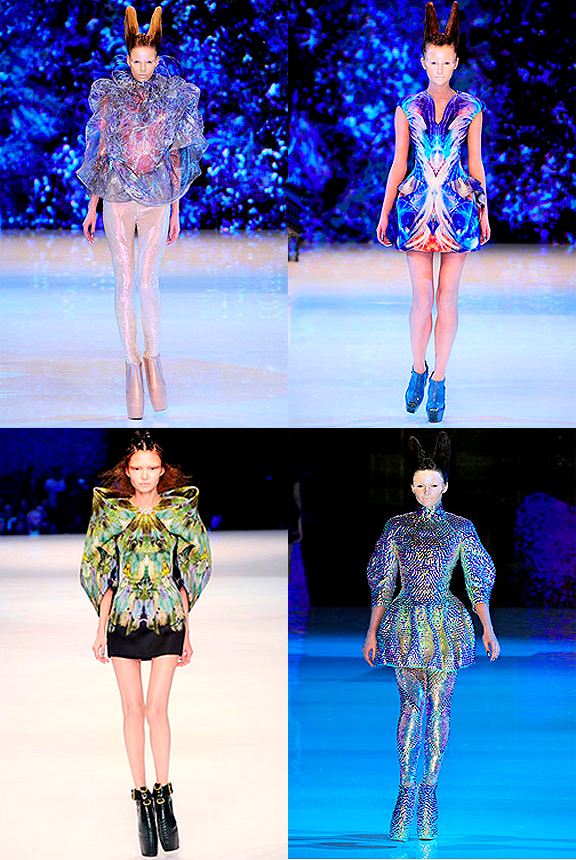 Yes….Yes….Last season (S/S 2010), Mr. McQueen did it once more…His introduction of all facets of paradise was spine – tingling.
The collection sauntered through paradise…From birds (of paradise) to Avatar (cinematic paradise), continued to the Deep Blue Ocean (Atlantis paradise) and ended obviously, in McQueen fashion, submerged in Celestial….you got it….(Galactica PARADISE)!!!
Detail…Detail…Detail…The collection, as always, was a phantasm of visual extravagance, nourishing us with savory works of art.
Renowned for living outside of the proverbial "BOX" he continued to push the envelope allowing us to dwell in his fantasy (1 hour at a time, every 6 months) LOVE….LOVE….LOVE…
He was an artistic GENIUS that will be missed immensely by the world that admired his gift.
Honestly, hearing of his passing today literally took my breathe away. Looking from the outside in, one would think that he was on top of the world. A lesson learned…You never know what people may be experiencing in life.
My hope is that he is at PEACE.
Last modified on 2010-03-25 15:06:41 GMT. 0 comments. Top.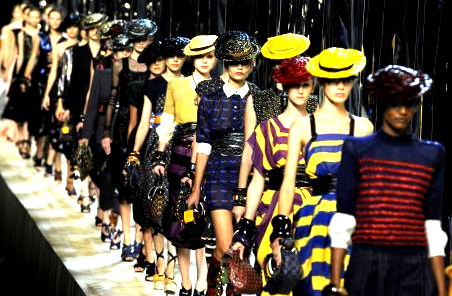 Today marks the first day of New York Fashion week.
Where models strut the catwalk, editors vie for their front row positions and celebrities hit the red carpet….Uh oh!! I forgot the celebrities are NOT the focal point for the shows this year.(Designers have staged a "STRIKE" and a good portion of celebrity invites were "LOST in the Mail").
The designers are focusing on what should have always been the focal point….FASHION & DESIGN.
In spite of the storm that blew through the New York City area yesterday, there was not enough accumulation to deter the fashion elite and such to forego the tents for the F/W 2010 presentations. So, welcome to the party!!!